Last Sunday, a small group of volunteers arrived at Plaza East Apartments, a Fillmore District public housing complex, to distribute one of the pandemic's hardest-to-find commodities: 500 bottles of hand sanitizer.
Their ranks included Abrar Abidi, a second-year Ph.D. student at UC Berkeley, and Yvonne Hao, a research assistant at the university's Tjian-Darzacq lab.
As drugstore shelves have been stripped of both hand sanitizer and its DIY components — rubbing alcohol and aloe vera — Abidi and Hao have been using their scientific expertise to manufacture their own, and give it away to those least able to obtain it. 
"Hand sanitizer should be a basic human right, like the air you breathe," Abidi said. He and Hao have distributed theirs to the Bay Area's most marginalized people: public housing residents, seniors in care centers, the unhoused and prison inmates. 
With ethanol readily available to labs, they've been able to produce more than 1,100 gallons of sanitizer according to WHO and CDC guidelines — enough to fill 35,000 four-ounce bottles for distribution.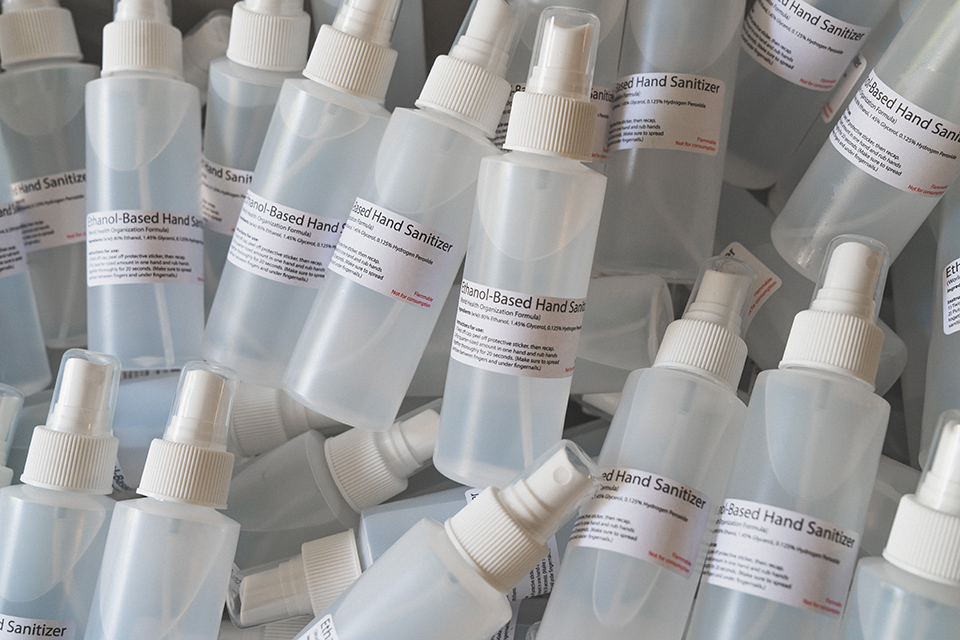 To find places to distribute the sanitizer, Abidi cold-called the office of District 5 Supervisor Dean Preston. Legislative aide Avery Yu picked up the phone, and before she knew it, she and her housemates had been drafted into the cause, labeling countless bottles of sanitizer in the garage of their apartment building.
"You can't just throw hand sanitizer at people," Hao explained. At Plaza East, they were joined by Preston and Yu, who had established relationships with a community leader who "knew everyone."
Preston and Yu's connections have opened the doors to distribute Abidi and Hao's sanitizer across a variety of populations, utilizing the Redemption Church at McAllister and Divisadero streets as a local distribution hub. 
With the help of about 30 volunteer drivers, they've stocked 20 homeless shelters throughout the city, and dropped off about 900 bottles for county jail inmates. Another 500 bottles went to Muni operators.
"It's fallen on random people to do this work," said June Lin-Arlow, who has been managing the volunteer drivers. She expressed frustration about how "the systems have caused a lack of supplies."
Yu's housemate, Ryland Hormel, said the most common reaction the team receives when handing out sanitizer is gratitude — "the gratitude of being seen."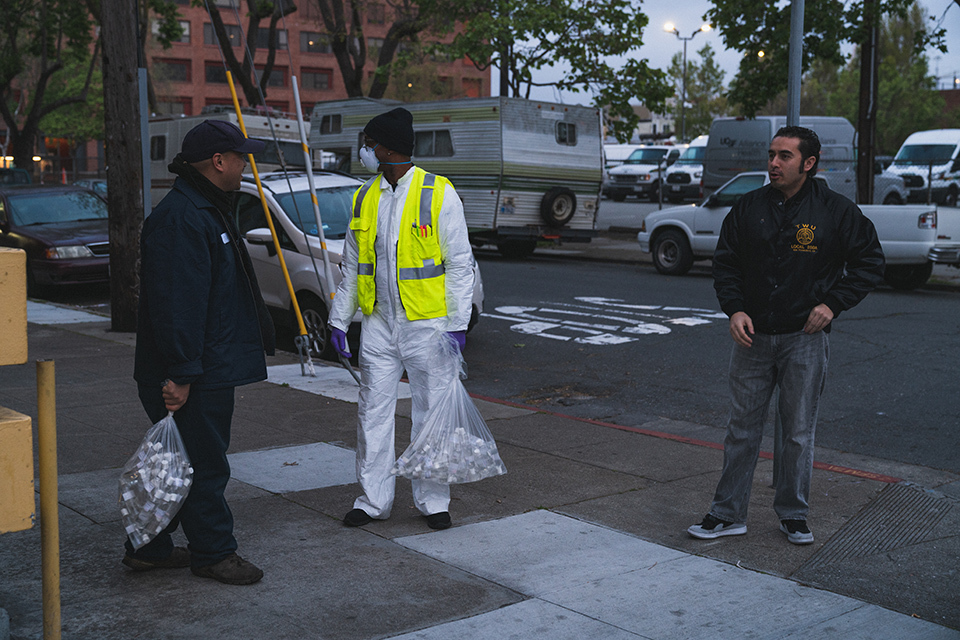 Hao says she and Abidi have seen the curve flattening in wealthier communities, but not marginalized ones. She says they won't stop producing until hand sanitizer becomes available for everyone.
"It's a few of us who are trying to stop the bleeding, but Mayor London Breed has the power to close the wounds," Abidi said, adding that the city should be moving unhoused people off the street and into more permanent living situations to prevent COVID-19 spread. 
In the meantime, the group has raised about $14,000 on GoFundMe to buy more sanitizer ingredients and bottles. 
"We want to push as hard as we can," Yu said. "It's a situation where hours matter."
Abidi said he and Hao are in "early conversations" for expanding their sanitizer production efforts to other university campuses. 
Yu's housemate Hormel, a photographer, has been documenting the project "as an accountability tool," for others who want to get something similar started. 
"We want to show how easy it is to do something like this, so that others can do it as well," Hao added.
---
To support Abidi and Hao's hand sanitizer distribution in San Francisco, donate to their GoFundMe campaign. A separate campaign has also been created for similar efforts in the East Bay.