Long one of San Francisco's more colorful neighborhoods, the Upper Haight turned into a ghost town seemingly overnight when the city's shelter-in-place order forced businesses to close. Fearing vandalism, many storefronts boarded up.
For some long-term residents, the boarded storefronts may recall the dark days of the late 1970s, when vacancies and urban blight were rampant.
But with the mandated shutdown already extended once, and no word on when businesses will resume normal operations, area artists and shop owners have started collaborating here, as in other neighborhoods, to signal connection and positivity.
"We wanted our murals to show hope," said SF Mercantile owner Robert Emmons — "focus on the positive in all of this: love, inner strength and peace. Together we'll get through this."
Emmons was painting the plywood at his storefront earlier this month, pictured below, when Gabrielle Lara passed by.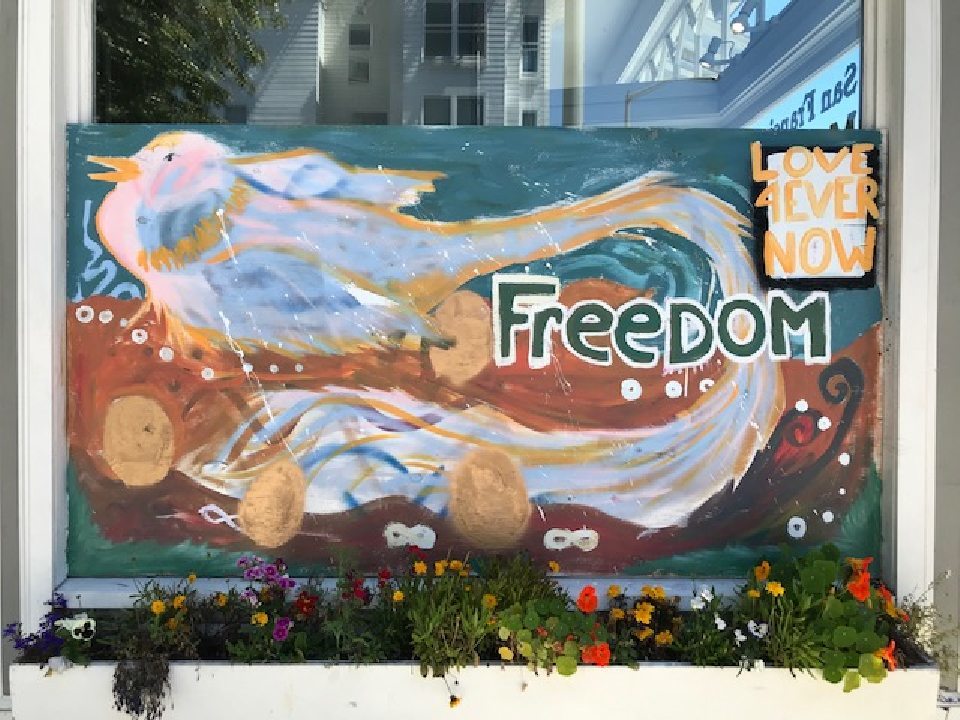 Lara is a member of a seven-person healing and arts collective called Eternal Love Tour. On the road when COVID-19 closures started to strike, Lara said they felt called to San Francisco and decided to shelter here.
"As the days passed," Lara said, "we thought, how do you brighten this place up?"
Emmons gave Eternal Love free run of the storefront and bought paints and supplies at Roberts Hardware, which made them available at a discount. "It kind of all just came together so beautifully," Lara said.
She said Eternal Love Tour, which is currently looking for ways to extend their Bay Area sojourn, would be happy to paint out more storefronts if shop owners donate supplies.
Also among the installations in the area is an addition to fnnch's "honey bear" series, depicting bear-shaped honey bottles repurposed as sanitizer dispensers.
Nancy Gille, a board member at SF Heritage and the custodian of the Doolan-Larson building at Haight and Ashbury, is working with the Haight Street Art Center on a partnership with a living legend from the counterculture's arts scene, artist and printmaker Stanley Mouse.
Gille said the idea is for the art center to print a run of unique posters designed by Mouse for area shop owners and residents to post. Another, larger Mouse installation is about to go up at Cold Steel, Gille said.
"On a personal level, I abhor the thought of it looking like a war zone, which it is in effect," Gille said. "We're at a time of crisis and isolation, and I think personally that the role of art becomes even more important, whether we realize it or not, and it has the opportunity to bring us together."
San Francisco Public Works spokesperson Rachel Gordon confirmed that DPW has temporarily suspended its graffiti citation program, leaving landlords and shop owners free to decorate without penalty.
But that doesn't mean all additions are welcome. For example, in addition to collaborating with businesses, Eternal Love made two unwanted installations earlier this month which were promptly removed. Roberts Hardware is providing graffiti abatement for local businesses, painting over anything that isn't explicitly invited by shop owners.