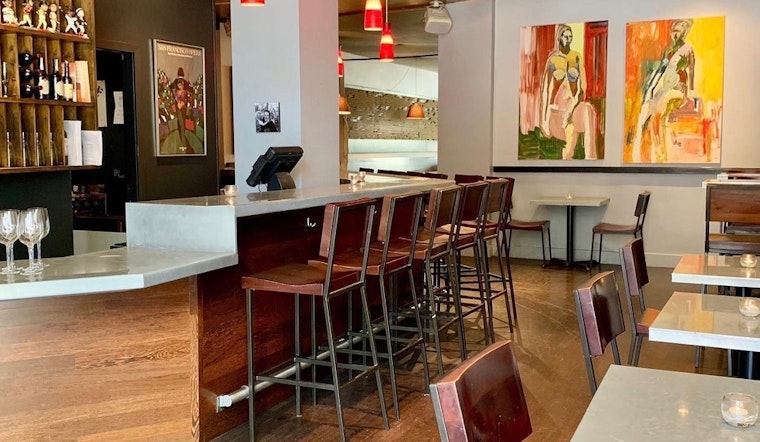 Published on April 28, 2020
Pause Wine Bar in Hayes Valley has closed for good.
In response to the city mandated shelter-in-place order, the nine-year-old bar at 1666 Market St. first closed in March, but its owners, married couple Chris and Lila Tavelli, have decided to permanently shutter.
The couple also owns Yield Wine Bar in Dogpatch at 2490 3rd St.
Chris said the decision to close Pause came in anticipation of extended social distancing measures. The bar's business model was based on events, usually with groups of 50 to 100 people. He said he and his wife didn't see people getting together in large groups any time soon, and it made more sense to permanently close.
The closure comes less than a month after a burglary took place at the bar. While the couple had already moved mostly everything out of the building, including all its cash and wine, the thieves got away with something more personal: a Giants bobblehead collection, which Chris, an avid Giants fan, had built up over the years through gifts from customers.
At the time, he said "it felt like a real gut punch." But when news got out that the collection was stolen, people started sending him new bobbleheads to replace the old ones.
He said it was "incredibly heartwarming" to receive those gifts, some of which came from people he didn't know well but who had visited the bars over the years and wanted to show support.
Today, the new collection is larger than the original, now at 19 and growing. It's displayed behind the bar at Yield, which the couple opened 13 years ago.
Chris said there are no plans to close Yield. In fact, the Tavellis just re-opened the wine retail business for takeout last Friday.
He said the community in Dogpatch has rallied to help keep the business going. Since shelter-in-place began, sales in the neighborhood went up, and most of the deliveries are going to Dogpatch residents.
The Tavellis are also using the space at Yield to run their Quarantine Wine Club, which has become popular with locals in the past few months. 
The service delivers full and half cases of wine around San Francisco, and accepts donations to ship wine to healthcare workers.
You can order wine, or donate to send wine to healthcare workers, at the Quarantine Wine Club website.