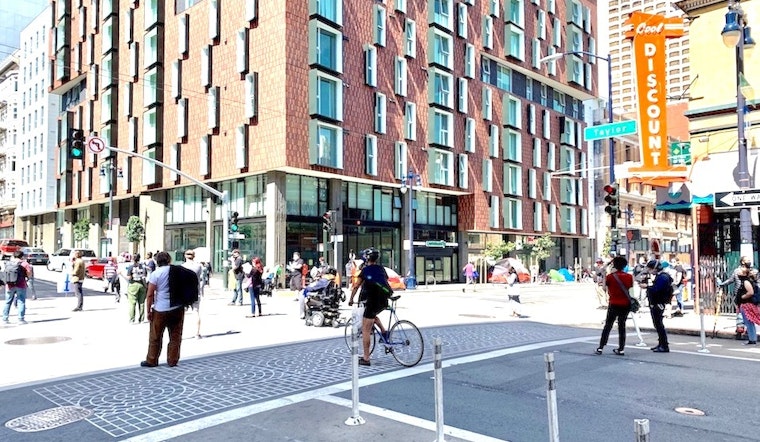 Published on May 27, 2020
San Francisco's less-dense western neighborhoods have seen plenty of street closures in the past month, to provide more car-free space for residents to walk, bike and exercise amid the COVID-19 shelter-in-place order.
But in the Tenderloin — the city's densest neighborhood — all streets still remain open to cars.
The neighborhood was dropped from the SFMTA's initial "Slow Streets" plan, in favor of a separate, allegedly more holistic plan for street closures. Yet while all the "Slow Streets" were implemented within weeks, the Tenderloin plan has made hardly any progress. 
Last Friday, May 22, protesters blocked the intersection of Taylor and Eddy streets to demand more street closures. This week, city officials made efforts to close off the north side of Eddy, though it wasn't initially in their plan. Meanwhile, a number of other planned closures remain in limbo.
Tenderloin residents say there's been an explosion of unhoused people in tents on the neighborhood's sidewalks. For many, it's been impossible to simply walk to essential activities at a safe social distance, much less enjoy recreation. 
"Plausible deniability has been abolished at this point," said Curtis Bradford, co-chair of the community organization Tenderloin People's Congress. "It is clear this community is being treated as a containment zone for the city."
When the Slow Streets plan was announced on April 21, the SFMTA faced immediate pushback about its inclusion of only one Tenderloin street: Ellis Street, between Polk and Leavenworth streets. 
"That's a great start, but it's not enough," Supervisor Matt Haney, who represents the neighborhood, told the SF Public Press. "We need to make an expansion of the space that people have in the Tenderloin."
In response, the city dropped Ellis Street from the Slow Streets program, saying it would develop a separate plan for street closures in the neighborhood. The Tenderloin Neighborhood Plan was released two weeks later, on May 6.
Rather than shutting down the initially proposed blocks on Ellis, the new plan calls for the closure of Ellis between Jones and Taylor, to accommodate Glide's outreach and food line operations.
As part of that effort, the plan suggests leasing the Civic Center Inn's Olive Street parking lot, where it can relocate campers from the sidewalk on Ellis Street between Larkin and Polk streets.
Finally, the plan calls for the removal of parking in four locations, to provide more space for residents to navigate sidewalks without entering traffic:
Unit block of Golden Gate: first three spaces on the north side, east of Jones
200 block of Golden Gate: all spaces on the south side between Continuum and Leavenworth
300 block of O'Farrell: south side loading bay
300 block of Taylor: east side loading bay
Three weeks on, there has been little, if any, action to implement any of the above, Bradford says. 
But after Friday's protest on Eddy, which the People's Congress co-organized with the Concerned Citizens for Traffic Action Safety Committee, some work has started to block off the street's north side — which the Tenderloin Neighborhood Plan doesn't call for.
"The Mayor cannot claim to be taking COVID-19 seriously while acting slowly in assuring the safety of Tenderloin residents," Bradford said.
Jonathan Streeter, a public information officer with the city's Emergency Operations Center (EOC), said that the SFMTA has already blocked off the parking spaces on Golden Gate, O'Farrell and Taylor.
"Our traffic engineers are working on installing barriers and/or signage appropriate to each situation," he said. 
A Hoodline reporter visited all four locations, but found no signs or enforcement effort to prevent people from parking there.
Streeter did not provide a response about why the other actions proposed in the Tenderloin Neighborhood Plan have not materialized, or whether the construction on Eddy was undertaken in response to the protest. 
With the Slow Streets plan already set for expansion to more neighborhoods, many Tenderloin residents have wondered why they're getting a separate plan, instead of being folded into that effort.
Streeter said that the Tenderloin Neighborhood Plan was developed "separately" from the Slow Streets plan "as a part of the City's broader efforts to address the public health crisis… among people who are experiencing homelessness."
For Bradford, the lack of street closures is deeply personal. He's considered high-risk due to other health conditions, and has been quarantined in his small Tenderloin apartment since March 6.
But with sidewalks too crowded to navigate safely, he can't even go to the grocery store, relying on delivery services and help from neighbors.
"I've been out of my room three times in 75 days," he said. "It's unclear when I'll be able to go to the store safely."
Despite being trapped in his apartment, Bradford has been working to keep neighbors connected virtually, calling for further actions like more hygiene stations for unhoused residents to use.
"I just want to understand why there's such a hesitancy to act," he said. "It almost feels like it's personal."