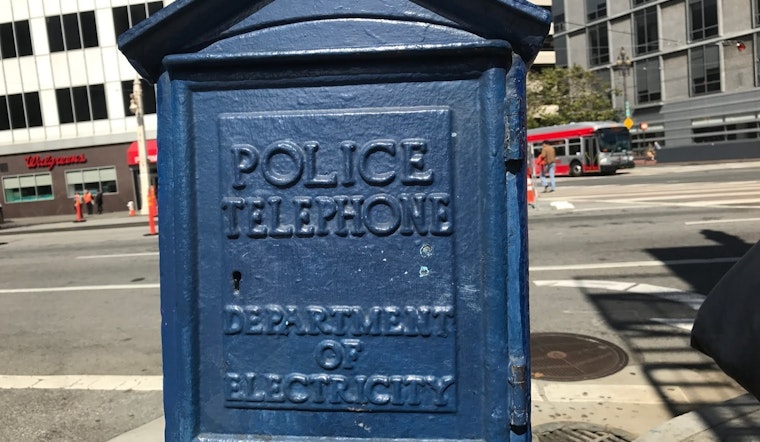 Published on May 26, 2020
Here's a selection of notable crime reports from Hayes Valley and the Western Addition since our last crime roundup. All reports were provided by SFPD, unless otherwise noted.
Assault with rope and metal object
On May 24, three men got into an argument around 4 a.m. on the 1500 block of Market Street (between South Van Ness and Franklin). The argument escalated, and two of the men, aged between 20 and 30, assaulted the third, a 37-year-old man, with a rope and a metal object. The victim was transported to a hospital with non-life threatening injuries. The two suspects fled on foot. No arrest was made.
Robbery victim attacked with chemical spray
On May 23, a 32-year-old man approached a 49-year-old man at 3:58 a.m. at Hayes and Market streets and sprayed him "with some sort of chemical spray," police said. The younger man then took cash and a key from the victim and fled in an unknown direction. No arrest was made. The victim suffered non-life threatening injuries from the robbery.
Wine bottle taken from picnic table at Patricia's Green
On May 20 at 3 p.m., a man of unknown age grabbed a bottle of wine from a 57-year-old man off of a picnic table at Fell and Octavia streets. The suspect then threatened to harm the victim with the bottle when the victim tried to recover it from the suspect. The suspect then fled on foot with the bottle. No arrest has been made. Police noted that the victim was not injured during the encounter.
Verbal argument leads to stabbing
On the same day, a stabbing occurred at Hayes and Laguna streets at 2:30 a.m. A 40-year-old man and a 54-year-old man were in a verbal altercation when the younger man stabbed the older man with a knife and fled. The stabbing victim suffered non-life threatening injuries and was transported to a hospital. No arrest has been made.
Man hit with stick
On May 12, a man aged between 25 and 30 hit a 28-year-old man several times with a stick at Franklin and Ellis streets. The assault led to non-life threatening injuries, but no arrest was made. The incident occurred at 2:15 p.m.
Community meetings on crime and theft
The SFPD Northern Station's monthly community meeting has been canceled, while the Hayes Valley Neighborhood Association's public safety meeting will take place online.
The meeting will be joined by SF Juvenile Probation Department's Chief Katherine Miller, Sgt. James O'Malley of SFPD Northern Station, Art Campos of SFSAFE, and District 5 Supervisor Dean Preston.
On the meeting agenda are public safety concerns in Hayes Valley, the future of public transportation in Hayes Valley and recent police activity in the neighborhood, including business crime challenges.
The meeting will take place on June 1 at 4:00 p.m. Registration is open until 7 p.m. on Sunday, May 31.
---
Anyone with information about any of the incidents listed above is asked to call the SFPD tip line at (415) 575-4444 or Text-a-Tip to TIP411 and begin the text message with 'SFPD.' Tipsters can remain anonymous.
Did we miss anything? If you have any information on any crime or safety-related issues in the neighborhood, feel free to text Hoodline at (415) 200-3233.