On Wednesday, dozens of goats were deposited on the steep hillside at Rincon Hill Dog Park, adjacent to the I-80 freeway.
Their mission: to munch on overgrown weeds, a task that's previously been undertaken by goats at several particularly steep spots around the city. 
The timing was right because the dog park remains closed due to shelter-in-place restrictions, giving the goats a chance to munch undisturbed.
The park's slope must be landscaped to prevent a brush fire, which could easily spread to the adjacent freeway. But the slope is notoriously difficult for workers to safely maintain. It's also littered with trash thrown out of car windows, but the weeds make it challenging for crews to pick up.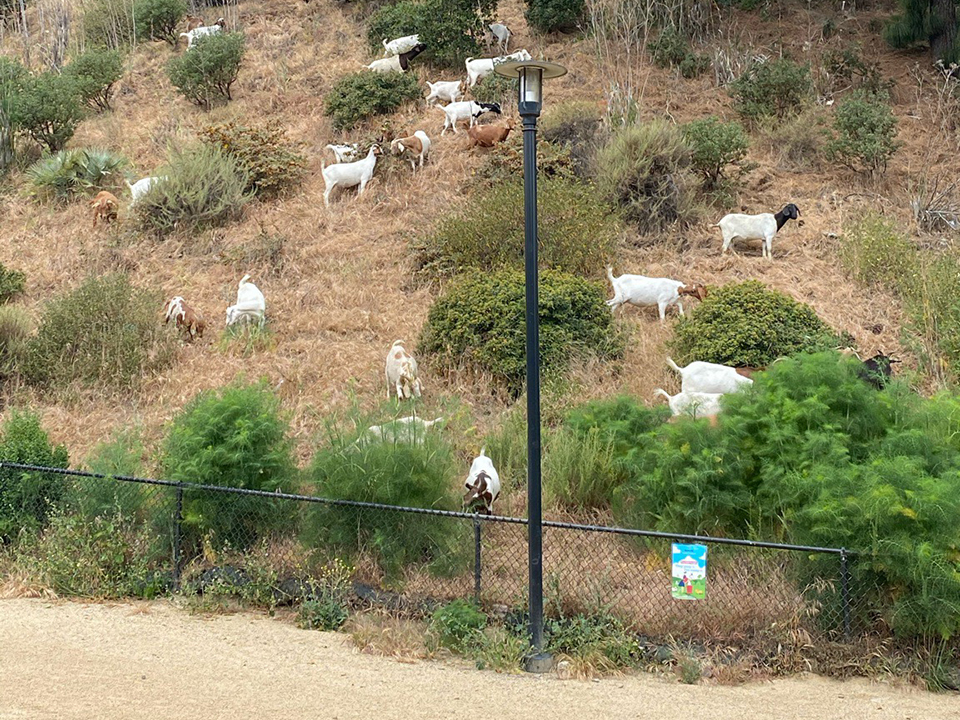 While the City & County of San Francisco is responsible for the maintenance of some of the dog park, Caltrans oversees the right-of-way adjacent to the freeway, and picked up the tab for the goats.
"It turns out that the safest and most sustainable, environmentally friendly way to clear the weeds is to bring in these new friends, who also get a big lunch," District 6 Supervisor Matt Haney said in a statement. 
It's unclear who the goats themselves belong to; Caltrans did not respond to a request for comment. [Update 5/15: According to a Caltrans representative, the goats belong to Rancho Cordova-based Capra Environmental Services, Corp.]
It's not the first time that goats have offered their appetites to the city's landscapers. As we reported last year, goats helped clear the way for gardeners at the Potrero Hill Community Garden by chowing down on invasive weeds. Earlier this year, the natural weed-removers were also spotted in the Presidio and on Recology property in Visitacion Valley.
Goats from the Bayview-based nonprofit City Grazing were previously put to work in the 61-acre Mt. Sutro Open Space Reserve, when UCSF Parnassus hired them to remove flammable undergrowth and trim branches.