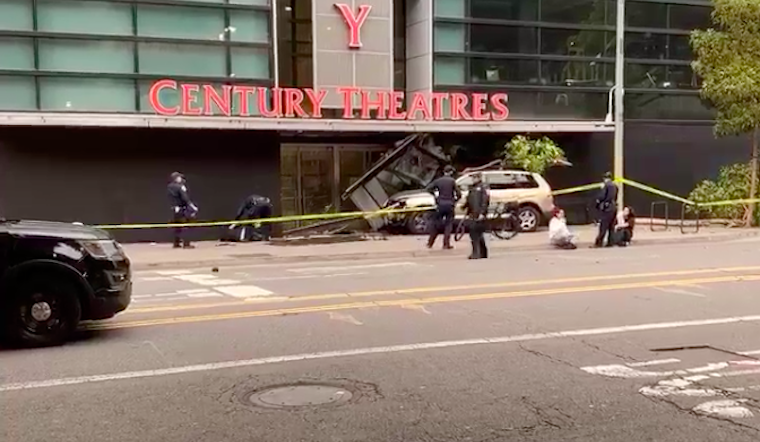 Published on May 29, 2020
A man was injured Thursday evening after an SUV driver plowed into the rear of the Westfield San Francisco Centre mall. 
Police say the driver was headed westbound on Mission Street (towards Fifth Street) around 7:15 p.m., when they collided with the rear entrance of the mall, beneath Bloomingdale's. The man, 35, was walking on the sidewalk when the driver struck him. 
The man was hospitalized with non-life-threatening injuries. The driver remained at the scene, cooperating with police.
The cause of the collision is still under investigation, but "impairment did not appear to be a factor," said SFPD spokesperson Ofc. Adam Lobsinger.
Mall management declined to comment on the extent of the damage, or when the rear entrance of the mall will once again be usable. Lobsinger said that a city building inspector responded to the scene, and determined that the building remains safe. 
The building entrance struck by the driver contains the elevator access to the Century San Francisco Centre 9 movie theater, which remains closed under the COVID-19 shelter-in-place order. Bloomingdale's, located just above the entrance, is currently open for curbside pickup, as are other mall retailers.
Gov. Gavin Newsom has allowed the bulk of California's counties to reopen malls, but the Bay Area continues to adhere to a stricter set of guidelines. Mayor London Breed announced yesterday that most indoor retail in the city would be allowed to reopen on June 15, but malls will need to have "approved plans" before they open their doors.