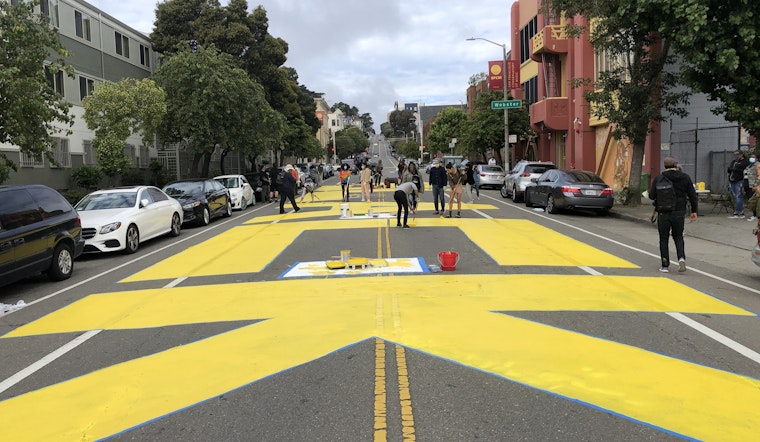 Published on June 12, 2020
Last Friday, Washington, D.C. mayor Muriel Bowser asked the city's Public Works department to paint "Black Lives Matter" on a street near the White House.
Spelled out in 35-foot-high yellow letters, the rallying cry quickly inspired similar displays in other cities, with activists painting calls to action in Sacramento, Oakland, and Raleigh, N.C.
Now, San Francisco has its own "Black Lives Matter" street mural.
This morning, over 100 Fillmore District residents and allies came out to paint the message on Fulton Street between Webster and Octavia streets. Like the D.C. installation, it appears in bright yellow block letters.
The project is the brainchild of twin sisters Melonie and Melorra Green, who are the co-executive directors of the African American Art & Cultural Complex, and Tyra Fennell, of urban art nonprofit Imprint City.
Local artists Malik Seneferu and Andre Jones (a.k.a. Nattie Rebe) also contributed to the effort, intended to express solidarity with the ongoing nationwide movement fighting racism and police brutality.
"Today is so special, because Black Lives Matter is coming to San Francisco, at the epicenter of the black community," Melorra Green told Hoodline. "The Fillmore, Bayview, Sunnydale — all these communities are San Francisco. There are pioneers here who have paved the way for this community to thrive."
The group did not seek a city permit to install the art, nor to close off the road while they worked.
Jones, who also worked on Oakland's Black Lives Matter street, said that the group considers it a nonviolent, peaceful protest, and that it sought agreement from neighbors prior to painting.
"The majority of the community has been in total support — we've had people scream out the window," he said. "No harassment. Everyone understands what's going on, and all the drivers have been accommodating."
Project Level, a Fillmore-based nonprofit focused on youth arts education, brought a team of youth volunteers to help paint the street. 
"I was born and raised in the Fillmore," said Danielle Banks, who runs Project Level with her husband, Richard Bougiere. "This is an opportunity to make a stance, to show folks we are here, and won't be forgotten. It's vital that youth witness this movement."    
The Green sisters said that those looking to get involved in the mural project, or donate to the effort, should reach out to them directly. 
"We want people to support Bay Area mural projects," Melorra Green said. "We want people to donate to organizations that are led by black people, not the organizations that are led by well-meaning white people who want to come in and help black people."
Volunteers said they were proud of the art, and of seeing the nationwide movement to fight racism represented on the city's streets.
"There's nothing more that matters to me than black lives — my children's lives, parents' lives, and everyone that supports and is around me," said Jones. "Without a doubt, they're the reason why I'm here painting Black Lives Matter."