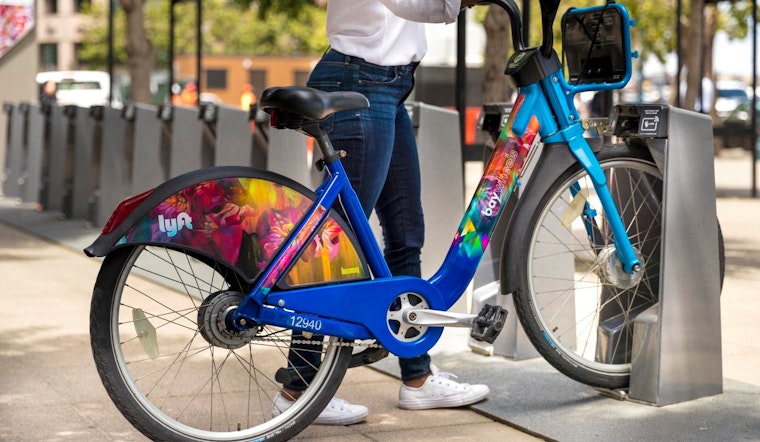 Published on June 30, 2020
The city's Bay Wheels bike share program, which is operated by ride-hailing company Lyft, has long neglected its presence in the Upper Haight. 
But with bike use soaring in the wake of the pandemic, Bay Wheels is looking to expand to the neighborhood, adding three bikeshare docks on residential side streets.
Currently, the nearest docks to the Upper Haight are at Carl and Cole streets in Cole Valley, and near the traffic loop on Fell and Stanyan. A third station has received permits at Haight and Lyon streets (near Buena Vista Park), but remains unbuilt.
There are currently no stations in the heart of the Upper Haight — from Oak to Frederick streets, between Buena Vista Park and Stanyan Street.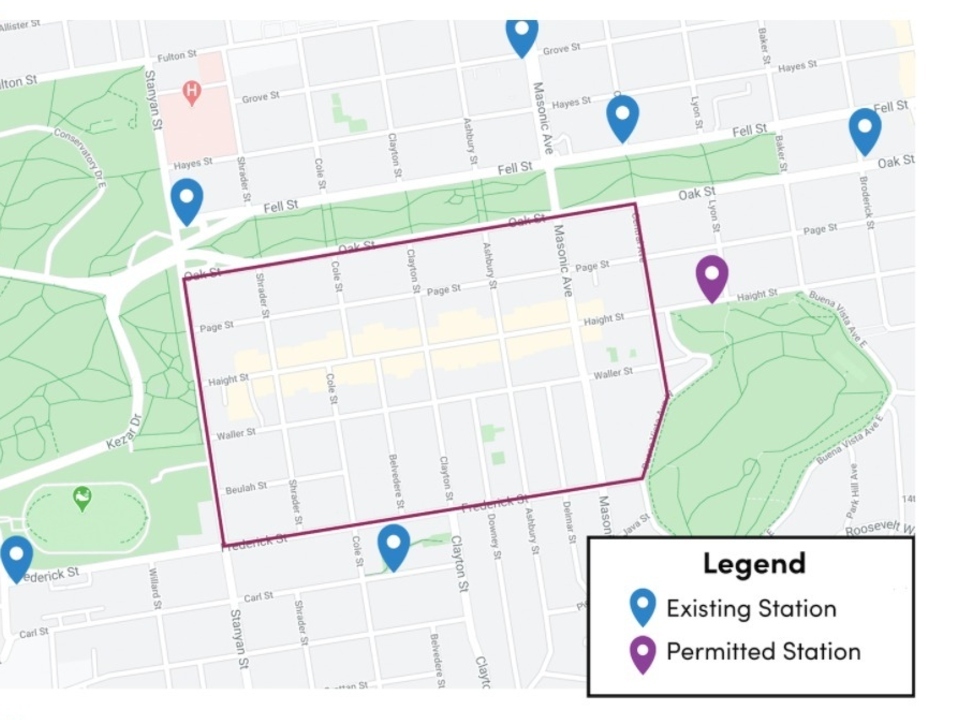 To expand into the Haight, Lyft is considering six potential sites — two each in three different neighborhood "zones" bracketing the Haight Street commercial corridor.
One station will be chosen from the two allotted to each zone, with the help of an online community survey set to run from now through July 15. 
The first zone, closest to Golden Gate Park, offers the choice of a dock on Stanyan Street at either Frederick or Waller streets. The second, in the neighborhood's center, would be at Haight and Cole or Waller and Clayton streets. The third is set for Page Street, at either Clayton Street or Masonic Avenue.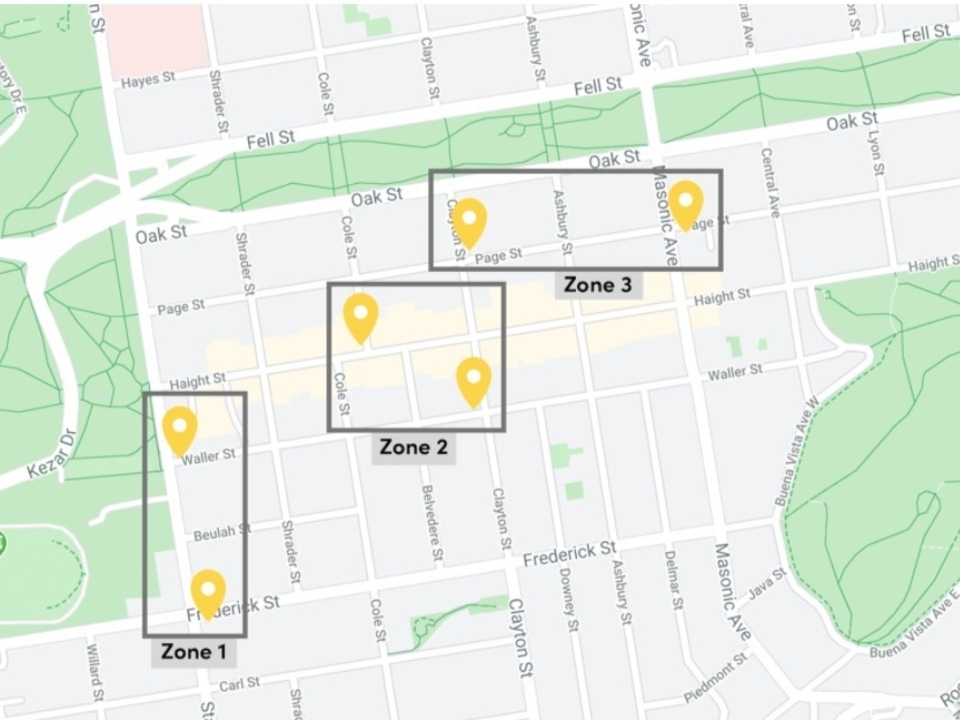 Each dock would be able to rack between 19 and 31 bicycles, for a total addition of between 65 and 89 bicycles across the three locations. A 19-cycle rack takes up the space of about three parked cars, according to Bay Wheels.
That means the new docks will likely be subject to complaints about the loss of parking in the neighborhood. 
Steve Wickwire owns Wooden Cafe at Carl and Cole streets, just steps from the Cole Valley station. He said the Cole Valley station didn't seem to change much for the neighborhood, other than taking up parking spaces.
"We were all kind of trying to change the location of it, because it took up a lot of parking," Wickwire said. He didn't feel like community input made much difference to the station's ultimate location.
Wickwire doesn't see many people coming and going on the Bay Wheels bikes at Carl and Cole. "They're just kind of around," he said.
In December, Lyft introduced a Bay Wheels program that allows cyclists to lock its electric bikes to any rack or pole, instead of relying on a designated dock. (Non-electric bikes must still use a dock.) 
But not every user adheres to those rules, and stranded electric bikes have become a daily sight on the Haight's sidewalks. 
Asked how the three new stations might impact the density of loose bikes in the Haight, Lyft spokesperson Alex Rafter responded that "riders shouldn't be leaving bikes freestanding on sidewalks," noting it's against Bay Wheels policy. Asked what Lyft is doing to enforce the policy, Rafter said Lyft charges small fines for repeat violations. 
Rafter didn't speculate on what the final installation date for the new docks might be.
After this first round of community feedback, he said, Lyft will publicize the three winning station locations and do some more community review, before taking the results to the SFMTA to commence the permitting process.