The Castro's tent village for homeless people is set to close next week — after just five weeks of operation.
The "safe sleeping site" at Everett Middle School, which opened on June 8, is set to close this coming Tuesday, July 14, according to Department of Emergency Management (DEM) spokesperson Kristen Hogan.
Hogan says the site must be broken down because the San Francisco Unified School District is set to reopen Everett. Staff will return on August 11, with students following on August 17.
The SFUSD said this week that it won't make a decision on whether to resume in-person classes until the end of July. A report in the Chronicle suggests that few, if any, students will return to in-person classes in the coming months. 
There are currently no plans for another safe sleeping site in the Castro area. "It's hard to think of a suitable site," said District 8 Supervisor Rafael Mandelman, who represents the Castro.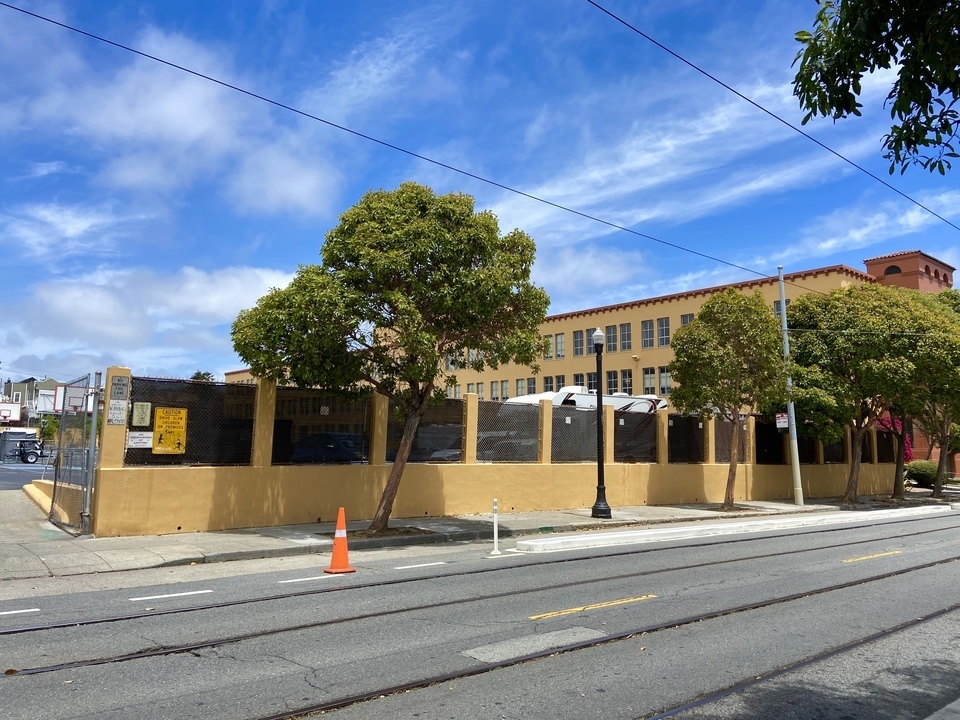 People sleeping in Castro-area homeless encampments were given priority access to the safe sleeping site, which opened with an estimated capacity of 50-60 safely distanced people.
That was ultimately reduced to 40 residents in order to maintain a required SFFD fire lane, Hogan said. At its peak, the site only drew 36 people. 
"The highest occupancy was 36 because the site was always a short-term solution," Hogan said. "Whenever plausible, occupants were offered longer-term shelter options."
Hogan confirmed that only two site residents, both considered highly vulnerable to COVID-19, were placed in hotel rooms. The rest were encouraged to use the city's Homeward Bound program for a bus ticket to stay with family. 
The 28 people that remain at the Everett site have been offered beds in congregate shelters, some of which have begun to reopen in recent weeks.
"Some have accepted; others declined and self-exited," Hogan said, using a term referring to those who've returned to the streets. 
Early in the pandemic, the congregate shelters — which house tens or hundreds of people in a large open space — drew criticism for their facilitation of COVID-19 spread. SoMa's MSC South shelter had a COVID-19 outbreak in mid-April that saw 93 people test positive.
Hogan said the congregate shelters are abiding by all public health guidelines, including social distancing and regular testing and screening of clients.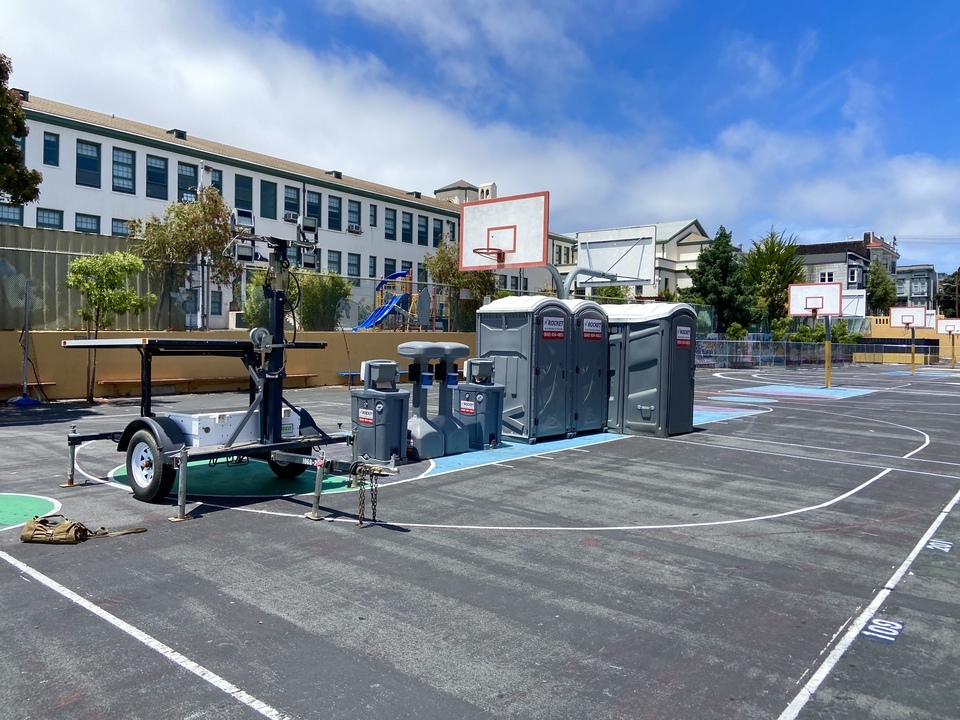 Both homeless residents and neighborhood advocates told Hoodline they were pleased with the site. 
"The area around the site was clean, quiet and integrated into the neighborhood," said Carolyn Thomas, captain of the nearby Ford Street Neighborhood Watch. Before the site opened, neighbors were concerned about noise and trash, but none have complained to her.
Robert Lee, a homeless resident at the Everett site, says he's sad to see it go — his three weeks living there have been a positive experience. 
"People are respectful of each other's space, there's a noticeable lack of conflicts, and the staff members have good attitudes," said Lee, who's been homeless for six years. But the site's temporary nature was frustrating from the start.
"It would be cool as a transition from street to hotel room — however, it seems more like '40 spaces until mid-July,'" he said. "Then it's back to square one, because we're on a school lot."
Lee's still in talks with site staff about his options. He's hopeful that he can get connected with a hotel room; a spot in a congregate shelter would be his second choice.
Should neither option pan out, "it will be back to hiding in blankets, and sleeping on sidewalks," he said. "My chances of finding employment slim down a little, too."
Sup. Mandelman said that the site has produced mixed results. There's been a small reduction in encampments and street trash, and "a number of pretty vulnerable people got help and got connected to services."
But it didn't make a dent in the Castro's most entrenched encampments, especially the one at 16th and Market streets where a homeless person nearly burned to death in late June.
"It's really dug in over the last six to eight months," Mandelman said. "Clearly, the safe sleeping village was not the answer for that encampment."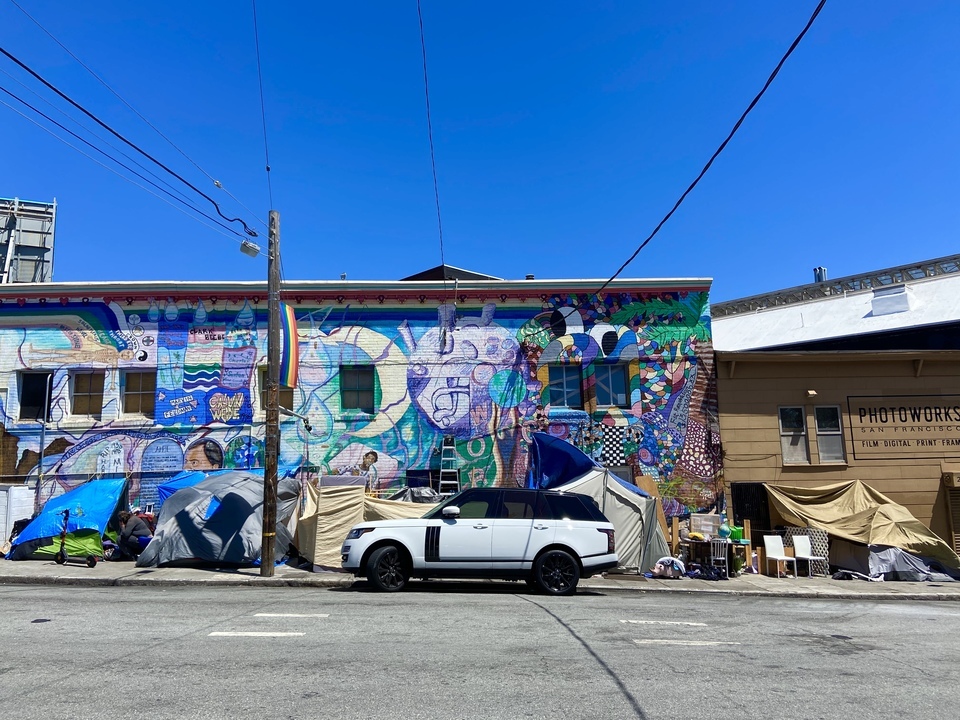 Mandelman said there's also been an increase in encampments at 16th and Dolores streets, along the Dolores Street median and around Duboce Triangle.
"Over the last three months, the street conditions have gotten decidedly worse," said Mandelman. "What drives neighbors up the wall is the activity the encampment begets — like noise, disruptive behavior, drug use, drug dealing."
Thomas, of the Ford Street Neighborhood Watch, says she thinks the site could have done better outreach to Castro encampment residents.
"I think the outreach to the unsheltered left something to be desired," she said. "I interact with several homeless people who hadn't heard of the program or been approached, which is a shame."
Thomas also noted that because of its temporary nature, the site stopped accepting new residents on June 22 — just two weeks after it first opened.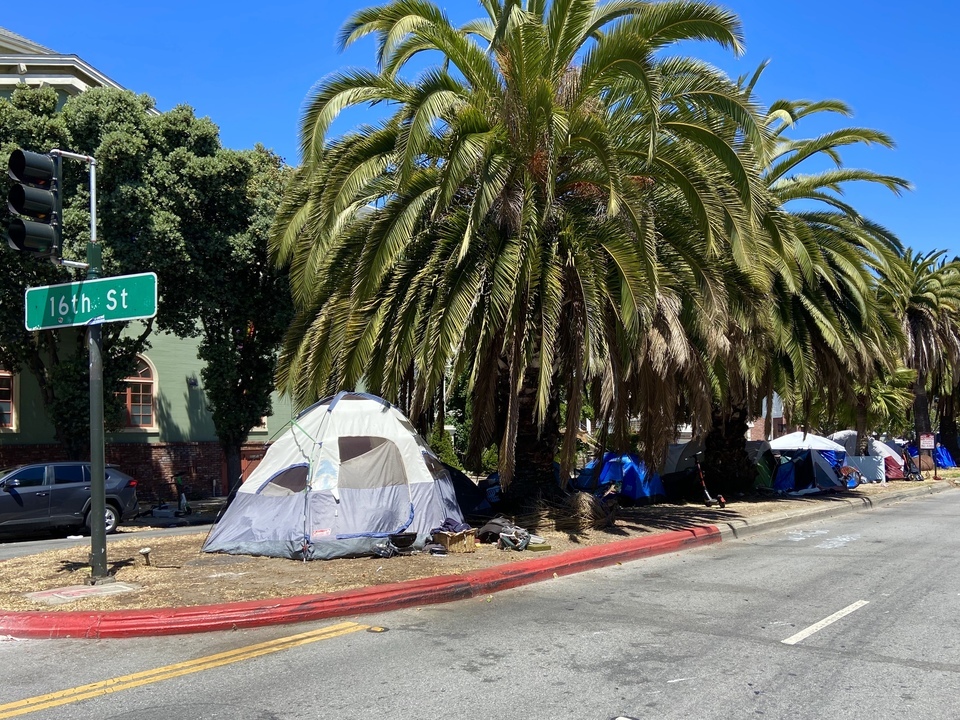 Last month, the city identified 42 locations for potential safe sleeping sites, but has yet to open a single new one. More than half of the proposed locations — 26 in all — are on SFUSD land, meaning they'll likely be unusable as the school year approaches. 
DEM's Hogan did not say whether any further safe sleeping sites are in the works, beyond the remaining three in Civic Center, the Tenderloin and the Upper Haight. "Sites throughout the city continue to be evaluated for viability and community need," she said.
Mandelman said he'd like to see more emphasis on homeless people being connected with hotel rooms and shelters. (Despite unanimous passage of legislation by the Board of Supervisors, Mayor London Breed has effectively frozen efforts to shelter most unhoused San Franciscans in city-leased hotel rooms to prevent the spread of COVID-19.)
He'd also like to see an increase in police enforcement and citations.
"We're not doing a great job of enforcing the law," said Mandelman. "We need to use all our tools, and sometimes it doesn't feel like we are."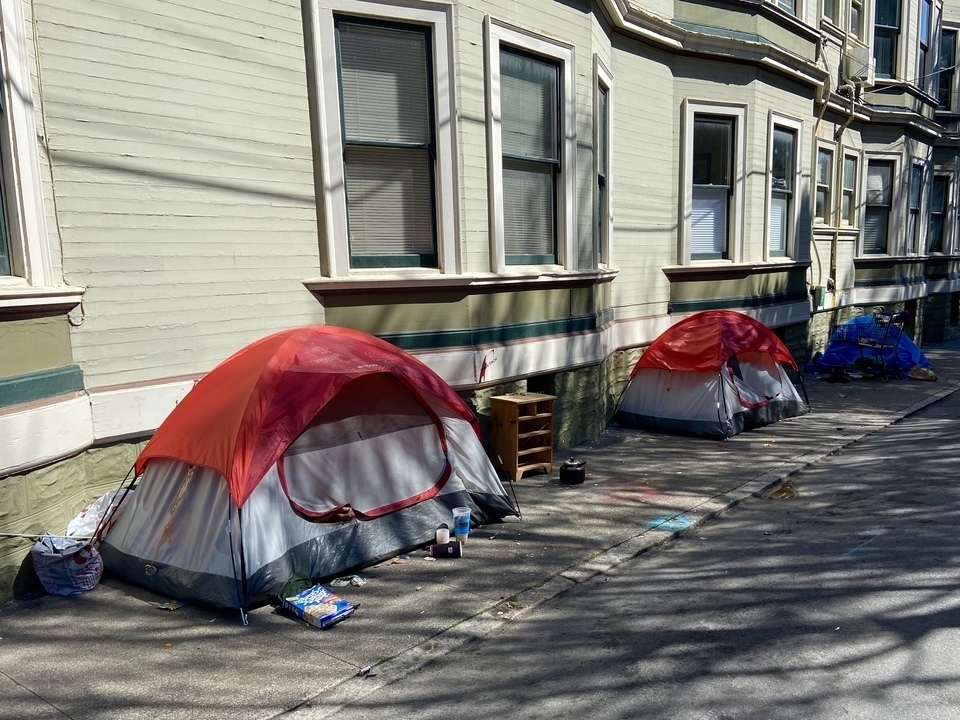 For her part, Thomas would like to see more efforts made to integrate neighbors into getting people sheltered.
She notes that many encampment residents are "pretty entrenched" — either they don't trust the city's offers, or they're holding out for a hotel room. Having a neighbor make the case might help. 
"I'm very happy for the 40-plus people who got, and will continue to get, some stability in their lives over the last several weeks," she said. "They weren't shuffled from one block to another, and they also had a modicum of security knowing they didn't need to bring all their belongings if they left for a few hours."