The Gene Friend Recreation Center at Sixth and Folsom streets is set to be demolished and replaced, upgrading from one story to two and offering more than double the space. 
Final designs for the 30-year-old center, which have been in the works for more than six years, were recently released by the Trust for Public Land (TPL).
The plan calls for more than doubling the amount of on-site private meeting and gymnasium space, while simultaneously maintaining almost all of the outdoor space used for sports like basketball.
The center is "used to the point that it needs a lot of help, and space to spread out in," said Guillermo Rodriguez, California director for TPL.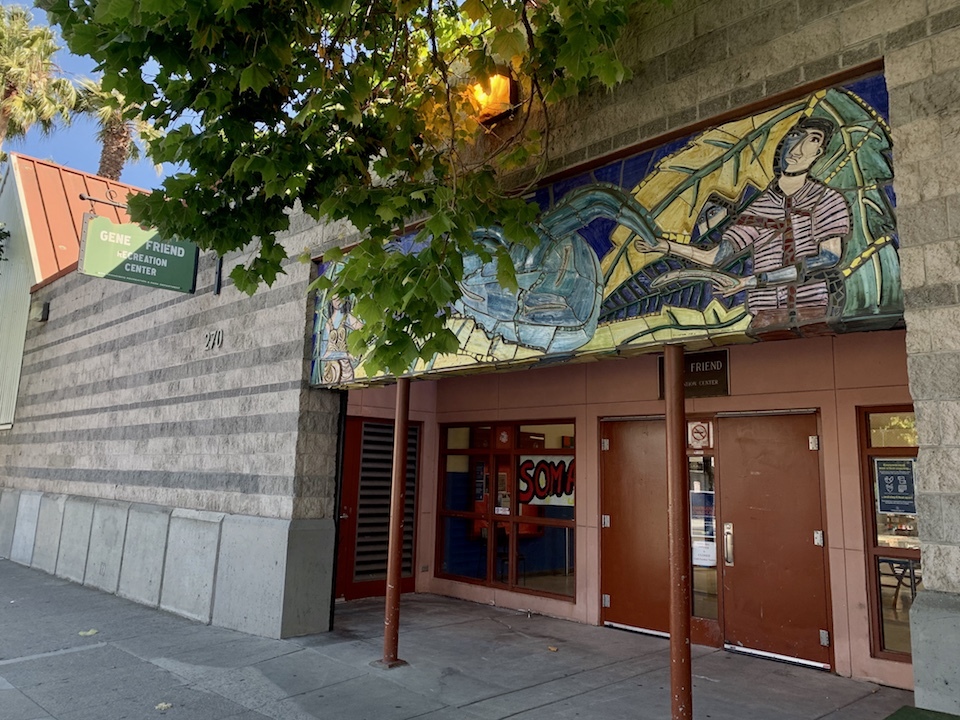 The new center will continue to bear the name of Friend, a son of immigrants who transformed his family's clothing business into a real estate empire. A longtime member of the city's Recreation and Parks Commission, he donated significant sums to improve the city's services for children. 
Though Friend died in 2005, his family still manages his foundation, which paid for the extensive public engagement process needed to design the replacement center. 
"[Developing new plans] really takes a while, because we want to avoid a cookie-cutter response," Rodriguez said. In addition to multiple community outreach meetings, TPL also reached out directly to people and organizations that weren't able to attend community gatherings. 
"Our first priority is young people," says Misha Olivas, program director for youth development program United Playaz. "But we understand how valuable open space is to adults in the neighborhood, as well, so there needs to be outdoor areas that aren't just playgrounds."
The resulting plan is a balancing act, meeting often contradictory demands. For example, stakeholders wanted to retain the current amount of outdoor space, while simultaneously expanding the number of indoor basketball courts, indoor classrooms, and multi-purpose rooms used for fitness classes and support-group meetings. 
"The community members decided among themselves the tradeoffs for how the new space looks and will be used," Rodriguez said.
And there still may be some changes on the way. Community members nixed the idea of using indoor space for an on-site cafe, but have expressed openness to a small outdoor cafe, like the Bi-Rite cafe in Civic Center Plaza.
Building the new center will cost $55 million. Rec and Park spokesperson Tamara Aparton says that about $25 million of that is slated to come from impact fees for the coming revamp of central SoMa. (When developers are approved to build new structures in the neighborhood, they must pay into impact funds, which support public resources.)
But the remainder of the budget is largely dependent on whether a proposed $438.5 million parks bond passes in November. If the money comes through, construction could start as soon as next year; if it doesn't, it could remain years away. The Board of Supervisors' budget and finance committee will consider the proposed ballot measure at its meeting tomorrow. 
The parks bond would also finance proposed improvements at Buchanan Mall in Western Addition, Herz Playground in Visitation Valley, and India Basin Shoreline Park. 
Building the new center also means taking the existing one offline for a time. Some activities, including basketball, could continue at a more limited scale at Victoria Manalo Draves Park, across Folsom Street. 
But "[Draves Park] is only outdoors, so any indoor activities will need to be relocated," said Olivas, whose organization runs the SoMa Youth Collaborative and summer programs out of the Rec Center. It's also currently operating an emergency childcare site there. 
She hopes to work with Rec & Park to make do, but it will be tough — SoMa has the least amount of open space in the city.
"It's important to keep the programs moving while the project is under development," Olivas said.