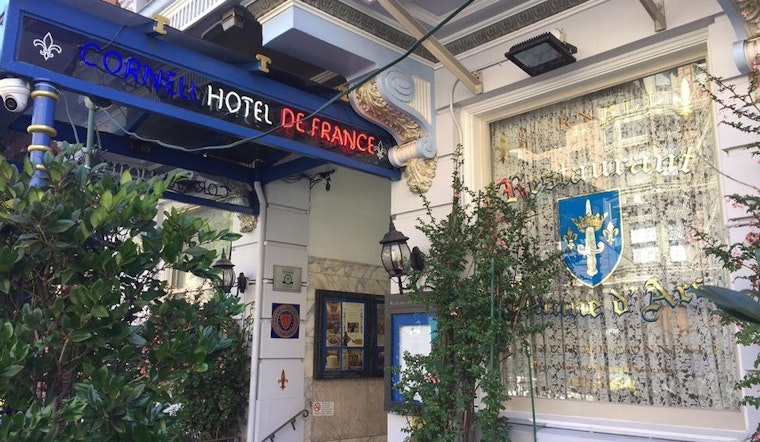 Published on July 16, 2020
Here's the latest in SF food news. In this edition: a French restaurant shutters after almost five decades of business in the Union Square/Lower Nob Hill area, a local tea house goes into "hibernation" and pivots to online sales, and a longtime Thai restaurant closes in SoMa.
Closures/Updates
Union Square
Jeanne d'Arc Restaurant (715 Bush St.)
Tipster Coy M. altered us to the permanent closure of Union Square's Jeanne d'Arc Restaurant, an old-school French spot that's been in business for nearly five decades. 
A Facebook post from owners Claude and Micheline Lambert announced that the closure occurred just before the recent "confinement," and that the restaurant will not reopen.
The website of the Cornell Hotel de France, which houses Jeanne d'Arc, confirms that it closed on March 11, a week before the shelter-in-place order began. 
The Lamberts did not respond to a request for comment.
"It has been the achievement of our life," they wrote on Facebook. "We shall always miss 'Les Grandes Heures' of the Restaurant, its special events, its musicians, singers and artists, its flags and 'fleurs de lys.'"
"Above all, we shall miss our dear customers, who became true friends of ours ... we thank them for their faithfulness, which gave us the good feeling of being useful in the San Francisco and the French communities."
The Lamberts, natives of France, opened the restaurant in 1972. It was known for its four-course prix-fixe menu and selection of French wine. It was particularly popular with tourists, having earned one of the highest ratings in the city on TripAdvisor. 
Despite its age, the Chronicle never reviewed the restaurant until last year; critic Soleil Ho described it as "a dose of authentic weirdness." For more on its history, check out this profile of the Lamberts from 2018.
Mission
Samovar Tea (multiple locations)
Samovar, the 20-year-old tea shop with three San Francisco locations and a fourth at SFO, has been open for to-go business since the shelter-in-place began. But owner Jesse Jacobs has decided to take its physical footprint offline for now.
Via email, Jacobs said that Samovar is going into "a hibernation period" until the crisis turns around, temporarily closing all its locations.
"The plan is to wait it out until the economy turns around and makes hospitality feasible," he said.
Samovar's locations in the Mission, Lower Pacific Heights and at Yerba Buena Gardens will close at 5 p.m. on Sunday. (The SFO location is already closed for now.)
Anyone who drops by to purchase loose-leaf tea, chai concentrate and other retail products before then will get 50% off. 
After the closure, Samovar will continue to operate its online store, where customers can buy tea and accessories for drinking at home. (FYI: the discount doesn't apply there.) Jacobs is also planning to host tea-centric Zoom events, starting with a mindfulness tea tasting on July 27.
We'll keep you posted on when Samovar's shops will reopen. 
SoMa
Cha-Am Thai (701 Folsom St.)
Hoodline reporter Carrie Sisto spotted a sign in the window of SoMa's Cha-Am Thai, announcing that it permanently shuttered on June 28. The sign didn't comment on the reasons for the closure, and Cha-Am's owners didn't respond to a request for comment. 
Open for close to three decades, Cha-Am served classic Thai dishes such as pad thai, fried rice, and spicy tofu.
Its spacious location, adjacent to Yerba Buena Gardens, the Moscone Center and several office buildings, made it popular with the business crowd and tourists — and it likely took a hit from their recent disappearance. 
"We are sad to say goodbye, but it has been a true pleasure serving this community," the note reads. "We will miss you all!"
---
Thanks to tipster Coy M.! If you've seen something new (or closing) in the neighborhood, text your tips and photos to (415) 200-3233, or email [email protected]. If we use your info in a story, we'll give you credit.