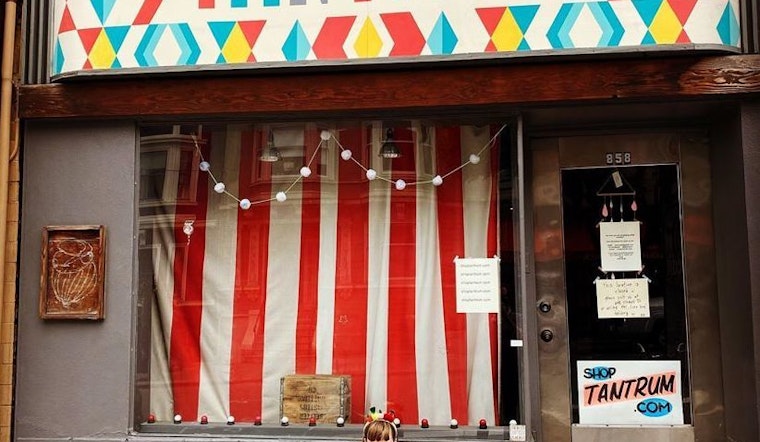 Published on July 27, 2020
Eight years ago, mom-and-pop children's toy and gift shop Tantrum got its start at 858 Cole St. in Cole Valley. Today, it announced that it will be closing that shop permanently, shifting the business to its sister location on Clement Street.
Tantrum has been seriously impacted — like most of San Francisco's small business community — by COVID-19. Downsizing to one store will keep it nimble and viable for the long term, said co-owner Amanda Weld.
A few months ago, that "definitely wasn't the plan," Weld said, noting that she and her husband, Richard, had been scouting for a possible third location.  
Then the pandemic forced a two-month closure of both Tantrum locations. While the Clement Street location reopened for curbside pickup in May, the Cole Street shop remained closed.
This month, the Welds reopened Tantrum in Cole Valley "as kind of a trial run," Amanda said. "[But] we just weren't hitting the numbers."
Keeping both locations open simultaneously meant "we were basically working to pay the bills — and putting ourselves more at risk."
So the Welds have decided to stick with the Clement store, a far larger space that allows for safer, more socially distanced shopping. The reduced costs of operation will allow them to hire back their two key employees, whom they had to let go when business shut down. 
Contrary to the common narrative about exorbitant rents and predatory landlords, "our landlords [in Cole Valley] were great," Weld said. "It wasn't so much that we couldn't make rent, it's just the small space. It isn't the time for that."
The move to Clement will also allow Tantrum to consolidate inventory for its online store, which has rapidly shifted from something of an afterthought to a home for nearly every product Tantrum sells. And it will make it easier for Richard to handle deliveries — which he's been doing on his bicycle, for free.
The Welds say they'll miss Cole Valley and the community they built there.
"It's sad," Weld said. "It's where we got our start, and we love the neighborhood. Hopefully our customers will come and find us."
---
Tantrum at 248 Clement St. is open daily from 10 a.m. - 6 p.m.