On Saturday, the San Francisco Municipal Transportation Agency (SFMTA) reopened its light-rail system, after a five-month hiatus for COVID-19.
But by Monday night, the Muni metro had shut down again, with buses once again substituting for trains. It's likely to stay that way for several weeks.
As transportation director Jeffrey Tumlin explained on Twitter, the SFMTA was hit with two serious problems at once. 
Muni had used the five-month closure to work on its backlog of deferred maintenance, which included installing new splices — connections of overhead wires that power its trains — in the tunnels.
But after being put to the test over the past few days, two of the splices failed, and the agency will have to replace them again. One of the failures, at West Portal station, also damaged an overhead wire.
Meanwhile, an employee at Muni's transportation management center — the control center for its trains — has tested positive for COVID-19. That means several other employees at the center must be quarantined, leaving insufficient controllers to operate the trains safely. 
"Our rail system has small teams of amazing technical experts, [and] the system doesn't work if a few of them are out," Tumlin explained on Twitter. "It was fear of this scenario that caused us to shut [down] the system in April."
In a press release, the SFMTA said it has detected 54 COVID-19 cases amongst its workforce over the course of the pandemic. None are believed to have been transmitted from coworker to coworker.
The light-rail shutdown is yet another blow to Muni, whose fare-based revenue has all but evaporated in the pandemic. This month, the agency announced monthly revenues had fallen from $14 million in June 2019 to just $1 million in June 2020.
Even during the brief period when trains were running, service was "unacceptable," Tumlin said.
Mechanical issues and a lack of train operators slowed the system tremendously on Sunday, as did reports of a person on the tracks. On Monday morning, the malfunctioning splice at West Portal took trains offline between West Portal and Castro stations, right in the middle of the morning commute.
It's not the first time that Muni has had an issue with splices: last April, another malfunctioning splice took trains out of service for almost a full day.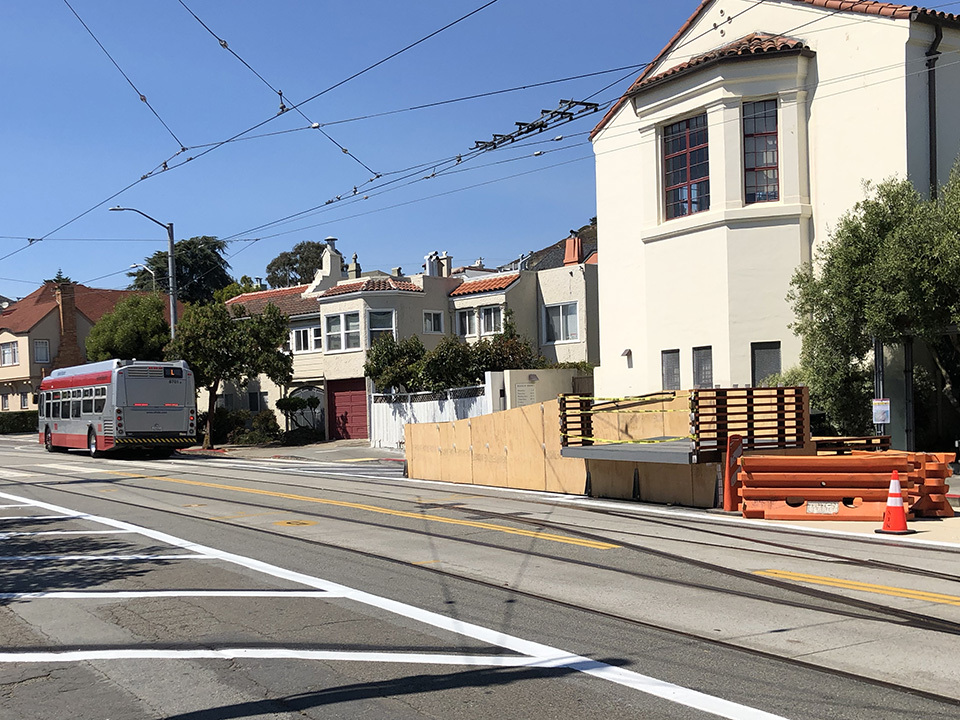 Saturday's return of Muni's light-rail trains had already brought several notable changes to the system.
The L-Taraval, K-Ingleside and J-Church trains no longer enter the tunnel to service underground stations (Embarcadero, Montgomery, Powell, Civic Center, Van Ness, Church, Castro, and Forest Hill). Instead, aboveground transfer points have been created at West Portal station (for the K/L) and Church station (for the J).
Muni has also installed temporary accessible boarding ramps at West Portal, and implemented a one-block street closure on Church Street (between 15th and Duboce).
Now, staff will have to scramble to reorient the light-rail system back to bus shuttles. "Our transit and customer service teams will be working all night to rebuild the transit system and its schedules for the third time since April," Tumlin said on Twitter last night.
The shift will also put added strain on the agency's buses. The reintroduction of the trains had freed up enough buses for the agency to restore some bus lines and improve capacity on others. 
With buses once again needed for train substitution, "we'll be able to maintain all our restored services, but frequency may be impacted," Tumlin wrote.