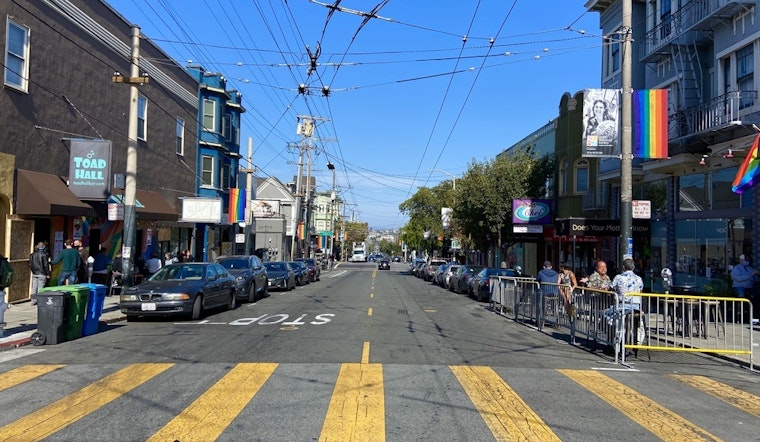 Published on August 21, 2020
Starting this weekend, two blocks of 18th Street in the Castro will be closed to cars on Sunday afternoons. 
Earlier this week, SF Planning approved the Castro Merchants' request to close 18th Street between Hartford and Castro streets and Castro and Collingwood streets. Castro Street will remain open to traffic. 
Part of the city's Shared Spaces program, the change will be tested over the next few weeks. If it's successful, it's currently approved to run through December 27. 
The closure comes in the wake of a similar shutdown of a three-block portion of Valencia Street. Since July 23, Valencia has been closed from 16th to 19th streets every Thursday through Sunday, from 4 to 10 p.m. 
Hours for the 18th Street closure will be Sundays from 2 to 7 p.m. Both blocks will have barricades set up at each end, with a 14-foot pedestrian corridor carved out to maintain social distance. Alcohol consumption will only be allowed in the dining areas set up by each business.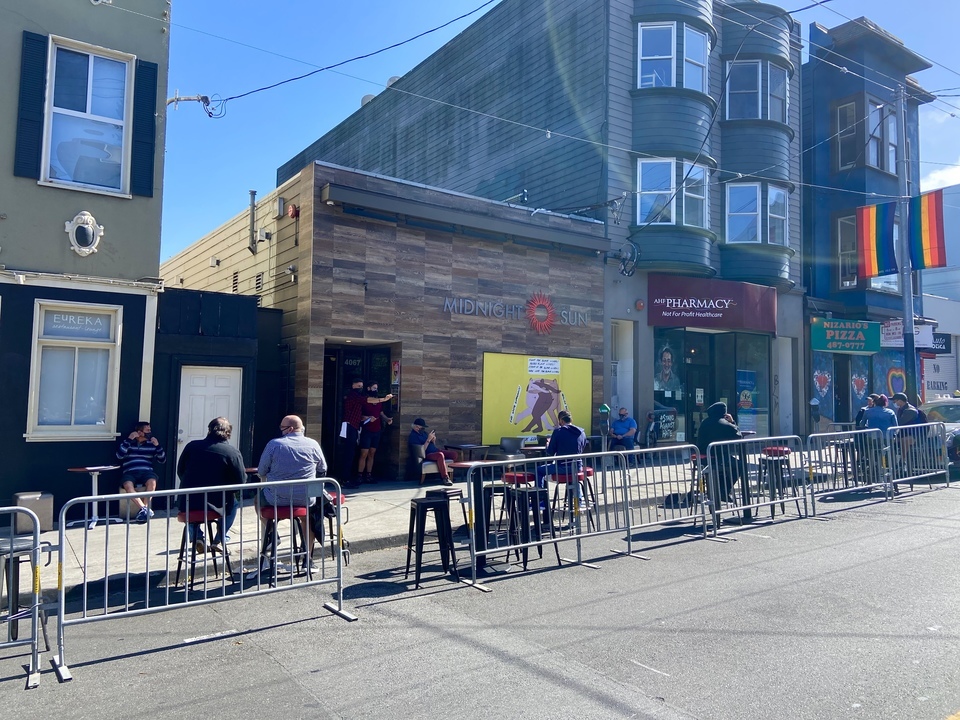 Masood Samereie, president of the Castro Merchants, said the street closure and resulting foot traffic will provide "much-needed relief" to area businesses.
The Merchants initially applied for the Shared Spaces permit at the beginning of July, with the goal of closing the two blocks of 18th Street Fridays through Sundays from 1 to 10 p.m. 
But after weeks of discussion with multiple city agencies, including SF Planning, SFMTA, SFPD and SFFD, the organization was only given the go-ahead for the shorter Sunday closure. Should the program prove successful, the Merchants hope to reopen the discussion about adding Fridays and Saturdays to the mix.
Many restaurants and bars along 18th Street have already used the Shared Spaces program to take over the sidewalk and adjacent parking spaces. But the added room in the street will allow businesses to serve even more customers, with proper social distancing. 
Restaurants and bars in the car-free zone include Blind Butcher (4058 18th), El Cápitan (4150 18th), Gyro Xpress (499 Castro), Harvey's (500 Castro), Kasa Indian Eatery (4001 18th), Lark (4068 18th), Midnight Sun (4067 18th), Oz Burger (4092 18th), Poesia (4072 18th), Starbucks (4094 18th), Thai Chef (4133 18th), The Edge (4149 18th), The Mix (4086 18th) and Toad Hall (4146 18th).
The street closures won't affect Muni. The 33-Ashbury/18th Street bus line, which normally operates along the corridor, has been suspended during shelter-in-place.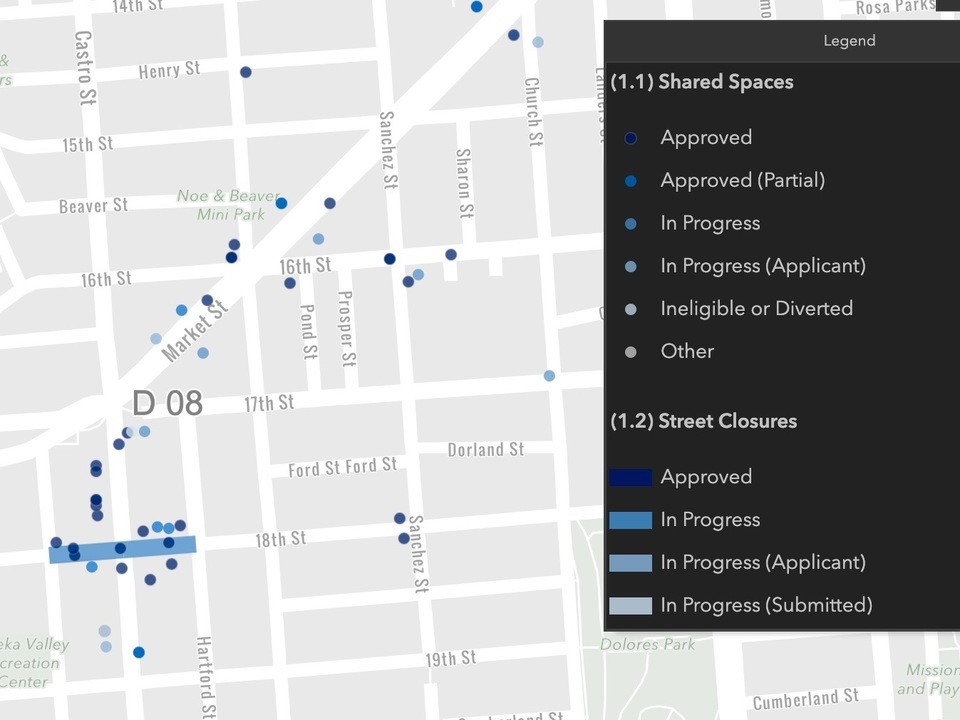 At last month's Castro Merchants meeting, District 8 Supervisor Rafael Mandelman expressed concern about the street closure turning into a "giant street party."
"I don't want to add this to the photos of people behaving badly in my district that I have received," he said.
Samereie said the merchants are taking city regulations seriously, including distancing tables, limiting party sizes and requiring diners to wear masks when not eating or drinking. Each block will have COVID-19 safety monitors to enforce the rules.
"Our number-one priority is the health and safety of our residents, visitors and business owners," Samereie said. "We will have zero tolerance for anyone who jeopardizes these businesses' and our consumers' ability to benefit from this program in these challenging times."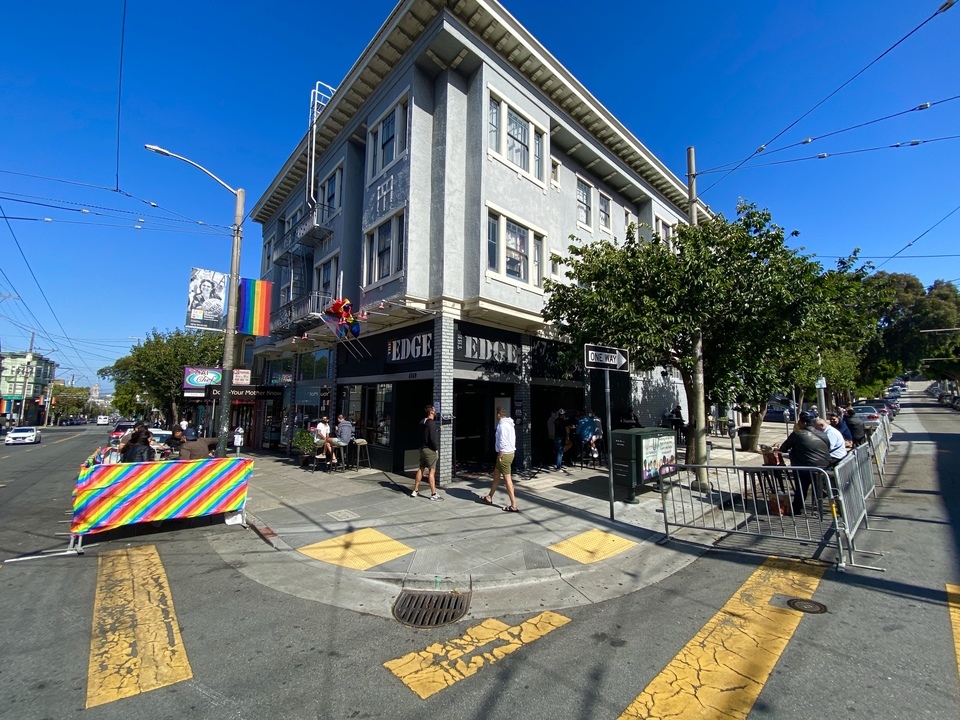 Coskun Abik, who owns 18th Street restaurants Blind Butcher and Lark, says he's excited to have the additional room for outdoor seating. 
"We should have some neighborhood streets closed for outdoor dining all the time, actually," he said. "It should be part of the lifestyle, so people can socialize cautiously and less risky."