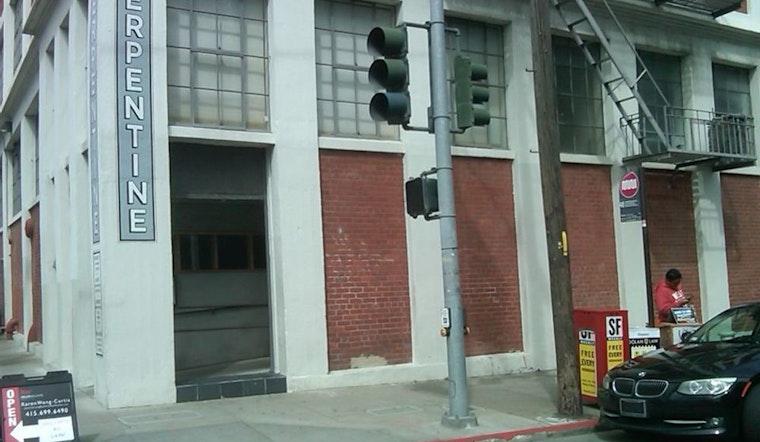 Published on August 14, 2020
Here's the latest in Dogpatch news. In this edition: a gallery, a boutique furniture store, and two restaurants are closing, while a popular Union Square restaurant is coming to the neighborhood for a one-year pop-up. 
Closures
Serpentine (2495 3rd St.)
Dogpatch eatery Serpentine has closed, after 13 years in business.
Owner Tommy Halvorson said his landlord is allowing him to hold on to the shuttered space while he rides things out, but the restaurant likely will not return in its previous form.
The reason: "Even before COVID-19, Serpentine was suffering massively," Halvorson told Eater SF. "The model just didn't work."
Serpentine first debuted in 2007 as a sister restaurant to the Mission's Slow Club, owned by Erin Rooney. Slow Club closed in 2015 (its space is now home to the Morris), and in late 2016, Rooney sold the business to Halvorson, a veteran fine-dining chef.
Halvorson renovated the space and revamped the menu to offer more Southern-style items, such as Nashville hot chicken. The results went over well with customers, but high labor costs ate up 70 percent of the restaurant's revenue. 
Halvorson also owns a Dogpatch catering business, Foxtail, that helped keep Serpentine afloat. But with events cancelled by the pandemic, that was no longer an option.
Halvorson tried offering to-go food, meal and cocktail kits and bottles of spirits, and opened up outdoor seating in June. But none of it was enough, and with his PPP loan depleted, he decided to close.  
When indoor dining returns, Halvorson plans to open something new in the space. "We really need to reimagine what restaurants are," he told Eater.
In the meantime, Foxtail remains open, offering both prepared food boxes and DIY meal kits for corporate clients hosting virtual conferences and happy hours.
The Workshop Residence (797 22nd St.)
The Workshop Residence will shutter at the end of August, after two years in its current space. Owner Ann Hatch confirmed the closure via email. 
The business was focused on manufacturing everyday goods created by artists and designers. It sold everything from planters made from cultivated reishi mushrooms to jigsaw cutting boards designed to reduce waste. 
The shop was previously located in the Yellow Building, moving into its current location in 2018. According to SFGate, Hatch and creative manager Lisa Ellsworth transformed a space that had been empty for 30 years into their studio/store.
In April, Hatch began sharing the space with Lake Taylor, who used it to manufacture and sell her small-batch leather goods line, Billie Marie. 
Industrious Life (1095 Tennessee St.)
Another boutique design shop, The Industrious Life, closed on August 2. It specialized in new and vintage furniture and home goods. 
Owners Patti Davidson and Patti Quill made the announcement via their website, citing the pandemic as the cause of the closure. The shop will continue to sell its goods online.
"We have loved being in Dogpatch and have been honored to work with fantastic designers and craftspeople that we hope will continue moving forward through these difficult days," the pair wrote. "We feel so fortunate for every minute we've had with every one of you."
Closures/Openings
Noon All Day/Kin Khao (690 Indiana St.)
After just two years in business, Noon All Day — the casual breakfast and lunch cafe from the owners of neighborhood staple Piccino — is calling it quits.
But its space won't be empty for long: Tablehopper broke the news that Union Square's popular Thai restaurant Kin Khao will be taking over the space for the next year. 
Kin Khao has been closed since the start of shelter-in-place, and owner Pim Techamuanvivit, who lives in Dogpatch, said she's excited to use her PPP loan to bring back some of its staff. (She also owns another Thai restaurant, Nari, in Japantown's Hotel Kabuki; it's been offering takeout with dishes from both its menu and Kin Khao's.)
Unlike the sit-down original, the new Kin Khao will have diners order and pay at the counter, with food served in disposable containers at its outdoor tables. The menu isn't finalized, but customers can look forward to spicy chicken wings — one of the original location's most popular items — as well as grab-and-go fare like salads and a fried chicken sandwich. 
While there isn't a solid opening date yet, Techamuanvivit told Eater SF that she expects to open Kin Khao Dogpatch within the next few weeks. Depending on how things go over the next year, she'll decide whether or not to extend her stay.
---
If you've seen something new (or closing) in the neighborhood, text your tips and photos to (415) 200-3233, or email [email protected]. If we use your info in a story, we'll give you credit.