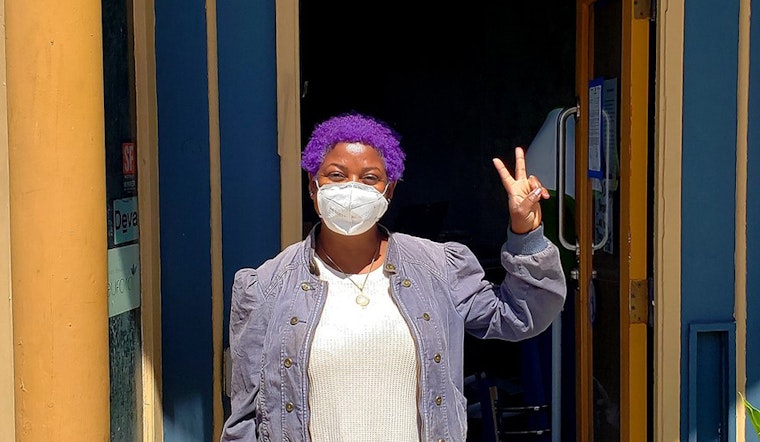 Published on August 31, 2020
MaduSalon is departing its 19-year home at 300 Divisadero St. (and Page), citing a loss of business due to the COVID-19 pandemic.
The hair salon's owner, Marie France Cesar, said that she originally planned to only close temporarily at the beginning of shelter-in-place in March. But as the mandated closure of hair salons dragged on for months, it no longer made sense for her to keep her space. 
"Rent is due," she said, and so are the bills for electricity and her alarm system. She tried to negotiate a lower rent with her landlord, but those talks didn't get where they needed to go.
She did raise about $3,000 through a May GoFundMe campaign. But it wasn't enough to keep the salon afloat. 
"I can't afford to get into more debt," she said, adding that it's difficult "to make a commitment" when there is no clear reopening timeline. (The day after our interview, Mayor Breed announced that salons can reopen outdoors starting tomorrow, Sept. 1.)
Despite these obstacles, "I will not let my business go," Cesar said. She's looking for a new space that already comes built out with drywall and utilities, where she hopes to "put my own flair on it."
She'd love to stay on Divisadero, where her daughter was born 25 years ago and where many of her "amazing" clients live.
Cesar says she's the last Black business owner on the corridor, which once had a significant African-American population and business community. Her salon specialized in cutting curly hair, and had a large clientele of women of color.
Racism has complicated her search for a new space: when landlords meet her in person and realize she's a Black woman, they often become more hesitant.
"There isn't any of us left [on Divisadero]," she said. "But I'm not giving up."
Update, 4:05 p.m.: As a commenter noted, there is at least one other Black-owned business remaining on Divisadero: Club Waizema, owned by Ethiopian-born Giday Beshue and Nebiat Tesfazgi. We've updated the headline accordingly.
---
Thanks to tipster Wonway Posibul! See something interesting while you're out and about? Text Hoodline and we'll try to find out what's going on: (415) 200-3233.