Upper Haight businesses are reeling as the prolonged financial pressures of the COVID-19 shutdown continue.
As with the closures earlier this summer, the permanent closures this month are led by clothing stores, which have since the 1970s been one of the Haight's most notable retail formats.
Flamingos Vintage Pound
Flamingos Vintage Pound, which moved in late last year to 1672 Haight Street and seemed poised to open, was emptied of merchandise last month and now stands vacant, with a newly painted blank storefront as of this week.
The store is part of a family of international by-weight vintage clothing stores that got stuck in city permitting after signing the lease on the space. Applications on file with the city were in progress to allow the store to operate despite its designation as formula retail, but they were withdrawn at the end of July.
The vacancy is remarkable in part because it's one of the largest single-storefront spaces in the neighborhood, at 4,300 square feet.
Representatives from Flamingos haven't responded to requests for comment on whether they'll look elsewhere in San Francisco.
New York Apparel
The novelty costume and clothing shop New York Apparel, which carried costume jewelry, hosiery, wigs and more permanently shuttered its retail storefront at 1772 Haight last month as well.
The shop is still open for business online, however, and operating out of its East Bay warehouse, according to signs posted in the window, at 1332 Club Lane in El Sobrante.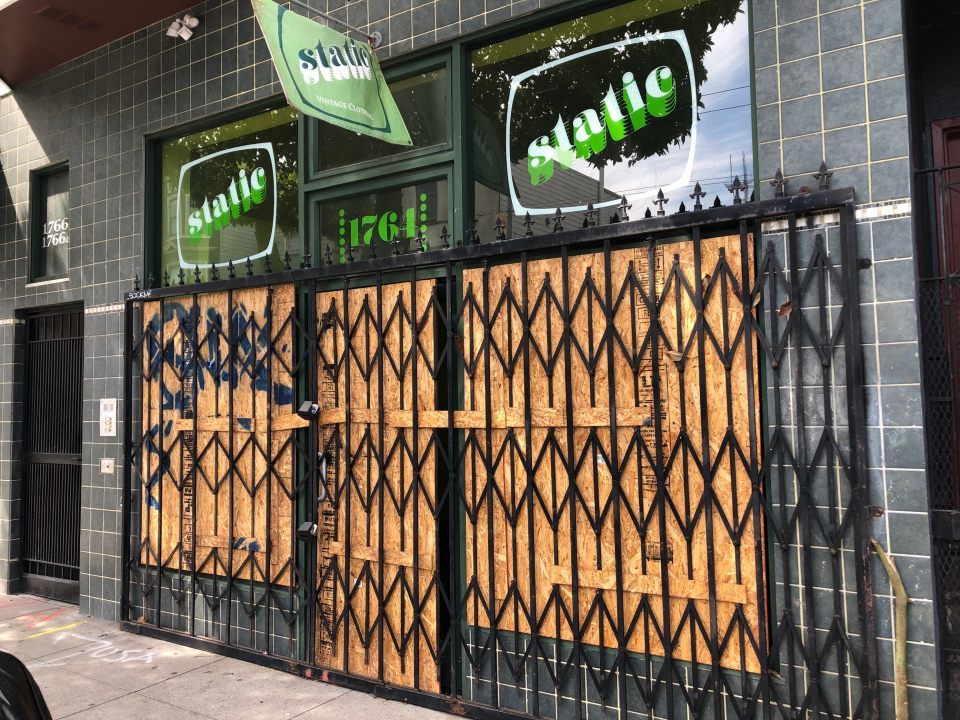 Static Vintage
Static Vintage (1764 Haight Street) hasn't announced the closure of its brick and mortar storefront officially, but the space is empty inside and boarded up in front.
Instead, Static is selling its vintage clothing inventory online on Instagram, Depop and (soon) Etsy.
---
Thanks to tipster Denny G. See something interesting while you're out and about? Text Hoodline and we'll try to find out what's going on: (415) 200-3233.