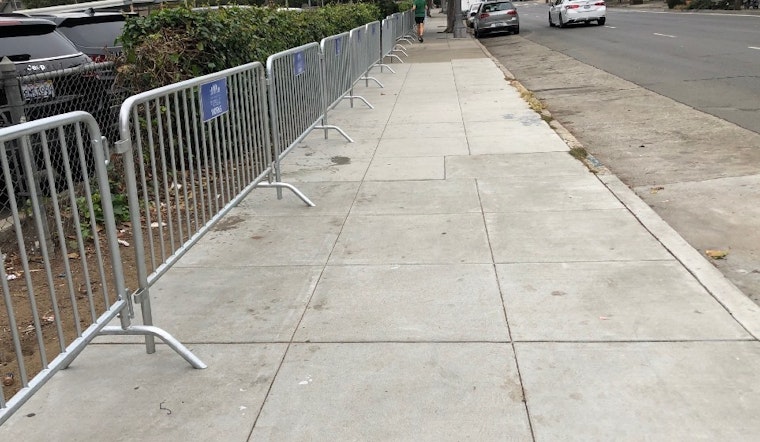 Published on September 02, 2020
The city has vacated another prominent assembly of tents and makeshift shelters for the unhoused, occupying the sidewalks and some adjacent parked cars around the DMV at Oak and Baker streets.
Intended to address neighbors' complaints about unsafe conditions, the so-called tent sweep follows a recent spate of similar actions in Duboce Triangle, at Market and 16th streets, on Octavia Blvd. in Hayes Valley, and on Willow Street (near Franklin Street). 
According to a spokesperson from the city's COVID Command Center, only about a quarter of the 15 people living at the DMV accepted alternate shelter.
Of those who did accept shelter, all qualified for and were enrolled in the city's hotel program. Hotel rooms are only available for people over 65 or with chronic health conditions, the groups for which the Federal Emergency Management Agency will reimburse the city. 
The remaining unhoused people, who were offered a place in one of the city's congregate shelters, "declined services and left the area."
That ratio echoed the early-August camp clearing on Octavia, where four of 11 people accepted alternate shelter.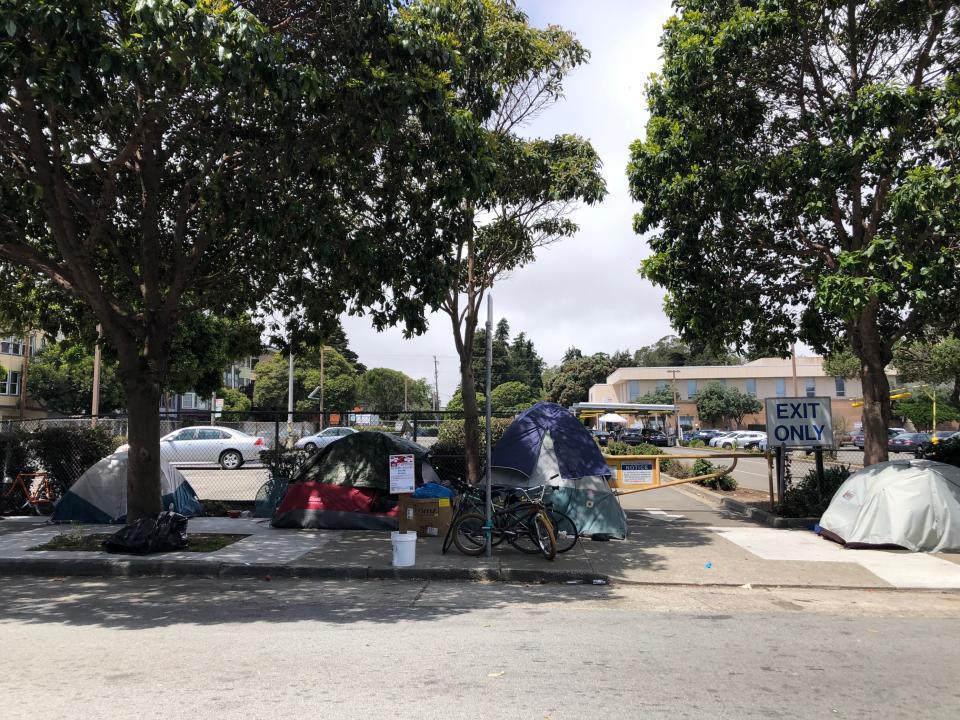 Tick Falletti, the president of adjacent grocery store Falletti Foods, said the DMV camps had been in flux all summer. Initially, they stretched along Broderick, creating a crowding hazard for people waiting in line at Falletti and its restaurant neighbors, Nopalito and RT Rotisserie.
The city first moved people from Broderick over a month ago, Falletti said, which was "the good news for our business."
But the encampment just moved across the way, onto the Oak Street side of the DMV. More new arrivals started settling all the way down Oak, wrapping around to Baker Street.
In the wake of the recent sweep, Falletti says he's not sure what happened to the DMV campers who declined a congregate shelter bed. "They're not anywhere around; there's no specific grouping of people that I can see anywhere."
But blocks away, in the Upper Haight, many of the same campers have already set up again on the street.
It's a familiar story. When the Octavia encampment was cleared in August, Hayes Valley Neighborhood Association vice president Jennifer Laska noted that many of those people had come to the neighborhood from previously cleared encampments in the Tenderloin.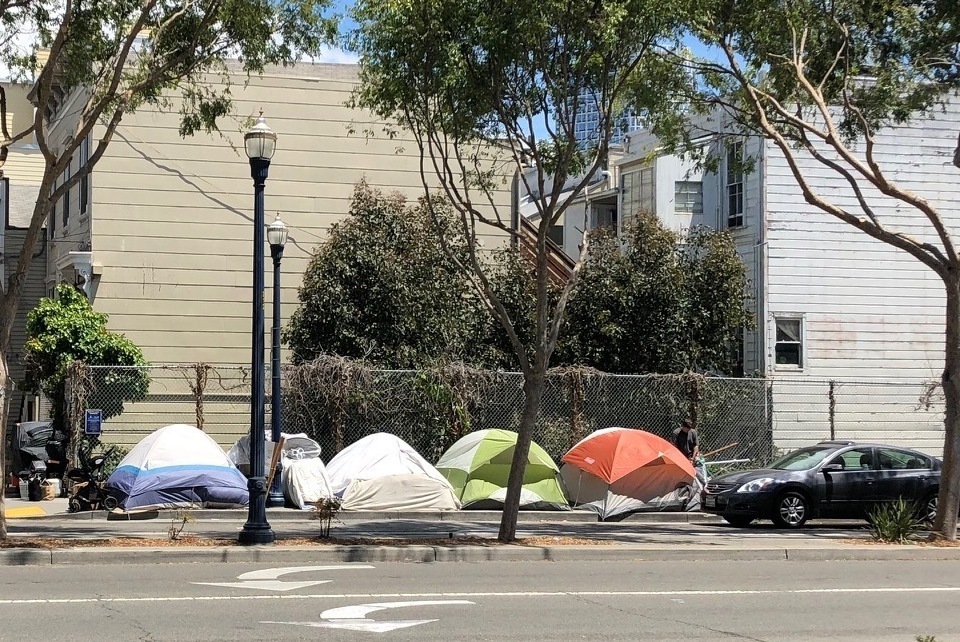 While the city offers shelter space to anyone it's relocating, it has no legal standing to force them to accept, just as it doesn't for people who live in fixed structures. 
Many unhoused people have told officials they would accept a hotel room, but are wary of staying in a congregate shelter. That's a reasonable distinction, given that group shelters "are still high-risk settings for infection," according to Harvard researcher and Coalition on Homelessness advocate Chris Herring.
The city has made some efforts to improve safety standards at congregate shelters, after the mass COVID-19 outbreaks that closed several of them early in the pandemic. 
But as Herring notes, moving people out of campsites and into anything short of individual shelter rooms explicitly violates current CDC guidelines. 
"Clearing encampments can cause people to disperse throughout the community, and break connections with service providers," he said. "This increases the potential for infectious disease spread."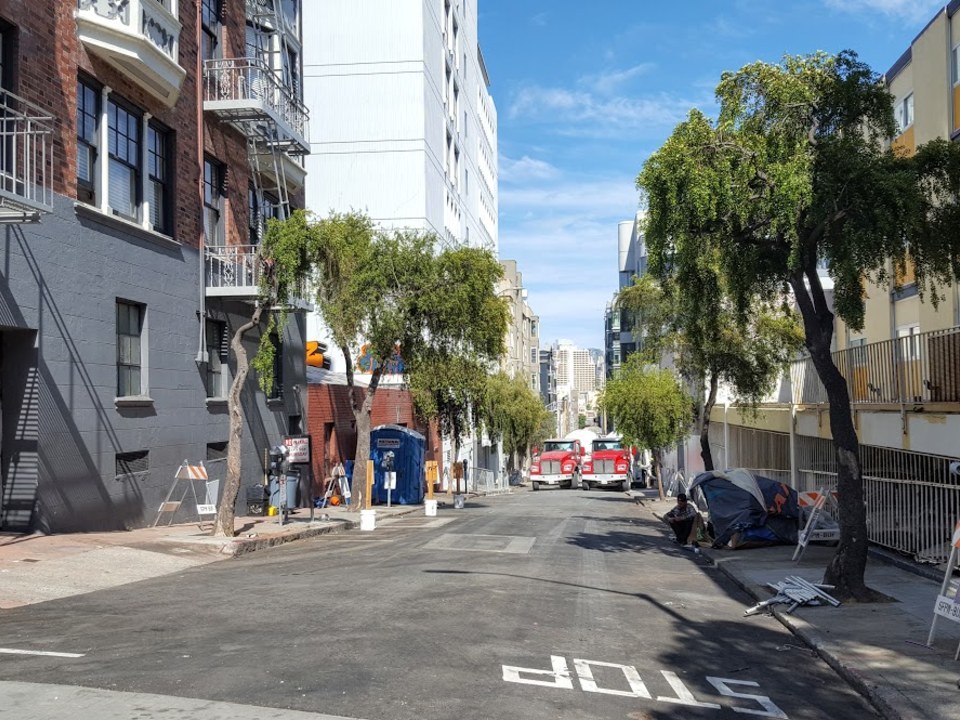 For those who are ineligible for hotels but unwilling to take their chances in a group shelter, the third alternative remains so-called safe sleeping sites, organized tent villages that offer security and basic health, medical and support services.
Though the city is now working to expand the safe sleep program, its three shelters — in the Upper Haight, Civic Center, and most recently, the Mission — can only accommodate about 150 people combined. 
"I don't know where everyone on Oak ended up," said Jen Snyder, legislative aide to District 5 Supervisor Dean Preston. "But I imagine that folks who didn't accept shelter didn't go far."
"This is part of why hotels, or better yet, permanent housing, are important. We should offer aid that folks accept."