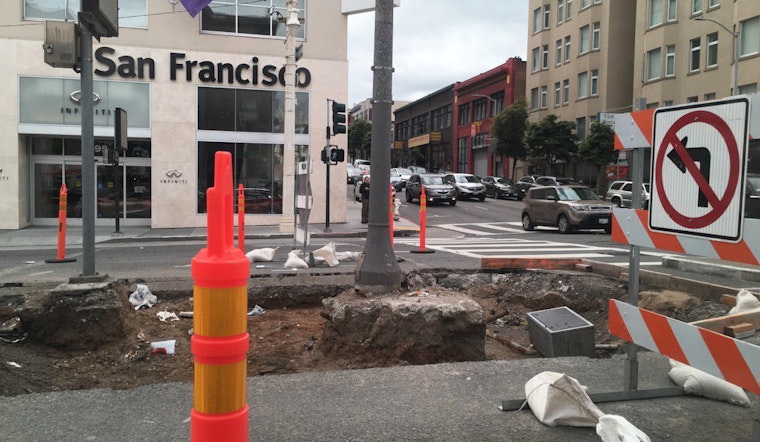 Published on September 25, 2020
This week, the city launched a grant program for small businesses affected by construction on Van Ness Avenue — a year after the construction was originally supposed to be completed.
Small businesses along the Van Ness corridor have struggled mightily since construction began in 2017. Lane closures have snarled traffic, construction equipment has consumed parking spaces and blocked businesses' visibility, and dug-up sidewalks have dispelled pedestrians. 
"Getting new customers to the store is a challenge," said Brian Bruckner, owner of Big Swingin' Cycles (2260 Van Ness Ave.) "Bay Area citizens know what a complete mess Van Ness is, and just avoid it."
While the COVID-19 pandemic has delayed construction projects citywide, that shouldn't have been an issue for the Van Ness revamp, which is replacing underground utilities and sewer pipes and creating a central bus rapid transit (BRT) lane to speed up Muni's 47-Van Ness and 49-Van Ness/Mission lines.
When construction on the project began, it was set to last two years, wrapping up near the end of 2019. Now, officials say it likely won't be complete until late 2021 or early 2022 — a delay as long as the project was supposed to be in the first place.  
"The largest source of delay has been unexpected utilities discovered underground during the first phase of the project," said SFMTA spokesperson Kristen Holland. Crews found century-old water and sewer pipes that weren't on any map, but had to be removed.
The sewer and utilities work, which caused the most disruption to the corridor, is now over. Construction is currently focused on the transit lanes in the center of the street, Holland said. 
Businesses on the corridor have been sounding the alarm since before the project began. But financial help from the city hasn't been timely.
In September 2017, then-Mayor Ed Lee announced the city's Construction Mitigation Program, designed to support businesses affected by construction on Van Ness  in Union Square and on Fourth and Stockton streets, the site of the upcoming Central Subway. 
The mitigation program offered businesses along the Central Subway route and Van Ness services from the start of construction, such as marketing and customer outreach, technical support, and other assistance to provide owners access to city resources designed to mitigate the construction projects' impact. But SFMTA and the Mayor's Office of Economic and Workforce Development (OEWD) are only able to offer direct business funding once projects have been underway for 24 months or longer.
In November 2019, mitigation funds finally became available for businesses impacted by construction on the Central Subway. That project, initially set for completion in late 2018, is now expected to welcome its first passengers at the end of 2021.
According to OEWD spokesperson Gloria Chan, $5 million has been allotted from the city's Education Revenue Augmentation Fund to support the direct funding portion of the construction mitigation program — $4 million in grants and $1 million in low-risk, no-interest loans. Businesses can apply for grants of $5,000 to $10,000 apiece, which can be put towards rent, utilities, wages and other expenses.
Any leftover money may be allocated to grants for other business corridors impacted by the Geary BRT and L-Taraval improvement projects if construction on those projects extends beyond 24 months.
That relief can't come soon enough for Hetal Shah, owner of Indian fine-dining restaurant August 1 Five (524 Van Ness Ave.) 
"The construction was very extensive and disruptive," she said. The bus stop that had been directly in front of the restaurant was relocated, and nearby parking was removed. Workers damaged her restaurant's facade.
Shah says the restaurant's revenue dropped 30% in 2019, putting August 1 Five behind the curve even before the pandemic blindsided restaurants. "COVID-19 only makes things worse."
Things are equally bad for Bruckner, who's been operating Big Swingin' Cycles for nearly 20 years alongside his partner, Lori.
The shop, which sells, rents and repairs bicycles, has an established clientele. But it also relied on a few nearby parking spaces, pedestrian access and visibility to Van Ness drivers to bring in new customers.
All of those factors were obliterated by the construction. The parking spaces were removed, and the sidewalk was torn away to the dirt. A six-foot-high fence blocked views of the shop for most of 2019. 
"We've been relying heavily on our established clientele and existing customers to get us through this," Bruckner said. 
The pandemic actually came as a bit of a relief to Big Swingin' Cycles. With gyms closed and many locals wary of public transit, bike sales skyrocketed for a few months. "Folks pivoted hard to cycling," Bruckner said.
But that bump appears to be flattening, and with demand for bikes high nationwide, suppliers are running out of stockpiled products to ship. 
"I'm very nervous about the next five to six months," Bruckner said.
Bruckner and Shah plan to apply for the grants, and both say they're grateful for that relief. (Neither will apply for a loan, as they're hesitant to take on additional financial liabilities.)
But even $10,000 won't make much of a dent in the amount of money they've already lost to the Van Ness construction — and they still have two more years to go. 
"Sadly, I've had to resort to additional debt to get my business through this time, which, short- and long-term, is creating additional cash flow burdens for us," Bruckner said. He estimates that his revenue losses over the course of the construction last year added up to "well into the six figures."
"I'd have needed additional capital, even if the project had been completed on time," he said.
---
Van Ness BRT corridor businesses interested in participating in the construction mitigation program can learn more and apply here.