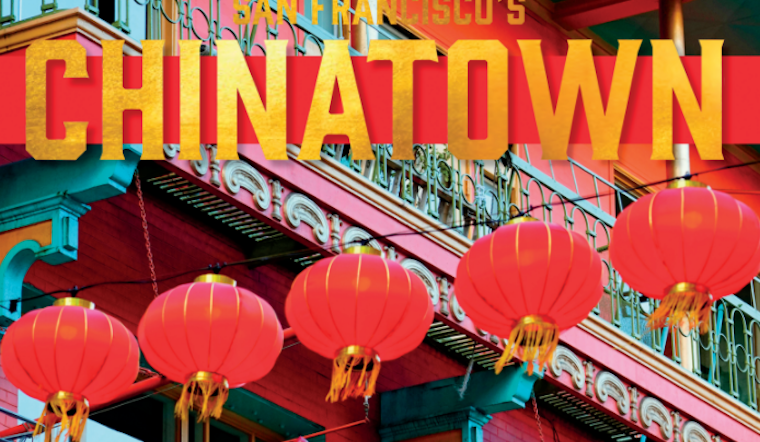 Published on October 14, 2020
San Francisco Chinatown is one of the city's most contradictory places. The neighborhood draws more tourists every year than the Golden Gate Bridge, yet most of its residents live in rundown SROs, and Chinatown's median household income is barely a fourth that of the San Francisco average. But these contradictions and cultural backstories are beautifully unpacked in a new photo documentary book San Francisco's Chinatown, written by Sunset native Kathy Chin Leong, and with photos by Dick Evans of Chinatown secrets that you've surely never seen. 
"We've gone behind the scenes to places where the public cannot go. There are buildings called 'family associations,'" Leong tells Hoodline, describing the 'benevolent associations' or 'Six Families' created in the 1800s that still exist today. "We went inside of a few of these. You can't just go in there, you need to be invited. You need to get permission from the elders, and get permission to take photos."
Leong, who won the 2018 Eureka prize for outstanding travel journalism, made a splash locally with her 2018 long-form New York Times piece "With Change Bubbling, San Francisco's Chinatown Strives to Stay Authentic." But you probably know Dick Evans better as the father of Booksmith owner Christin Evans, and his collaboration with Leong is an immersive journey through the architecture, art, and most importantly the people of Chinatown.
"I took 5,000 photos [for the book]," Dick Evans tells us. "Kathy did 100 interviews. We have a lot of material." 
That material takes you across modern-day Chinatown, from tiny SROs, to acupuncturists' herb gardens, to backstage at th Chinese Opera. It also covers Chinatown's 150-year transformation from blighted slum to international tourist attraction.
"After the 1906 earthqualke, Chinatown was completely decimated," Leong says. "San Francisco leaders wanted to convince Chinatown to move, to relocate to Hunters Point. It was time to start the city all over again. Chinatown was in between Nob Hill, where the elite lived, and the Financial District. So that was prime real estate. They wanted them to leave.
"The Chinatown leaders got together and said 'Wait a minute, what if we created a Chinatown that would be a destination? It would be exotic, it would be a tourist destination.' Because of that, and it would put money in the city's coffers, San Francisco leaders OK'd the plan."
We of course wondered about the longtime urban legend of a secret network of tunnels beneath Chinatown. Leong says there may be a tiny shred of truth to that. Maybe.  
"We heard that in one location, the Cameron House which is now a social services center, it was a resident home for Chinese women that had become enslaved. There was one area that they pointed to in the basement — which has since been sealed off with cement — and they said that allegedly that was a secret tunnel or cave for them to hide when the bad guys came looking for them." 
Today's Chinatown is better known for parades, exotic sculptures, and authentic cuisine at every price point. What's less known is the community's internal organizing to fight the contemporary threat of COVID-19.
"There's a lot of really dense housing in Chinatown," Leong says. "People share bathrooms and share kitchens. So community nonprofits got vouchers and donations so that the elderly don't have to cook in these quarters, they get these vouchers to get dinners almost every night to cut down the risk of getting COVID."
Social workers went on a campaign to give SRO residents masks, hand sanitizer, and to educate the non-English fluent elderly population. "There was no widespread outbreak of COVID," she tells us.
All proceeds from the sales of San Francisco's Chinatown will be donated to neighborhood nonprofits, like the Chinese Culture Center of San Francisco, who've been active in several aspects of the fight against COVID-19. "They've commissioned some murals during COVID for the at-risk businesses that had garage doors closed, they were able to get permission to paint on these doors, so it's not such a somber-looking place," according to Leong. "They're really worked hard to offer programs for the community, either the public at large or for school groups."
San Francisco's Chinatown is a combination coffee table book and 208-page cultural analysis that profiles both a historically disenfranchised neighborhood, and a neighborhood that knows how to throw a celebration like no place else in town.
"There's nothing like it on the market," Kathy Chin Leong says. "It's one of the first coffee table books that really put a lot of premium on the narrative, on the text. I've written chapters, and many stories, about the images. I hope it sets a precedent for future photo books to have excellent text and insights."
'San Francisco's Chinatown' is available online for a suggested retail price of $40.
The San Francisco Public Library will host the virtual event 'San Francisco's Chinatown': Dick Evans and Kathy Chin Leong in conversation with Ben Fong Torres on Thursday, October 15, from 7-8 p.m. on SFPL.org.