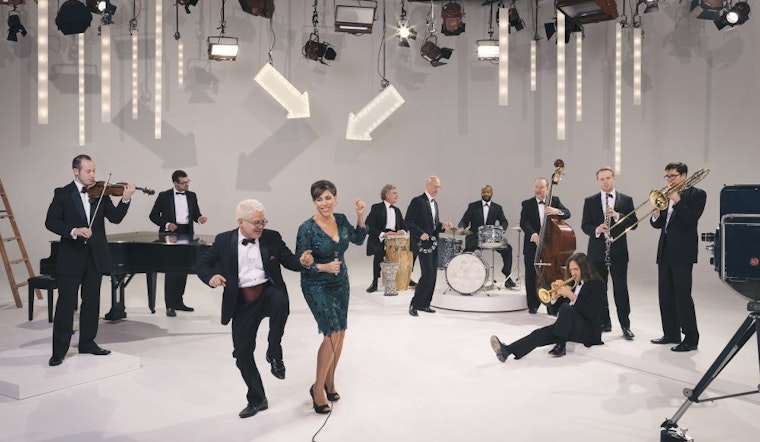 Published on October 16, 2020
None of us have been able to go to a big concert featuring a nationally known act for the last seven months, ever since… you know. Sure, there have been stay-at-home livestreams to make the best of being cooped up in the house. Some local acts have put on modest sidewalk concerts outside bars serving to-go cocktails. And a few Bay Area drive-ins have hosted live concerts featuring local cover bands, or pre-recorded shows by reality TV circuit has-beens like Garth Brooks or Blake Shelton.
None of these have been circle-the-date, can't-miss live shows featuring big national artists playing for adoring crowds on a legitimate concert tour. But the big concerts are back — you just have to stay in (or on) your car, and you have to have a car to get there in the first place.
Burlingame's Bayshore Drive-In, some 12 miles south of San Francisco in a temporarily converted golf course, is bringing star-studded live concerts back to the Bay Area. Live music fans can get their groove back with Kendrick Lamar-associated guitarist Thundercat on Thursday, October 22 (9 p.m.), and house DJ Shiba San on Friday, October 23 (8 p.m.).
The weekend contains some big international artists. EDM superstar Major Lazer plays live on Saturday, October 24. The 8 p.m. show is already sold out, but the promoters have added a 4 p.m. show on Saturday afternoon.
Legendary lounge-jazz "little orchestra" Pink Martini performs Sunday afternoon, in a performance sponsored by Noise Pop. Pink Martini will be performing at 4 p.m. Sunday, and tickets remain available. (Note: Sunday's 7 p.m. Pink Martini show has been cancelled, but according to the promoters, "All tickets for the late show will be honored at the earlier 4pm show time. ")
All shows will have both amplified live music and a dedicated FM channel for listening.
Understand the COVID-19 safety decorum will be far more strict than any big, live show you've ever attended. You have to stay in your car for the show (though washrooms will be open), and you have to have a car to stay in. You cannot just Lyft or Uber to the venue. Masks are mandatory, you cannot smoke on the premises, and there oodles of other San Mateo County public health requirements with which you'll have to comply. Do thoroughly read the fine print on your ticket page... it's a lot.
But it's good to see live concerts again too, and that's certainly worth jumping through hoops for. Future Bayshore Drive-In shows include Colors Worldwide (October 29) and Marc Rebillet (October 31 and November 1), with more shows set to be announced soon.
The Bayshore Drive-In is at 255 Anza Blvd, Burlingame, CA. Tickets Here.