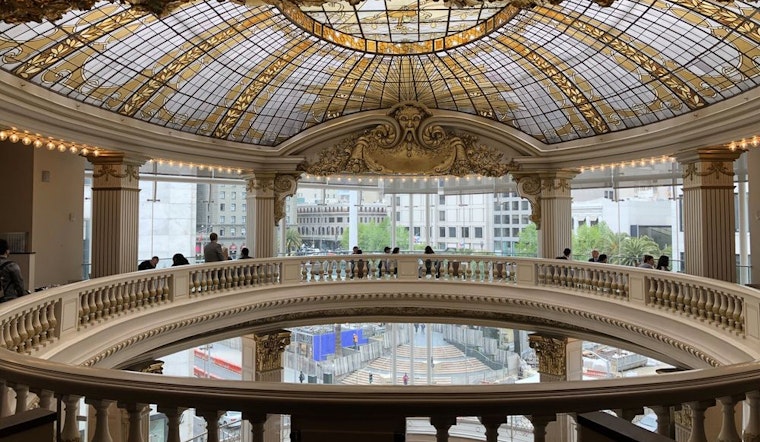 Published on October 08, 2020
Sadly, you won't be eating popovers and sipping Champagne at the Neiman Marcus Rotunda restaurant anytime soon, or perhaps ever again. As of late September, the restaurant laid off all of its staff and announced it was closing indefinitely.
Neiman Marcus is among many U.S. retailers that have filed for bankruptcy during this economic crisis. As the SF Business Times reported last month, the company emerged from Chapter 11 having eliminated $4 billion in outstanding debt, and after closing the chain's only New York City store at the new Hudson Yards complex. 
An employee at The Rotunda at the San Francisco store, Diondre Davis, tells Hoodline, "We were furloughed in March 2020 and received word via conference call [in mid-September] that the Rotunda will be closing indefinitely and will be laying off all its staff." He added, "We were told that they may reopen in the future and that they would reach back out, but that remains to be seen. The company as a whole has closed quite a few key restaurant locations."
In other closing news at the other end of town, four-year-old, cinema-themed cafe, wine bar, and vermuteria Orson's Belly has closed its doors for good. Hoodline visited the Richmond District spot shortly after its 2016 debut, and it's been a beloved breakfast, lunch, and evening drink spot for the neighborhood ever since. 
The Chronicle raved about the place in 2018 and its welcoming owners, Turkish immigrants Cem Salur and Cigdem Onat-Salur. But even before the pandemic began the couple were fighting with the ABC to get their liquor license expanded and extended past 9 p.m.
Last week on Facebook they wrote, "It's been real, San Francisco. This wild ride could have only happened with the help of you, our Orson's Belly family. Through the ups and downs we've been there for each other. We close our doors with pride, heavy hearts, and excitement for what comes next."