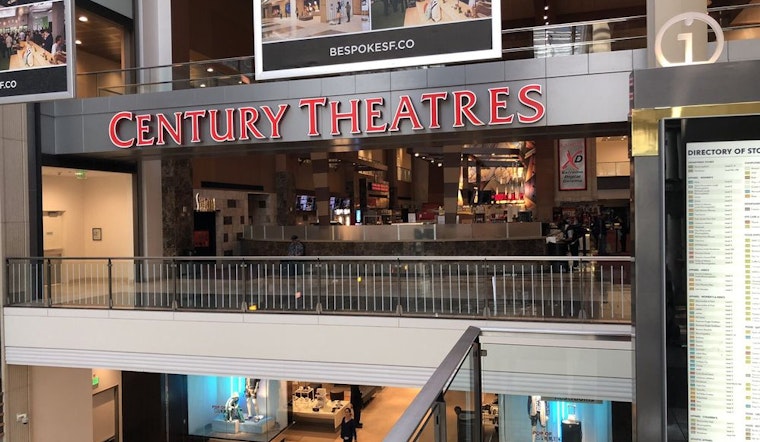 Published on October 26, 2020
You've likely watched an innumerable ton of movies during this endless shelter-in-place, but movie theaters in San Francisco have been dark. The drive-in movie option has popped up at Fort Mason, Pier 70, and elsewhere in the Bay Area, but these don't have much to offer for spooky Halloween fun this weekend. Pier 70's Halloween night screening of Invasion of the Body Snatchers sold out long ago, as did most of the horror flick screenings lined up at Fort Mason. The only options are a couple of nights other than Halloween, where you can still drive in and watch 2001: A Space Odyssey (Tues., Oct. 27), Poltergeist (Weds., Oct. 28), and the Friday night 9 p.m. late show of From Dusk til Dawn (Oct. 30).
But San Francisco is getting one movie theater-plex back this weekend. The Westfield Centre's movie theater is reopening Friday. Oct. 30. It's real name is the Century San Francisco Centre 9 and XD and it's playing multiple new Hollywood releases all day as it resumes "normal" scheduling. It's owned by national cineplex chain Cinemark, whom Deadline reports is reopening many of its California theaters this weekend.


As you see above, San Francisco's Century Theatres reopens Friday, as do their two San Jose cineplexes. Their San Leandro and Union City theaters reopen on Tuesday, Oct. 27, and the chain's theaters in Daly City, Walnut Creek, and San Rafael reopened in mid-September. But the chain's West Portal theater CineArts at the Empire still has no slated opening date.
It will sure be special to go to a movie theater in San Francisco again, but it won't be the same. Notably, no popcorn for you. "Cinemark requires face masks for the safety of all guests and employees," the theater's website says. "Due to county ordinances, concessions are not currently available at this theatre. We look forward to bringing back all your favorite snacks as soon as possible."
The cinematic pickings are a little slim, though they are screening one (poorly reviewed) scary Halloween movie option. The big marquee flick is Tenet, the movie that was supposed to save theaters during COVID-19, but did not. The scary movie is something called The Empty Man, and Liam Neeson's new predictably Liam Neeson-esque thriller Honest Thief is playing too. The theater is also offering private watch parties
for groups of 20 or fewer.
San Francisco theaters were allowed to open in early October at 25% capacity, though most didn't, because they're not allowed to sell concessions. Theaters say they can't make any profit, or even come close to breaking even, without popcorn, soda, and candy sales. But they may struggle more with the fact that Hollywood is delaying all the good releases until 2021. With the Wonder Woman and James Bond vehicles we were promised now sitting on mothballs, the streaming services are delivering better options than the actual movie theaters.