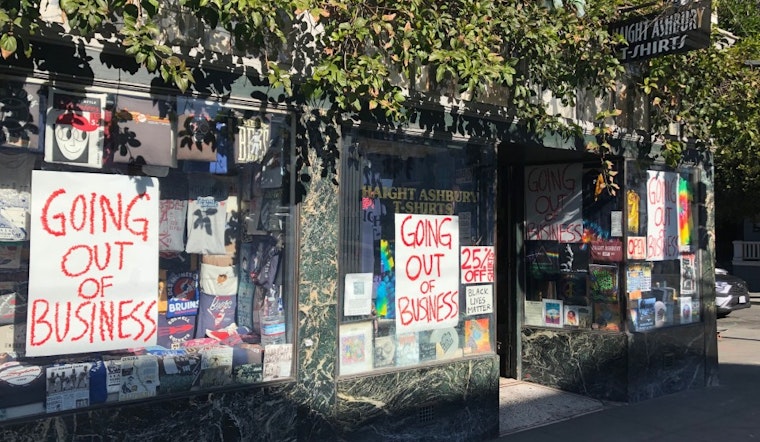 Published on November 25, 2020
After 43 years in business, the family-owned Upper Haight mainstay Haight Ashbury T-Shirts is closing permanently at the end of the year, citing the economic pressures of a pandemic that's killed virtually all tourist traffic to the neighborhood.
The Marti family, which founded and still owns the shop, announced it will close for good after December 31 this year, and will discount inventory 25% until then.
In a letter to neighbors and nearby businesses, Greta Marti, the family's youngest daughter and the store's manager since 2014, wrote, "Like many businesses around us, for the past 8 months we have struggled to stay open, pay rent, and pay our long-term employees. We never planned to end things this way, but staying open is unsustainable, with no relief in sight from the pandemic."
View this post on Instagram
Haight Ashbury T-Shirts was founded in 1977 as the Great Expectations bookstore, by husband and wife duo Paul Marti and Julia Carpenter. It moved into the historic Doolan-Larson home at the corner of Haight and Ashbury — where the clock is stuck forever at 4:20 — in 1985, first in a smaller storefront and then in its current corner location. In 1992, the store shifted from an emphasis on books to being primarily a t-shirt shop, as it is today. Ironically, Marti notes, the Haight Street of today resembles the boarded-up storefronts and vacant properties of the 1970s and 1980s that gave birth to Great Expectations.
Greta Marti said this wasn't how Paul ideally wanted to retire from business, but after eight months of trying to operate under the pandemic, the writing was on the wall.
"The store is almost like another sibling to us at this point," Marti said. Having to close "feels personal, but it's just 2020."
News of the shop's closure is yet another blow to a beleaguered commercial corridor famous as a tourist destination. Even before the pandemic, some longstanding businesses were finding it difficult to battle the pressures of rising rents and expenses. Last year saw the closure of Haight Ashbury Music Center when owner Massoud Badakhshan closed it to retire.