On Tuesday evening, the Castro's Parisian-themed bakery and cafe Le Marais Bakery (498 Sanchez) had its storefront window smashed and the business burglarized, leaving its owners frustrated and disappointed in what has already been a challenging year for small business owners.
Le Marais shared the news of the burglary on their social media pages. "Last night, our Castro bakery was broken into, our third bakery to have windows broken and be robbed this year," wrote co-owner Joanna Pulcini.
As Hoodline reported at the time, French-born café owner Patrick Ascaso and his wife Joanna Pulcini opened Le Marais Bakery in 2017 in the former Samovar Tea Lounge. Hoodline reached out to Ascaso and Pulcini for additional comment but did not receive a response.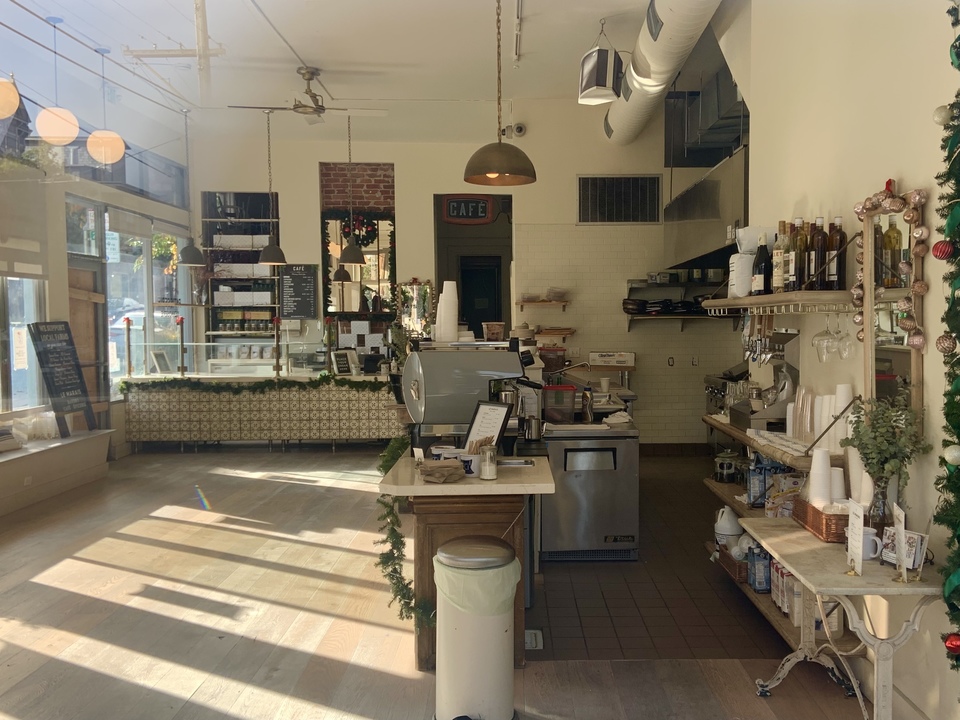 Inside Le Marais Bakery. | Photo: Steven Bracco/Hoodline
Le Marais Bakery has additional San Francisco locations in the Marina (2066 Chestnut St.) and Polk Gulch (1138 Sutter St.). A fourth location is opening soon in Mill Valley at 250 East Blithedale Avenue.
"Of course they stole the empty register, and all of the delivery iPads, the sustaining elements during these closures," said Pulcini.
According to Pulcini, it's going to take her husband Patrick Ascaso a month to replace the stolen iPads. "So likely no Castro delivery for a month," said Pulcini.
Pulcini shared her husband's frustrations with the response from the police at the other robbery incidents. "He'll handle this the same way he's handled Mill Valley sending him through loops, the way he built parklets and faced the many other 2020 challenges," said Pulcini.
"He'll work it out, and that's what he will say, 'I'll work it out'," said Pulcini.
According to Citizen App, SFPD officers arrived on the scene at approximately 7:40 a.m. Wednesday morning. Hoodline reached out to SFPD for comment on the incident, but spokesperson Officer Adam Lobsinger could not provide additional details at this time.
Compared to 2019, burglaries in the Mission Police District (which includes the Castro) are up 75.5% from 457 to 802. As reported by the SF Examiner, during the same time frame burglaries citywide have increased 46.2% from 4,715 to 6,895.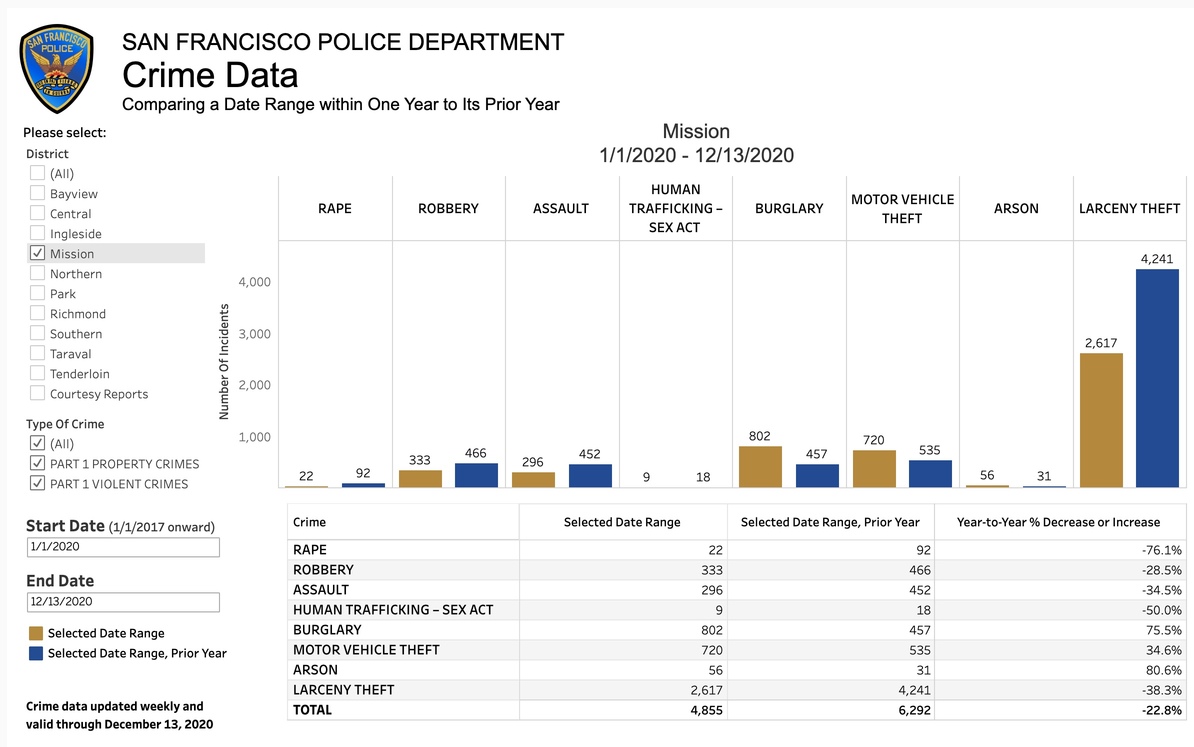 Year-over-year crime data from SFPD's Mission Station. 2020 crimes are in gold, while 2019 crimes are in blue. | Image: SFPD
"He has employees who rely on him, some since he opened, and he is always strong for them and for his family," added Pulcini of her husband.
Pulcini explained that she's not normally at the cafe and many people might not recognize her but she felt it was important to share this news about the robbery. "I wanted to write this morning because it is all too hard on him, and my husband loves his bakery," explained Pulcini.
"It's the real deal, he's not buying frozen sheets of dough from a warehouse like too many others," said Pulcini. "He does the work, he makes it work, seven days a week, going in on holidays with our daughter."
Pulcini called on the federal government to support all small businesses that have been affected by the stay at home restrictions. "Our country can bail out banks, we can bail out airlines, so their executives can still get their bonuses," said Pulcini.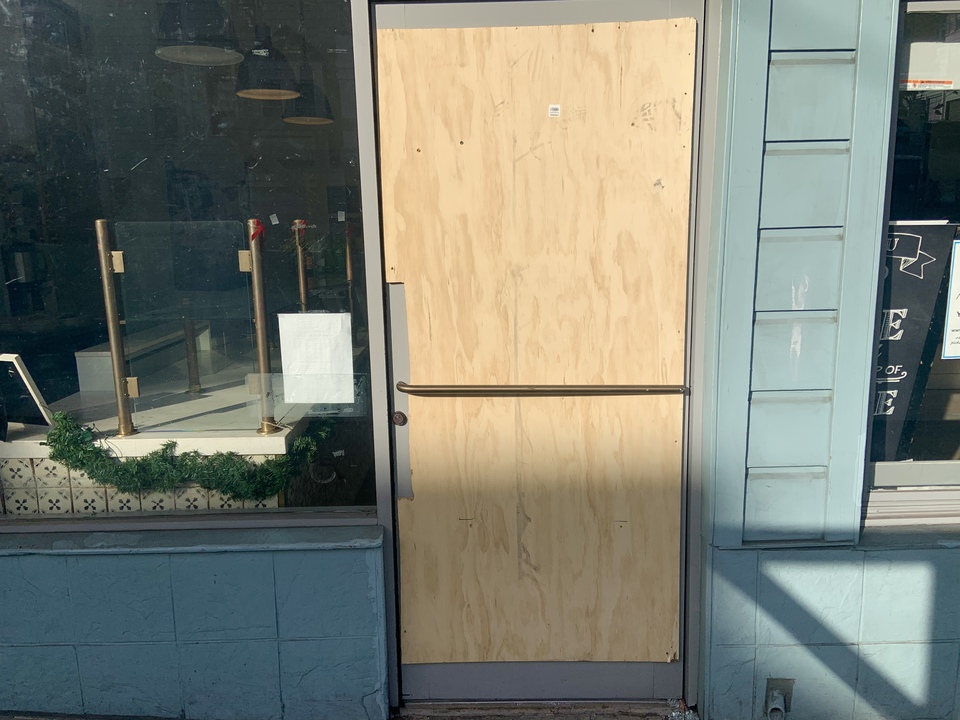 Le Marais Bakery has also boarded up its side entrance. | Photo: Steven Bracco/Hoodline
"Why can't we bail out small businesses, so they don't lose everything they have worked so hard for," questioned Pulcini. "Bail out the ones who make it work and are willing to work so hard for their dreams and their amazing teams who are like family."
Pulcini called on San Francisco residents to support all small businesses at this time. "Please frequent small businesses this holiday season, especially those with boards against their broken windows, because they employ the people and use products of your communities," said Pulcini.
"2020 was not easy on them, and our country is not lending them a hand," added Pulcini. "My grandparents came to the United States from Italy and opened a tavern in Martin's Creek, Pennsylvania because they had a dream of a better life.
"This is not the American way," said Pulcini.