The SF Muni line 30-Stockton is a big Caltrain commuter route because it can drop you off right at the 4th and King Street station, but also lugs through Chinatown, North Beach, and the Marina. Yet that Marina end of the line is causing some consternation in that neighborhood, thanks to a brief line extension into the Presidio that went into effect in October, and now takes the line through a new, further-off endpoint at Crissy Field. A small coalition of Marina residents is none too pleased at the new Muni service creeping into their neighborhood, as the Examiner reports that Marina residents are lobbying the SFMTA to kill off the Presidio extension, which is still just a pilot program.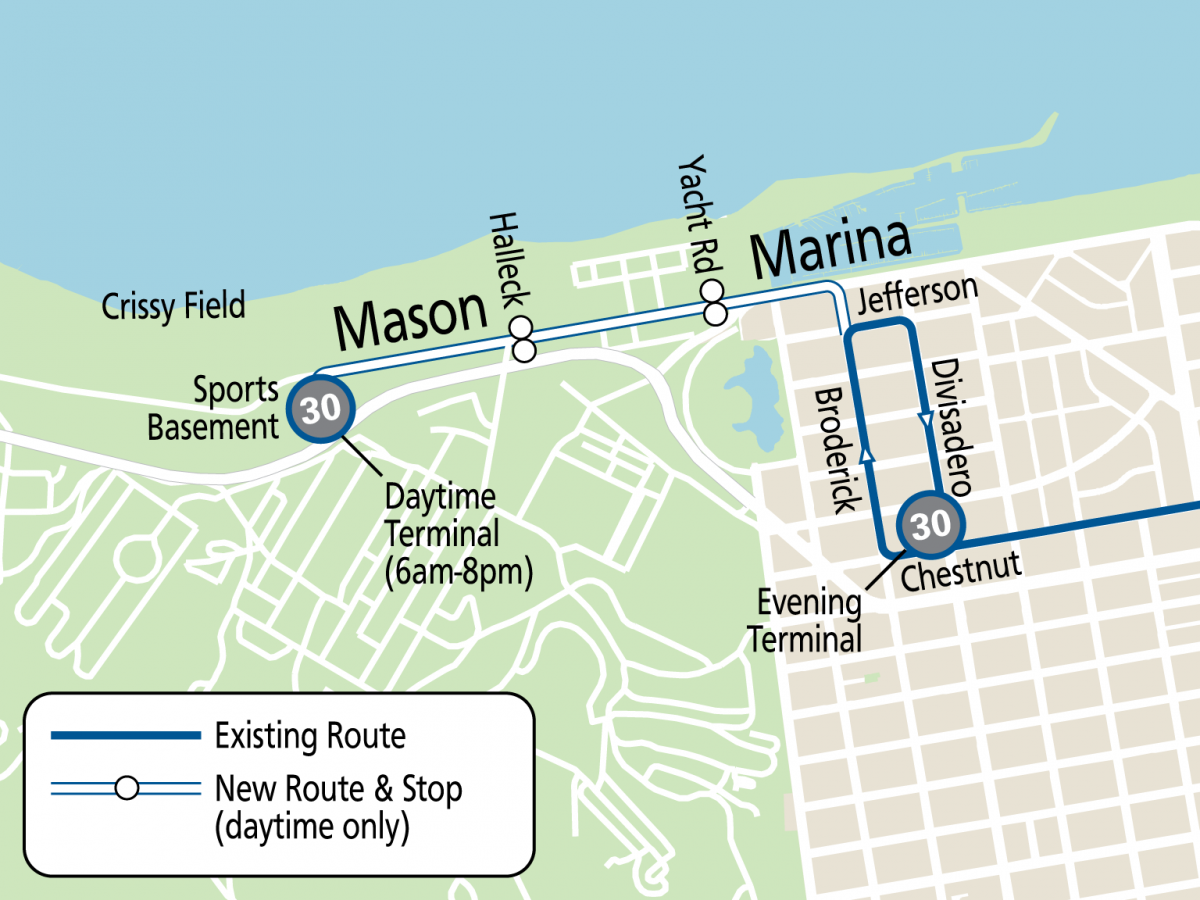 The extension in question is really quite tiny, as seen above, and only covers a few blocks of Mason Street where it cuts off from Marina Boulevard. And to be fair, the neighborhood opposition is not unanimous. At the most recent SFMTA board meeting on December 1, only three public commenters mentioned the matter (two were against the extension, one was in favor.)
One opposed commenter complained about the cost, the larger buses, and an alleged lack of transparency by SFMTA in approving the extension. "In addition to the weight limit and the zero people on the bus, the expense that they've locked the city into for the next five years no one taken into consideration the danger to the pedestrian and the cyclist," the anonymous commenter complained. "Please take this to heart and reevaluate this whole misappropriation of funds."
The SF Examiner spoke to a Marina resident opposed to the extension, who complained of blocked waterfront views and soil erosion concerns.
"They're upsetting the soil, whether it's now or after the next earthquake," said Kelly Mills, who lives along the route's extension. "We're fragile."
But their main complaint is that no one is riding the bus on the extended blocks. SFMTA's own data says that there were never more than five riders on the new extended blocks at any point in October or November.
The SFMTA feels that the extension will catch on once more people become more aware of it, and of course, when ridership returns to normal levels. They're continuing to take public comment on the matter, but this item does not appear on today's SFMTA board meeting agenda, a meeting which is still in progress as of press time for this post.