Fans of Olive Garden's neverending pasta bowl will now have to travel outside San Francisco to enjoy the chain restaurant's casual Italian-American cuisine.
San Francisco's only Olive Garden (3251 20th Ave.) location, which for nearly two decades has soldiered on at the Stonestown Galleria, has permanently shuttered in yet another pandemic closure in the city. The restaurant's last day was December 5.
A sign on the window announces the closure. "We apologize for any inconvenience," the sign states. "We appreciate your business and hope to see you soon."
The Stonestown Olive Garden has been open since at least the early 2000s, an exact opening date is not available at this time. At one time, Olive Garden and Chevy's dominated this section of the mall, with Chevy's ultimately closing in 2012.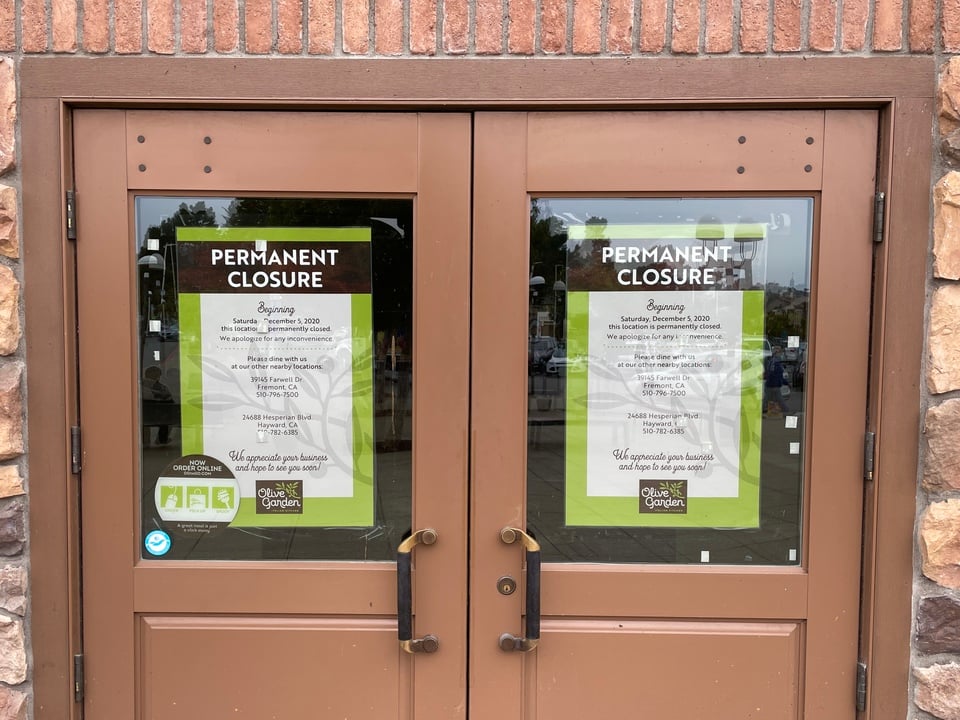 Sign posted outside Olive Garden at Stonestown Galleria. | Photo: Steven Bracco/Hoodline
Founded in 1982, Olive Garden currently has approximately 892 locations and is headquartered in Orlando, Florida.
"Closing this restaurant is a difficult business decision, and I can promise you it's one we made very carefully and thoughtfully, particularly because it impacts our team members and our guests," said Olive Garden spokesperson Meagan Bernstein.
"In no way does this reflect on the quality of our team members' work, and we're doing everything we can to help our team members," added Bernstein.
According to Bernstein, every Stonestown Olive Garden employee was offered to join nearby locations or other Darden restaurants. If they choose not to transfer to another location they will receive severance.
"We continually evaluate the performance of all of our restaurant locations, and this decision was made as part of that process," said Bernstein. "Unfortunately, from time-to-time we have to close restaurants."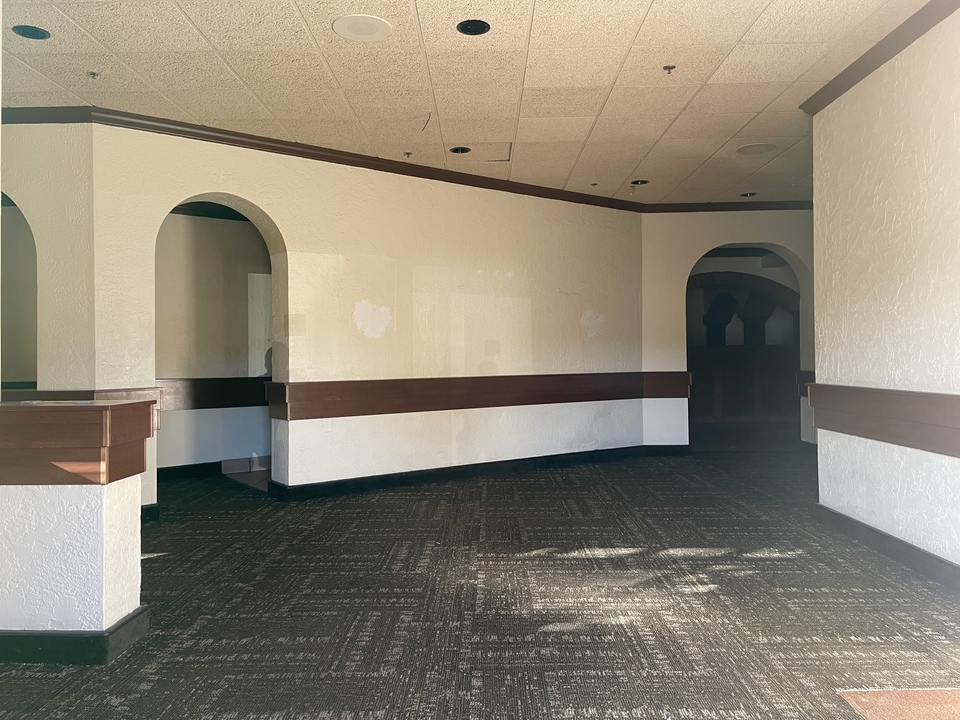 Inside the now vacant Stonestown Olive Garden. | Photo: Steven Bracco/Hoodline
The closure comes as indoor dining was closed in San Francisco on Monday after Mayor London Breed preemptively adopted California's regional stay-at-home order.
Olive Garden customers looking for another location will have to travel far outside the city's boundaries. Olive Garden currently has eight Bay Area locations including Fremont, Hayward, Antioch, Milpitas, Vallejo, Rohnert Park, and two locations in San Jose.
Despite Olive Garden often being the victim of jokes about its questionable authentic Italian cuisine, a 2012 review by Grand Forks Herald restaurant critic Marilyn Hagerty went viral. The then 85-year old Hagerty wrote, "the chicken Alfredo was warm and comforting on a cold day," about the new location in Grand Forks, North Dakota. "The portion was generous."
Now at 94, Hagerty continues her weekly restaurant reviews and was featured in The New York Times this week discussing how's she's adapted during the pandemic.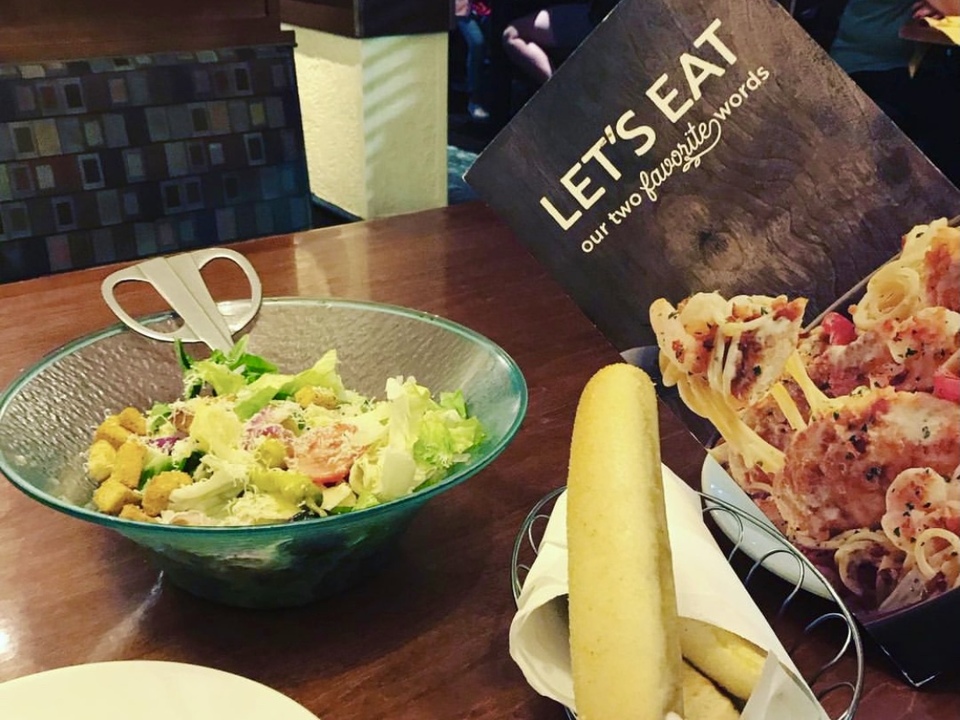 Inside the Stonestown Olive Garden. | Photo: Adrean Ye/Instagram
Many fans of the Stonestown Olive Garden took to Twitter and Instagram to lament the loss of the restaurant sharing stories and memories of the restaurant.
"I'm so sad this is my last meal from Olive Garden Stonestown," wrote Honey on Olive Garden's last day.
"Like 2020 couldn't get any worst, they closed the Olive Garden at Stonestown," said Natalie.
"They took away the only Olive Garden nearby at Stonestown," said Brian. "It's been shut down, 2020 I'm ready to effing fight you."
"RIP Stonestown Olive Garden," wrote Max. "Fuck you COVID."
Olive Garden's closure comes as Stonestown Galleria has gone through something of a renaissance in recent years. Longtime anchor store Macy's departed in 2018 and Nordstrom's closed in 2019.
Construction on the former Macy's site is currently underway with plans for a Regal Cinemas multiplex, Whole Foods, and Sports Basement. Target quickly snapped up the former Nordstrom's space and is currently expanding.
Food options have also expanded with the addition of Marugame Udon, Gram Cafe & Pancakes, Rooster & Rice, Yi Fang Taiwan Fruit Tea, and 85 C Bakery Cafe.