Published on December 08, 2020
Longtime Western Addition resident and gay-Latino designer Miguel Gutierrez was recently profiled in a new documentary film about his life in San Francisco, and his art, design, and costume creations. The film was released last week in commemoration of World AIDS Day on December 1.
My Neighbor, Miguel was directed by first-time filmmaker Daniel Navarro. The 13-minute short film was shot on 16mm and is currently available on Vimeo.
"Miguel was my former landlord in San Francisco," said Navarro. "Each month, I would see him hang beautiful art pieces outside of my living room window which faced McAllister Street for all to see."
"I fell in love with these pieces and became fascinated with their elusive maker who donned a thick Colombian accent and handlebar mustache," said Navarro. "Over time, Miguel and I became friends which is how I learned about the story behind his art and how delicately intertwined it was to his past."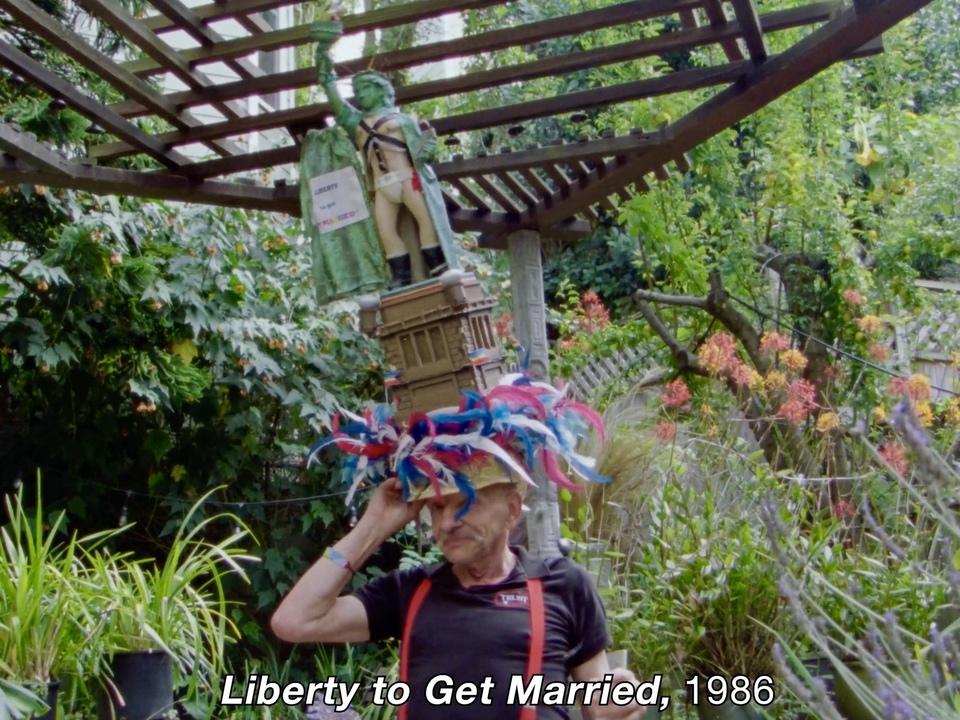 Gutierrez wearing one of his costume headpieces. | Photo: My Neighbor, Miguel
72-year old Gutierrez has lived at 1269 McAllister since 1984. Hoodline readers may recall that in 2015 we profiled Gutierrez, and talked about his constantly evolving installation of mobiles hanging outside his home.
In the film Gutierrez recalls his time making costumes in San Francisco during the AIDS epidemic. "Each month, Miguel creates intricate costumes and artwork that he would hang outside of my old house in the Western Addition made from trash that he finds around the neighborhood," said Navarro.
As an HIV+ person, Gutierrez is part of a generation of gay men in San Francisco that were decimated by HIV/AIDS. "He's spent decades as an activist against the disease and has persevered with a beautiful energy that I am inspired by every time I see him," said Navarro.
The film is comprised of both present-day and archival footage courtesy of the GLBT Historical Society and LGBTQ newspaper The Bay Area Reporter.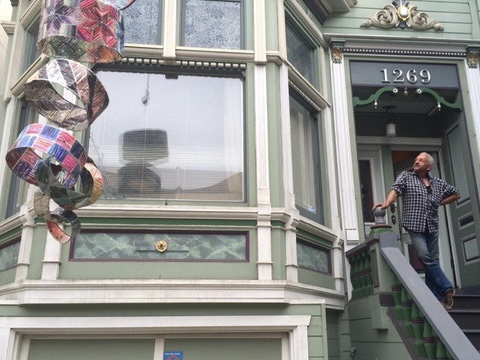 Miguel Gutierrez outside his home in 2015. | Photo: Nuala Sawyer/Hoodline
According to Navarro, the film follows the creation and ultimate installation of one of Gutierrez's neighborhood famous sculptures while he tells stories that are filled with emotional highs and unrelenting tragedy. During the film, Gutierrez talks about meeting the love of his life, joyous celebrations, and living through the AIDS epidemic in San Francisco as an HIV+ man.
"I'm at this stage in my life, there's not a light at the end of the tunnel but the sparkle's still there," says Gutierrez in the film.
"To me, he's the best of the Bay," said Navarro. "He reminds us of the importance of contributing to our community and he typifies the spirit that survives."
"We made this film as a love letter to Miguel and to the city of San Francisco," said Navarro. "It's a story about the strength of the human spirit and the importance of contributing to the community."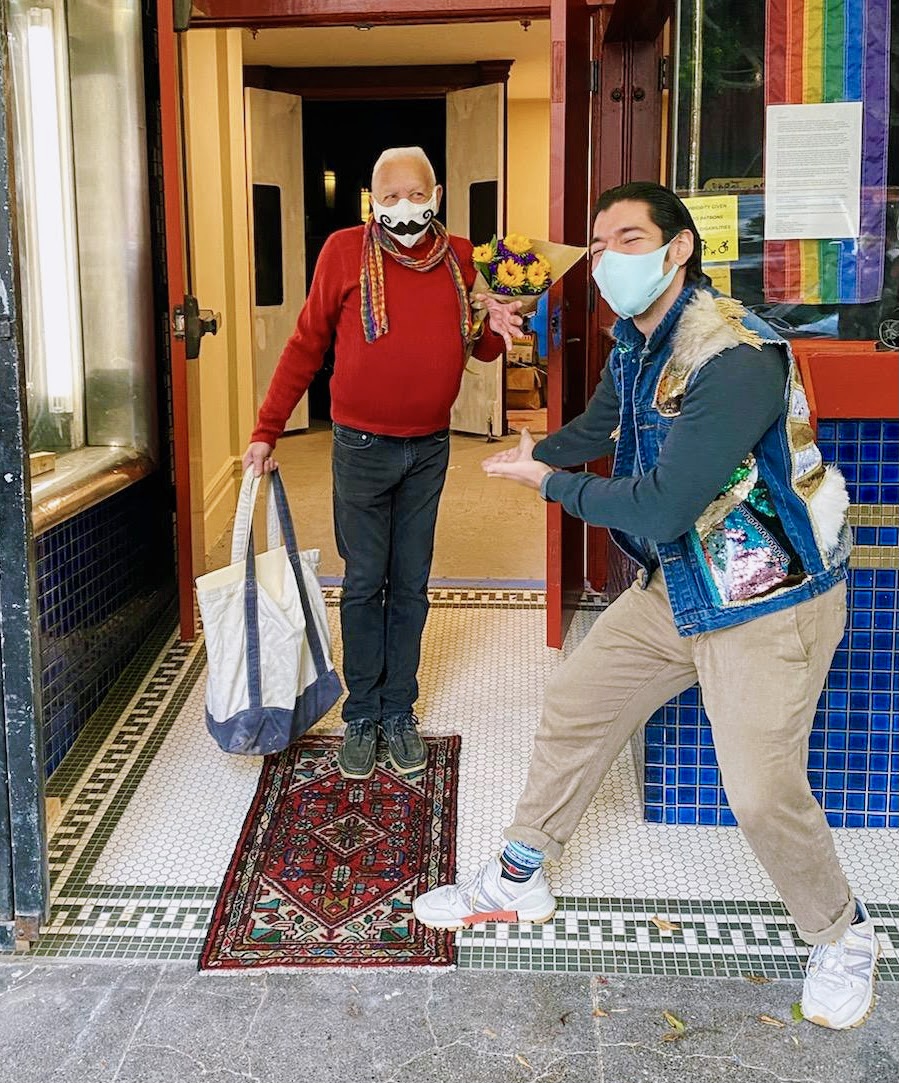 Miguel Gutierrez (left) and Daniel Navarro (right) at The Roxie Theater. | Photo courtesy of Daniel Navarro
"Miguel, and the community that he represents, inspire and remind us that no matter how hard things get, the sparkle is always there."
Ahead of the film's release last week, Navarro arranged a private screening of the film for Gutierrez at Mission District's Roxie Theater. "He brought his own red carpet," said Navarro.
Vimeo Link: