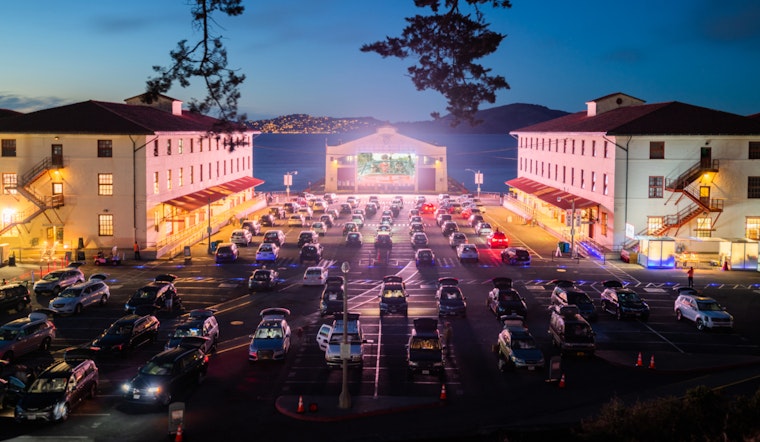 Published on January 12, 2021
For independent cinema fans, January is usually the time of year to be jealous of those attending the annual Sundance Film Festival in Park City Utah. But the 2021 Sundance Film Festival will be handled differently for some very obvious reasons. There's still a big-money option for the true Sundance enthusiasts in an online streaming package that can run you multiple hundreds of dollars. But Sundance is also coming to San Francisco — well, parts of Sundance, that is — as SFist reports that the new Fort Mason drive-in will be screening several Sundance films in conjunction with the festival (Jan. 28 - Feb. 2).
There will be two shows per night at the makeshift drive-in theater we now call Fort Mason Flix, and the screenings are a partnership with Sundance and the Roxie Theater. In accordance with safety protocols, it's only one household per car, concessions will not be sold on-site, and you can only leave your car to use the washroom.
Your big question is going to be what movies are screening, and it appears there are some real notables. The full film line-up includes a Rita Moreno documentary (Jan. 29) and a Closing Night Amy Tan documentary (Feb. 2), plus the documentary Rebel Hearts (Jan. 30) which tells the story of some politically active, rabble-rousing left-wing Catholic nuns. Narrative feature films include a very timely UK pandemic thriller called In the Earth (Jan. 29), and the black-comedy/thriller First Date (Feb. 1).
There are some local interest screenings too, like the Lowell High School documentary Try Harder (Feb. 2). The Oakland High School documentary Homeroom will also be screening online-only, and is available as a $15 single screening ticket.
Don't dither on getting tickets, because screenings are already selling out. The most highly anticipated flick of the bunch Together, Together with Ed Helms and Tig Notaro is already sold out.
The SF DPH did approve these screenings, even though movie theaters are not operating locally. "Under California's regional stay-at-home order, drive-in theaters are permitted to operate," officials said in a statement to KQED. "In line with the city's allowance of industry operation to the level at which the state permits, San Francisco has worked with the Fort Mason Center for Arts and Culture to carefully examine operating conditions that reduce the risk of drive-in theaters as much as possible. The Fort Mason Center has been a close partner in ensuring that their operations are aligned with the current state of public health conditions in San Francisco and we will continue to work together on these issues."

Fort Mason Flix Sundance satellite screenings are Thursday, Jan. 28 - Tuesday, Feb. 2. $49 per vehicle, TICKETS HERE