Earlier this month the Castro Merchants were selected as one of four SF merchants' associations to receive a $50,000 Avenue Greenlight grant.
Announced by Mayor London Breed, the grant is meant to support merchant corridors recovering from the COVID-19 economic decline by promoting small business recovery and community vibrancy.
The three other merchants' associations receiving the $50,000 grant include Bayview, Chinatown, and Clement Street merchants associations. In the coming months, all 34 of San Francisco's merchant associations will receive a $50,000 grant.
The $1.7 million initiative was funded by tech entrepreneur Chris Larsen, the co-founder of cryptocurrency company Ripple and mortgage lender E-Loans, in partnership with the San Francisco Council of District Merchants Association (SFDCMA).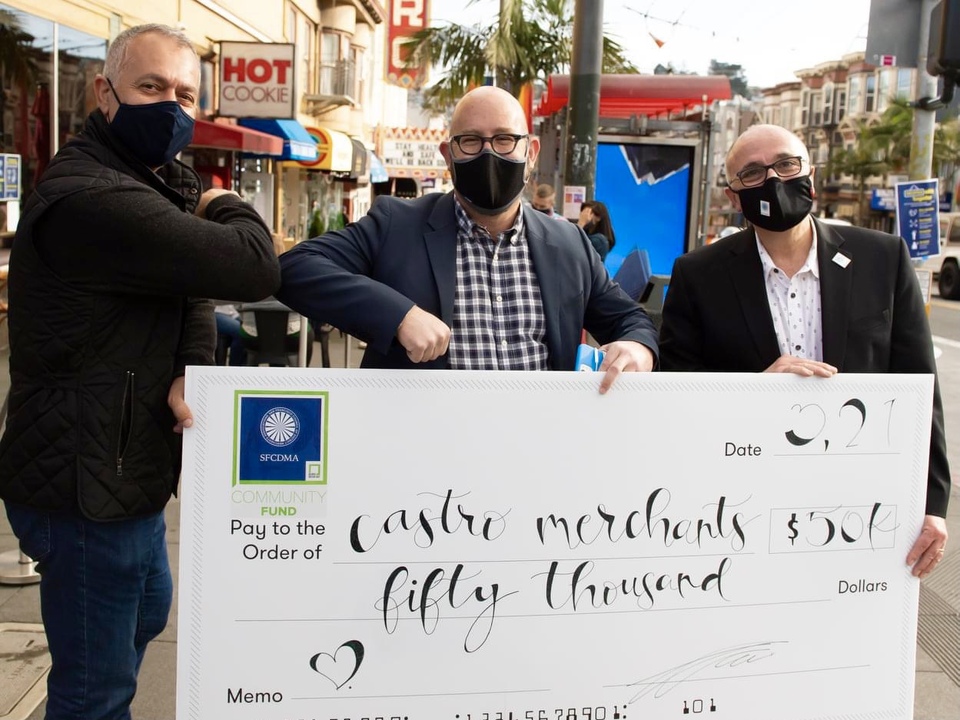 Masood Saereie (left), Supervisor Rafael Mandelman (center), and SFDCMA President Maryo Mogannam (right). | Photo: Chloe Jackman Photography/SFDCMA
"I believe San Francisco is poised for an exciting new chapter when we bounce back from this pandemic, and it is this city where people will want to be," said Larsen in a statement about Avenue Greenlight. "If we come together, move from empathy to action, tangible impact can be made from a modest infusion of private resources put directly into the hands of those who need it and know how to use it, and we will get there."
Masood Samereie, Castro Merchants President and SFDCMA Vice President, tells Hoodline the Castro, along with the three other merchant associations, was selected after submitting a wishlist of projects they'd like funded. Samereie explained that the initial proposal was for $10,000 but SFDCMA was able to get it increased to $50,000.
"We're trying to put a face on small businesses after everything that happened with COVID," said Samereie.
One of the projects they will be spending the money on is the maintenance and replacement of the Rainbow Flag at Harvey Milk Plaza. According to Samereie, the late Tom Taylor, Keeper of the Rainbow Flag, was one of the biggest donors to the Rainbow Flag. Due to wear and tear, the Rainbow Flag is replaced four times a year at a cost of approximately $5,000.
Samereie says the Castro Merchants are also exploring the idea of installing planters on the light poles. Castro residents will recall planters were placed on the light poles in 2013 but have since been removed.
Samereie would also like to hire a part-time assistant to help him with day-to-day tasks that have become overwhelming.
A portion of the money will also be spent on the Shared Spaces street closure along 18th St. and Noe St. Initially District 8 Supervisor Rafael Mandelman secured a $30,000 Office of Economic and Workforce Development (OEWD) grant through the budget add back process. However, that funding is set to expire June 30 and Samereie would like to keep Shared Spaces going.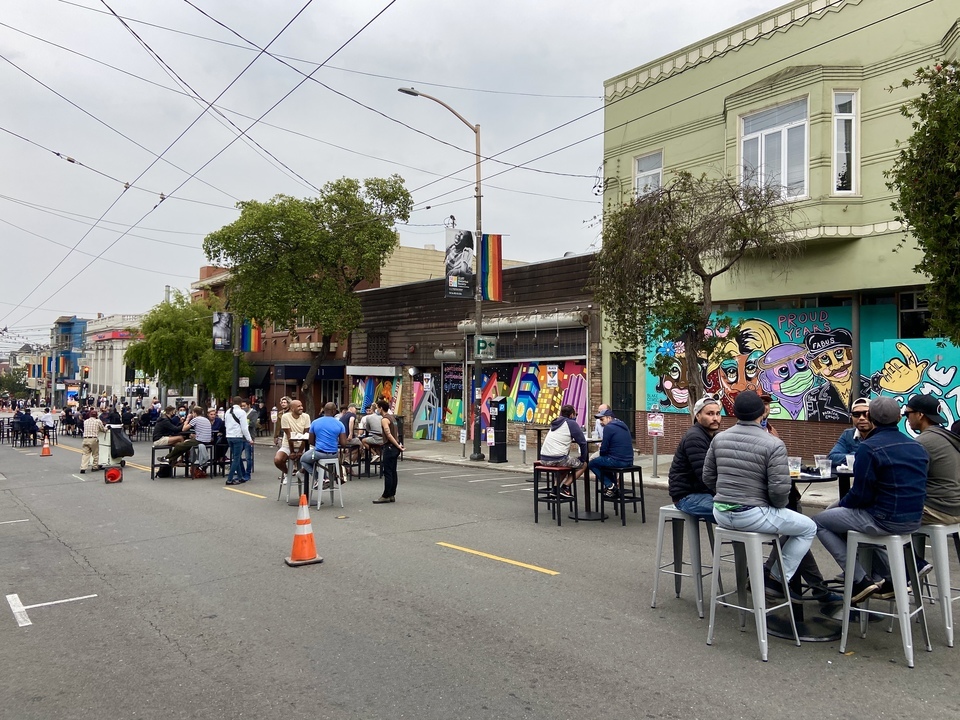 Diners outside The Edge at 18th and Collingwood streets. | Photo: Steven Bracco/Hoodline
Lastly, Samereie says the Castro Merchants will be allocating some of the money to the annual holiday tree at Bank of America. Samereie explained that the holiday tree's costs continue to rise every year, yet they'd like to continue the tradition.
Hoodline readers will recall Larsen has also proposed granting $695,000 to the Castro/Upper Market Community Benefit District (Castro CBD) to install a private network of 125 security cameras. Larsen will be donating an additional $50,000 to the Castro CBD's public safety ambassador program.
Samereie tells Hoodline he plans to start a discussion with Larsen to reverse the camera project and instead go to a restricted fund grant program that would allow Castro businesses to install security cameras individually. According to Samereie, many Castro businesses are interested in installing security cameras.
"It has proven that it's not the perfect model," said Samereie about the network of security cameras.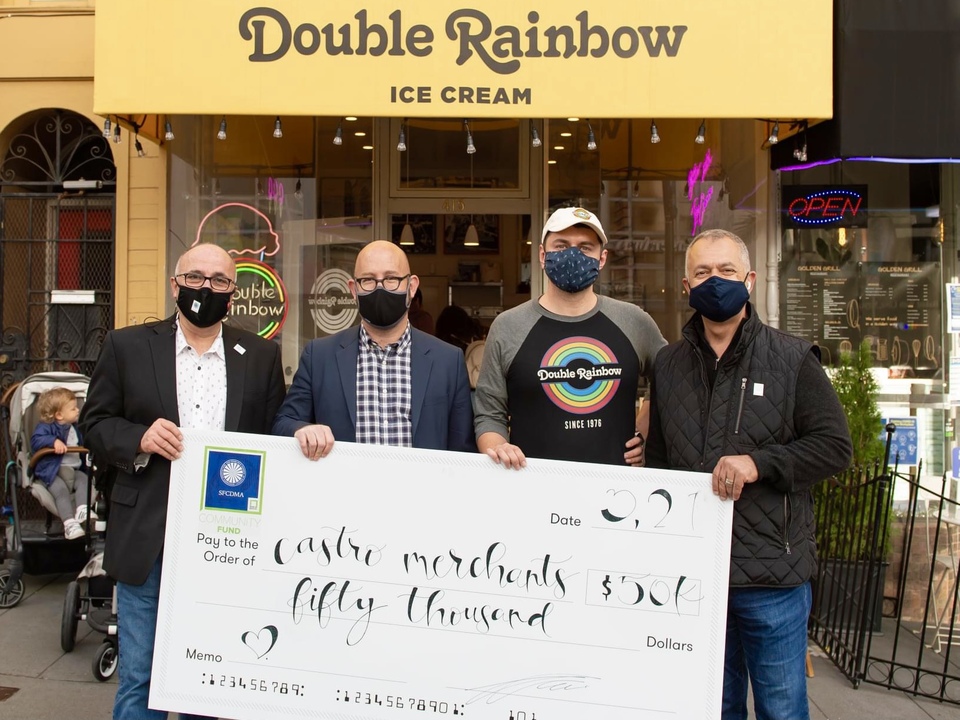 Mogannam, Mandelman, and Samereie outside Double Rainbow Ice Cream. | Photo: Chloe Jackman Photography/SFDCMA
Samereie explained that this initial influx of $50,000 for each neighborhood merchant association is only the beginning. According to Samereie, the SFDCMA is going after more donors.
If more funding becomes available Samereie says he'd like to spend it on cleaning the streets throughout the Castro, repainting and reinstalling the Rainbow Crosswalks, and replacing the Rainbow Banners attached to light poles throughout the neighborhood.
"It's great knowing that we have more money coming to beautify the neighborhood," Samereie. "I'm Looking forward to getting some of this done and making this a more beautiful neighborhood for everyone."