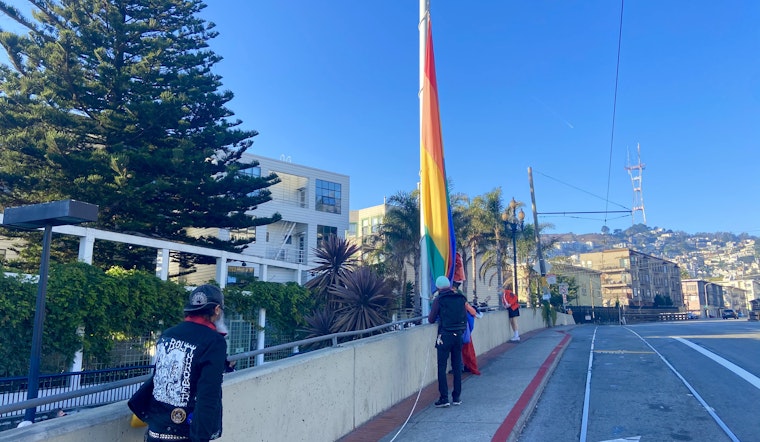 Published on November 02, 2020
On Saturday, a group of community members gathered at the Castro's Harvey Milk Plaza in honor of Tom Taylor, gay activist and 'keeper of the Rainbow Flag' at Harvey Milk Plaza.
Under normal circumstances a large gathering would have been held however, due to COVID-19 restrictions, event organizers held a smaller event.
Organized by 'First Lady of the Castro' Donna Sachet and the Castro Merchants, speakers included State Senator Scott Wiener, District 8 Supervisor Rafael Mandelman, BART Director and former Supervisor Bevan Dufty, former Supervisor and mayoral candidate Mark Leno and Taylor's niece Angie Traeger.
"Why aren't we at Castro Theatre, the City Hall rotunda, or Chase Center with hundreds of thousands of people gathered?" asked Sachet, acknowledging the constraints created by COVID-19. With limited options, Sachet explained they knew a memorial in Taylor's honor must be held.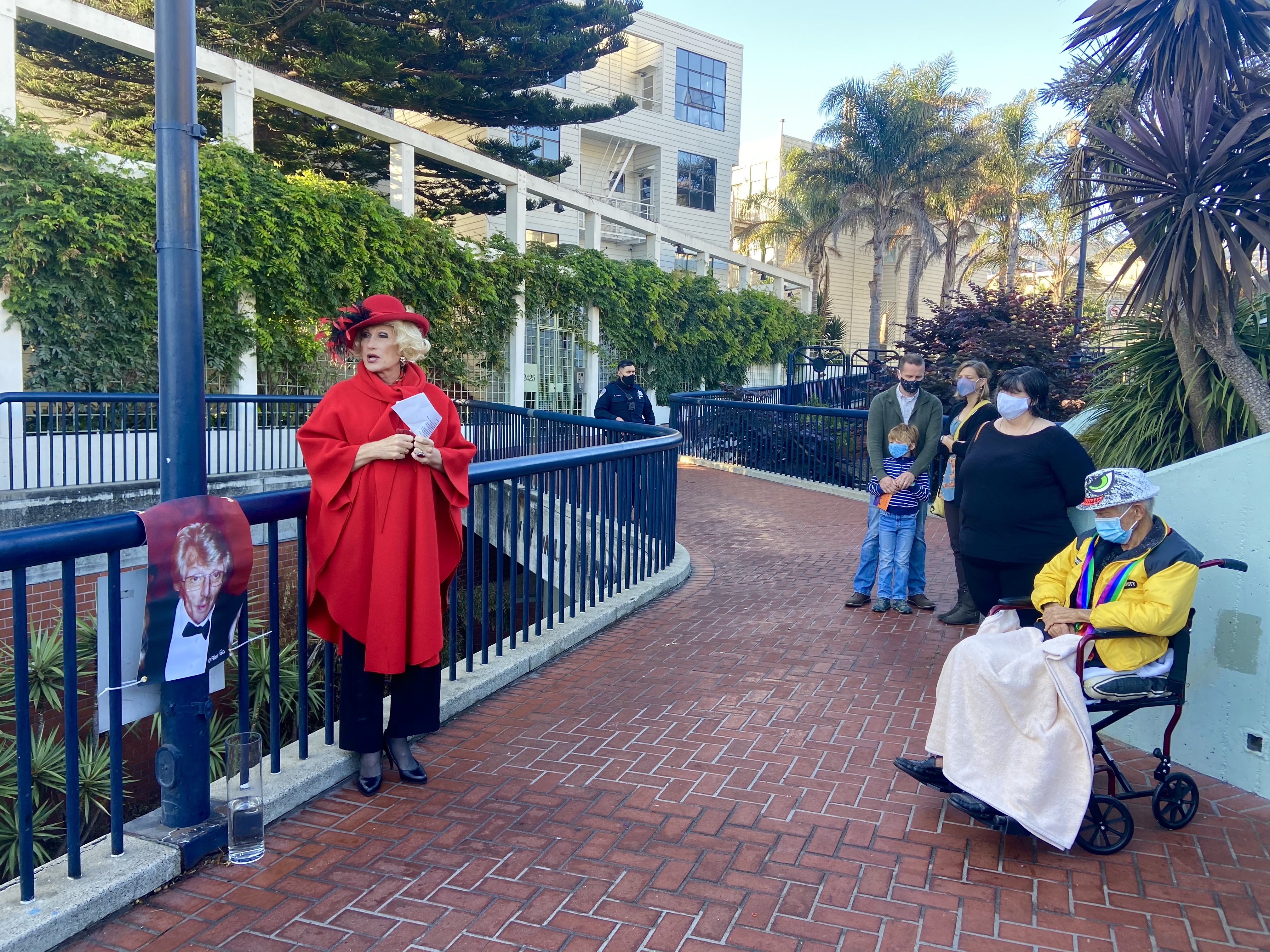 Donna Sachet (left) and Jerry Goldstein (right) at Harvey Milk Plaza. | Photo: Steven Bracco/Hoodline
Taylor, passed away October 20 after a bout with prostate cancer. Taylor and husband Dr. Jerome 'Jerry' Goldstein had been together since 1977 and married in 2013. Taylor was 77.
Commonly referred to as the 'Tom & Jerry House,' Taylor and Goldstein were well known for their annual Christmas display and enormous tree at their Dolores Heights home on 21st Street.
During the event, the rainbow flag was lowered and replaced in Taylor's honor. Through the Diversity Foundation, co-founded by Taylor and Goldstein, the couple maintains and cares for the flag, and Taylor was known for sewing its tatters and making sure it was replaced in a timely fashion as each flag wore out. The couple was also responsible for funding the rainbow flags that fly up and down Market St. during Pride Month.
"With today's flag-raising, I think of us as raising our Tom, his life, and his example to love. Behold and learn from him," said Traeger.
"They've been together five decades and during that left an indelible imprint on the Castro and the queer community in San Francisco," said Mandelman. "It's a mark of how many people they influenced to see the different organizations who are represented here today."
"They are each in their own way one of a kind and I feel grateful and lucky to have lived in their time," added Mandelman.
"You could always count on him to take care of the flag and be there for this amazing visible symbol of the Castro and LGBTQ community," said Wiener. "It's such a huge loss, it's hard to imagine walking around the neighborhood and not seeing Tom anymore."

Mark Leno (center) speaking at the memorial. | Photo: Steven Bracco/Hoodline
"He is one of those saints of our community," added Wiener. Wiener suggested that the Sisters of Perpetual Indulgence should saint Taylor if he already hasn't been.
"The miracle of Tom and Jerry, are the lives that they've touched," said Dufty. "It's kind of ironic because anyone in our positions wished that we've touched as many people in as loving a way as Tom and Jerry have."
"I think about the flags that go up and down Market Street and how many people have come out over Pride," added Dufty.
Talking about the popular Christmas display Dufty said, "I think of all the individuals who drive from around the Bay Area and they've just appreciated so much the love that goes into the work."
"I look forward to all of us working together for making this a destination and that there will be plaques and explanations of the contributions of Gilbert Baker, Tom Taylor, and Jerome Goldstein," added Dufty in reference to the current proposal to remodel Harvey Milk Plaza.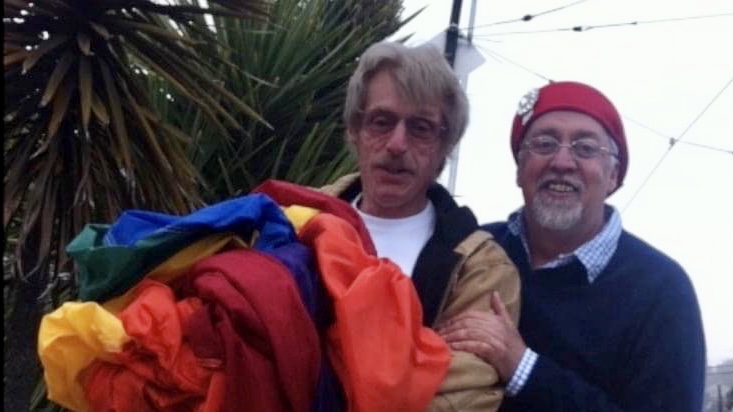 Tom Taylor (left) and Gilbert Baker (right). | Photo courtesy of Gilbert Baker Foundation
"Tom was a giant among us, not just because he was physically powerful but because he cared, felt, and believed so deeply about everything he did," said Leno.
Last week the GLBT Historical Society released a video tribute in honor of Taylor. The video is currently on display at the GLBT Historical Society Museum (4127 18th St.) in the Castro along with an exhibition to Baker, and you can watch it below.
"Yes his friendship and collaboration with Gilbert Baker was historic and infamous," added Leno. "But without Tom, so much of Gilbert's creativity and brilliant ideas would've been just that."
"They would have never, ever happened," exclaimed Taylor's partner Jerry Goldstein.
Baker, longtime friend of Taylor and Goldstein, created the rainbow flag for the 1978 San Francisco Gay Freedom Day Parade. Baker passed away in 2017.
Overseen by Baker, the flag and flag pole at Harvey Milk Plaza were installed as an art piece in 1997. Since that time the rainbow flag has become an iconic landmark and symbol of pride across the world.
During their decades-long friendship, Taylor worked with Baker on multiple art projects including the Pink Jesus protest at the 1990 SF Pride Parade and the Mile-Long Rainbow Flag for Stonewall 25 celebration in New York City in 1994.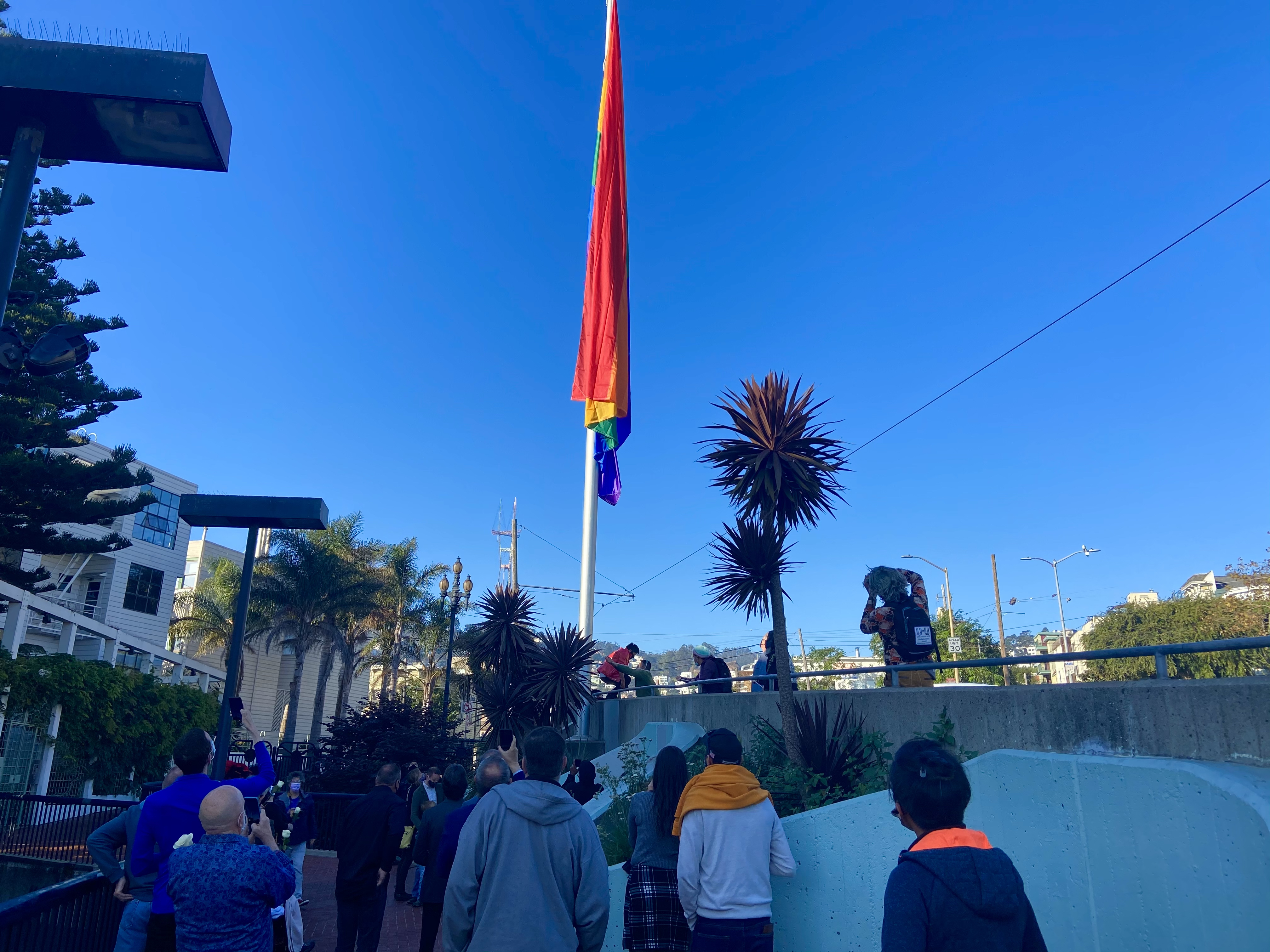 New rainbow flag being raised at Harvey Milk Plaza. | Photo: Steven Bracco/Hoodline
Over the summer, in response to the Black Lives Matter movement, two petitions were started requesting the rainbow flag be replaced with either the Philadelphia Pride Flag or the Progress Pride Flag.
At the time Masood Samereie, Castro Merchants president, explained they are merely stewards of the art installation and have no authority to change the flag. "Our sole responsibility is maintenance, including replacing the tattered flag and maintaining the flagpole at the cost of nearly $5,000 annually," said Samereie in a statement at the time. Samereie explained the flag is replaced four times annually.
In 2017, then-District 8 Supervisor Jeff Sheehy proposed registering the rainbow flag and flagpole as a historic landmark through the San Francisco Historic Preservation Commission. However, landmarks are required to be 25 years or older.
The flag and flagpole will be eligible for landmark status in 2022.