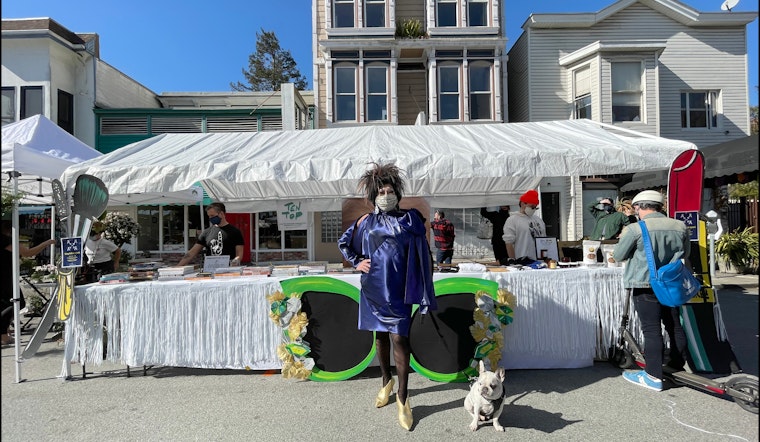 Published on March 19, 2021
Every Sunday through the end of June, a block off Noe and Market streets transforms into an outdoor art market, where passersby can purchase anything from potted succulents to psychedelic portraits from participating vendors.
The past year saw San Francisco restaurants adapt to a new, socially distant norm, scattering out seating areas onto the streets and sidewalks; once a mundane novelty, these erected parklets have become a lifeline for local small businesses. In a similar vein, open-air markets have given a place where SF artists (and even horticulturists) can display their work and put pieces up for sale.
For some, vending at the Slow Streets-sponsored Noe Art Mart has helped them break through certain personal barriers and find the confidence to put their art in front of public gazes.
"As an introverted artist, it's definitely challenging to go outside and actually sell my art and products, but at the same time, once I'm at the art fair, I get to see the excitement of people looking at the blankets and illustrations in person," textile and illustrator Simon Malvaez tells Hoodline. "I still feel weird [selling and showing my work], but it helps to be surrounded by support at the art fair and a lot of people telling me they love what I do. The fair has also been a great platform for me and my partner to get to know other artists and creators from the Bay Area."
For Jessalyn Ragus, a self-described "psychedelic erotica artist" and tarot card reader, the Noe Art Mart additionally provides Bay Area artists and artisans this increasingly rare kind of opportunity — at an affordable price.
"[The art mart] has given me an affordable space to showcase and share my work," Ragus waxes in an email. "In turn, I take home more profit, while at other events sometimes one can barely break even after tabling fees."
Ragus, too, notes the event doubles as a safe place for members of the queer community to connect: "It's important and as Queer beings, a lot of those safe places used to be/still are bars, clubs, theaters, because although we aren't able to gather there yet, Noe Art Market gives us the safe space to connect right now."
Having kicked off this past Valentine's Day, the Noe Art Mart has continued to help artists, craftspeople, and others fill the financial gaps left wide open from economic downturns and historic rates of unemployment.
During this time distinguished by offensive amounts of online shipping, the tactile, in-person purchasing experience the fair offers is a welcomed break from searching for CVV numbers.
"But because several businesses [on Noe Street] don't plan to expand into the streets, we realized, I've partnered with the Castro Merchants to pull the permits needed to close down Noe between Market and Beaver Streets every Sunday through the end of June, which gives people shop in person from local artists, as opposed to online," says Chris Hastings — owner and operator of the Lookout bar, which saddles the Noe Art Mart — adding that the street closure has added opportunities for more "brick and mortar business" on the block to expand their square footage and serve more customers.
And as serial philanthropist and laudable drag queen Juanita MORE! explains, the event gives both buyers and creators an opportunity to meet directly — a consumer relationship that's been almost nonexistent during COVID-19.
"There's nothing like this happening in our community that directly connects people with the artists making art right now," MORE! says. For this upcoming Noe Art Mart, you'll be able to find MORE! selling her enviable face masks (and tongue-in-cheek merchandise that echoes her profitable "sass") while Jackson, her now muraled Frenchie, searches for abandoned human food.
"It's the perfect way to help revitalize the neighborhood and to support local artisans," she continues. "Every week there are home goods, ceramics, jewelry, clothing, plants, photography, and apparently a bit of sass from me… that sells well."
The Noe Art Mart begins at 3600 16th Street, off Noe and Market streets, every Sunday through June from 11 a.m. to 6 p.m. — weather permitting; participating vendors will have an hour prior and an hour after to the event to either build or take down their stations. For more information on the series of artistic happenings, as well as how to enroll as a vendor, visit the event's dedicated Eventbrite page.