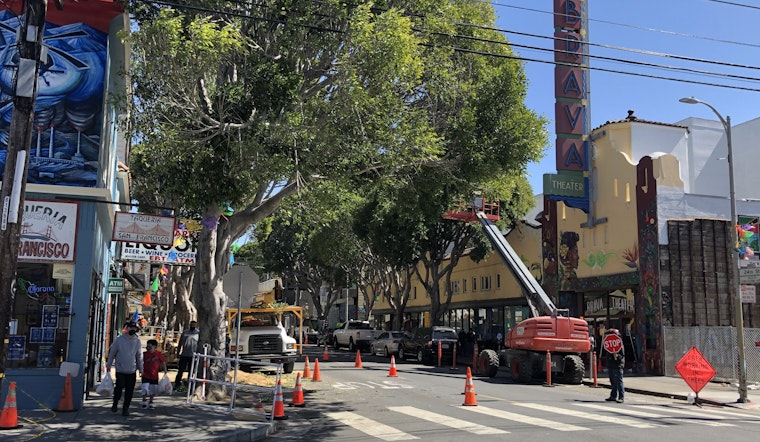 Published on March 23, 2021
There have been ficus trees along the Mission District 24th Street corridor for 50 years, but the last three of those years have made those trees a flash point for controversy, and many, many public meetings. In 2018, Mission Local described the ficuses as a "ticking tree bomb," because of their roots' propensity for cracking apart the sidewalks, growing into floors of local businesses, and the trees' tendency to come crashing down during storms. The city decided to remove 51 of the trees in 2019, which brought on the expected public outcry and appeals, which all resulted in a July 2020 compromise to remove only 31 trees.
And that removal is now underway. Hoodline observed the tree removal and replacement on Tuesday afternoon, and the process actually started Monday.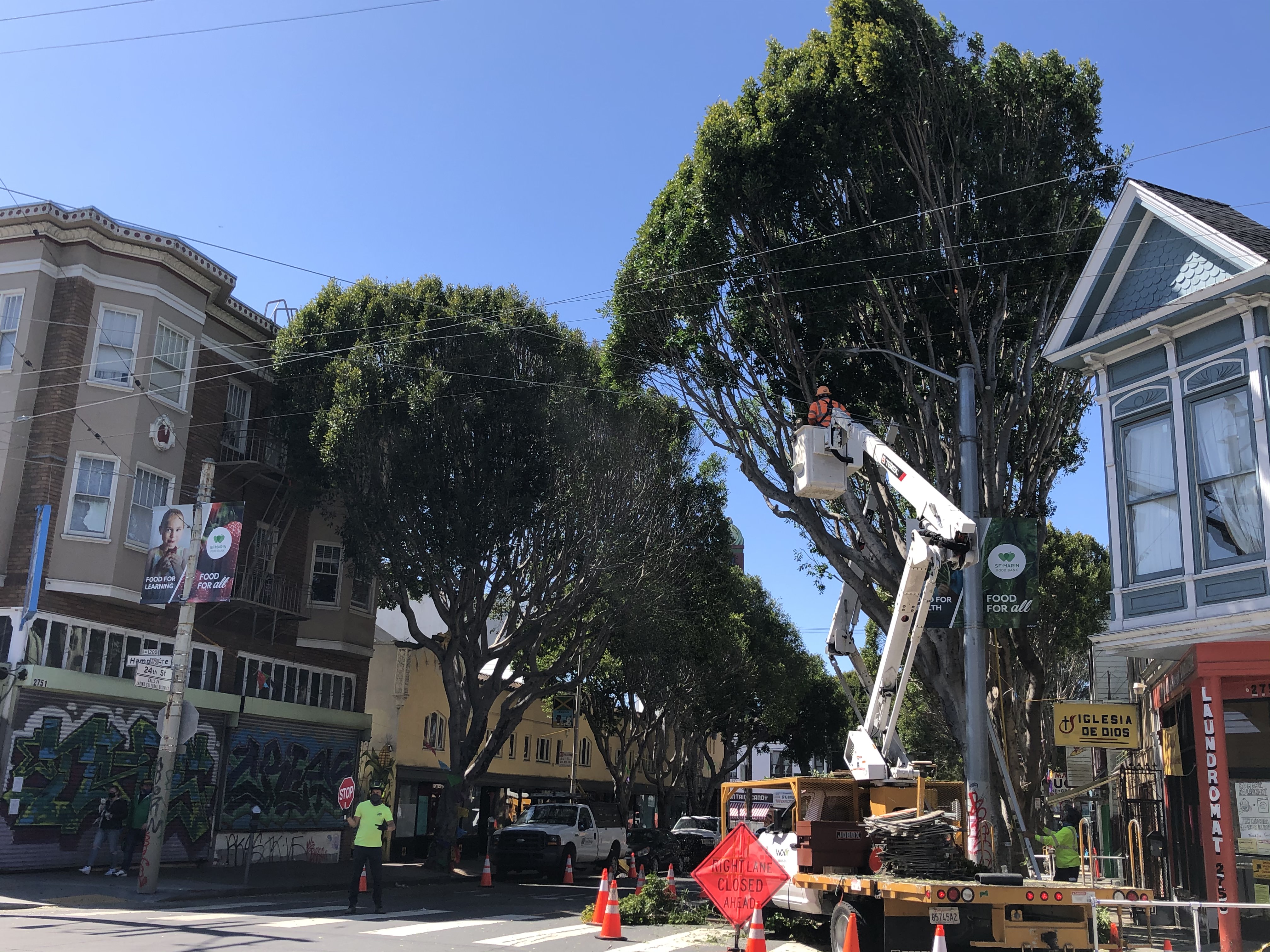 Photo: Joe Kukura/Hoodline
SF Public Works has named this process the Lower 24th Street Tree Removal and Replacement Project, and the emphasis is on replacement. There will be more trees, not fewer, by the time the process is complete.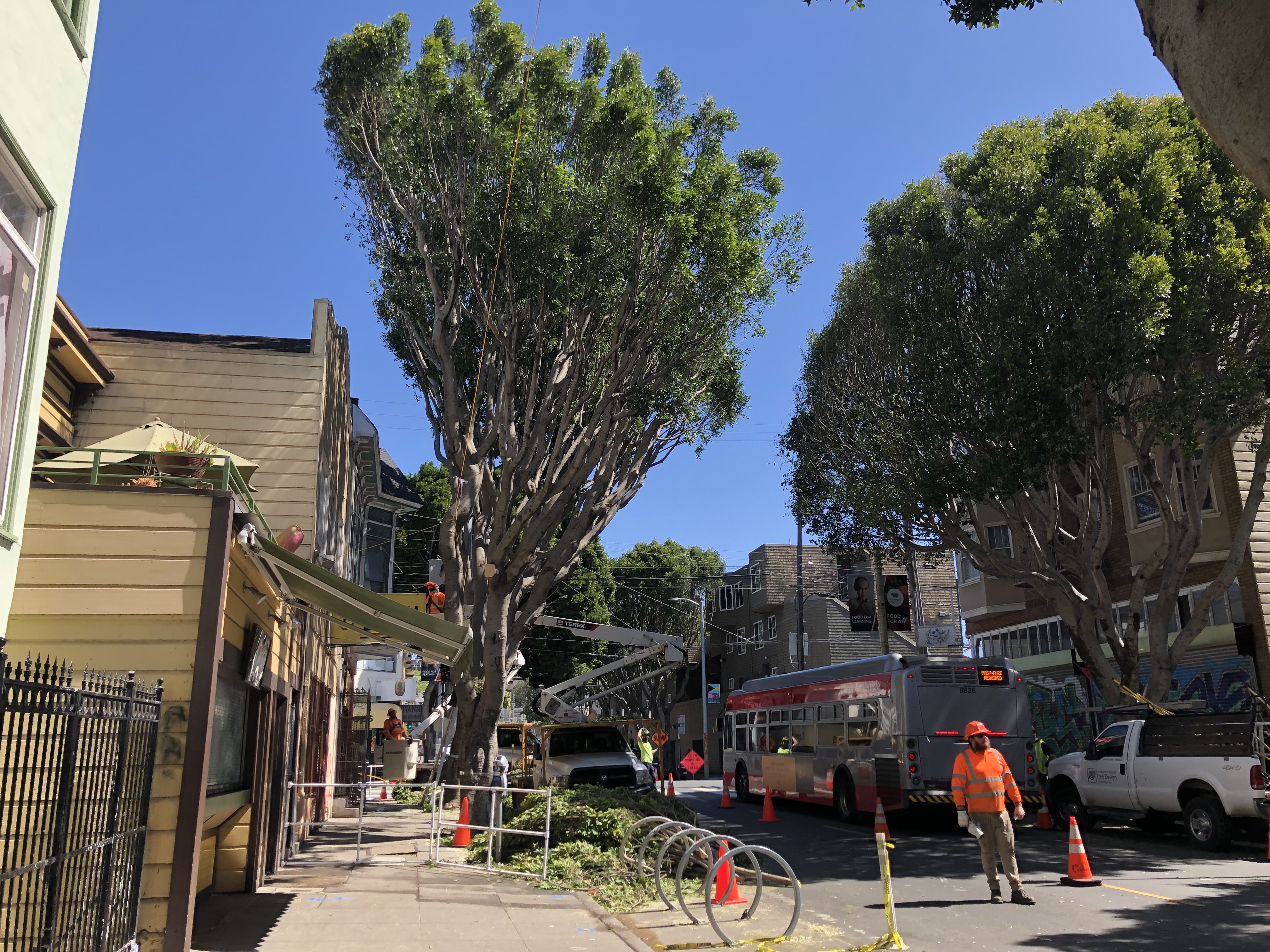 Photo: Joe Kukura/Hoodline
"All 33 trees that will be removed will be replaced and an additional 17 trees will be planted," according to Public Works. "In collaboration with San Francisco Public Works Urban Forestry, the 24th Street community chose Red Maples and Gingkoes as replacement tree species."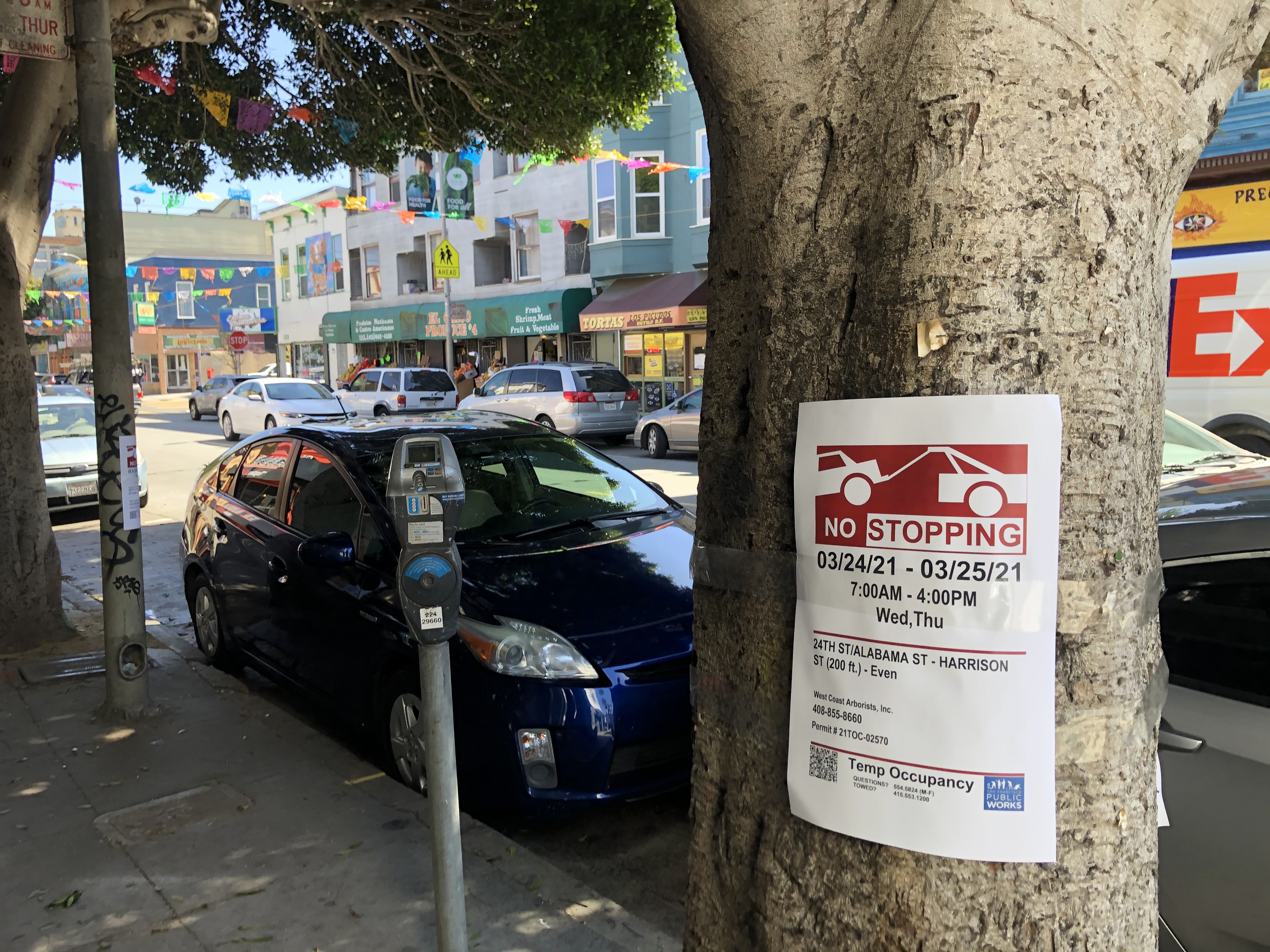 Photo: Joe Kukura/Hoodline
The work started Monday at 24th Street and Potrero Avenue, and will continue westward, block by block. Most of the ficuses along the route are not being removed, but instead being pruned to prevent falling branch trouble. You can see by the signs on the trees which day they are scheduled to be removed or pruned.
"The week of March 22, crews will work on the north side of 24th Street between Potrero Avenue and York Street," SF Public Works said in an email to Hoodline. "On these two blocks, 10 total trees will be pruned and four total trees will be removed."
"The week of March 29, crews will begin work on the north side of 24th Street between York and Florida streets," they add.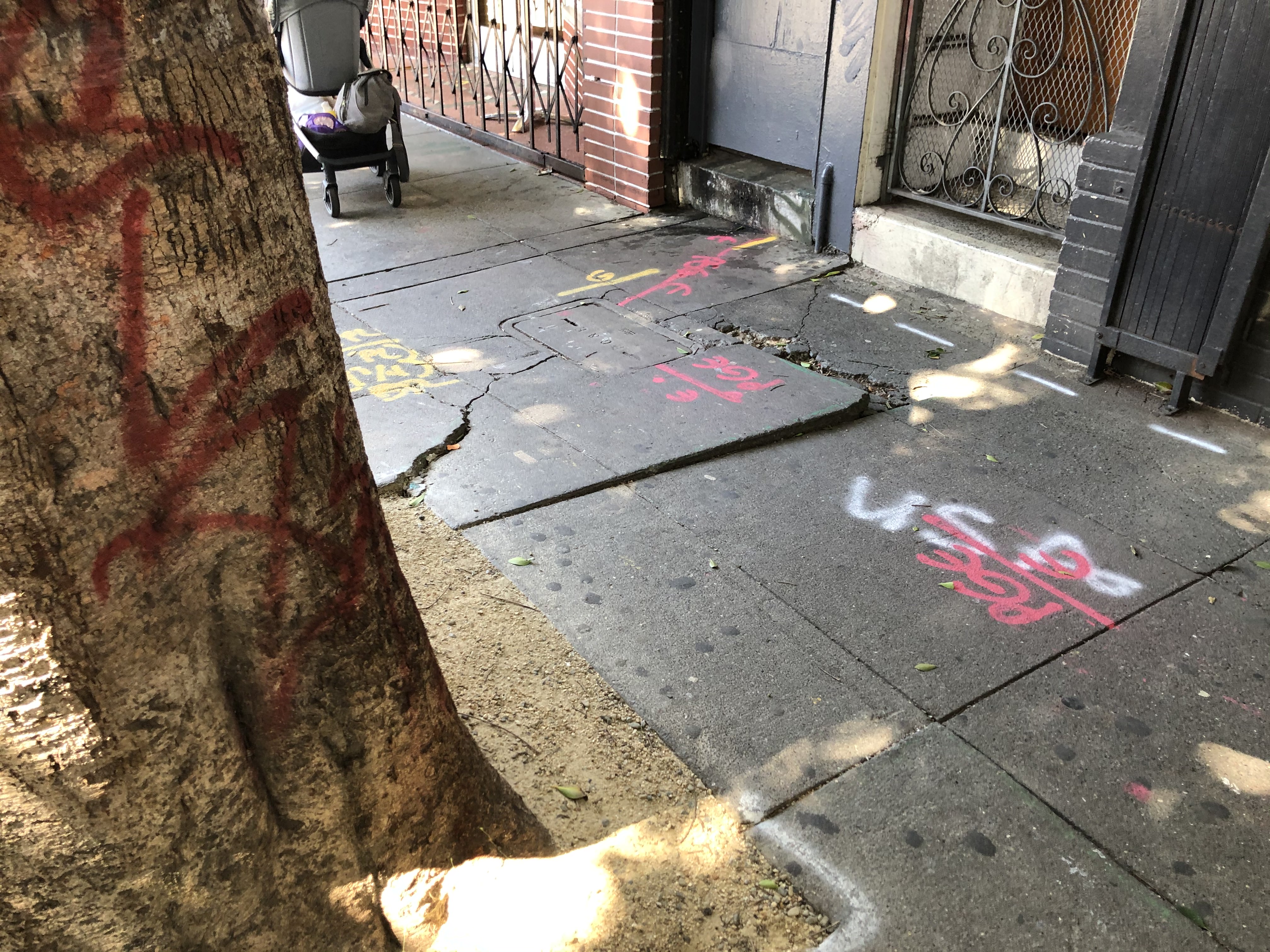 Photo: Joe Kukura/Hoodline
There is plenty of sidewalk root damage visible on the corridor, and that will be addressed too. Public Works notes that "All tree work including pruning, removal and stump grinding will be completed, then as the tree crew moves to the next block, a concrete crew will move in on the current block to repair sidewalk damage, followed by a landscape crew to replant trees, in that order."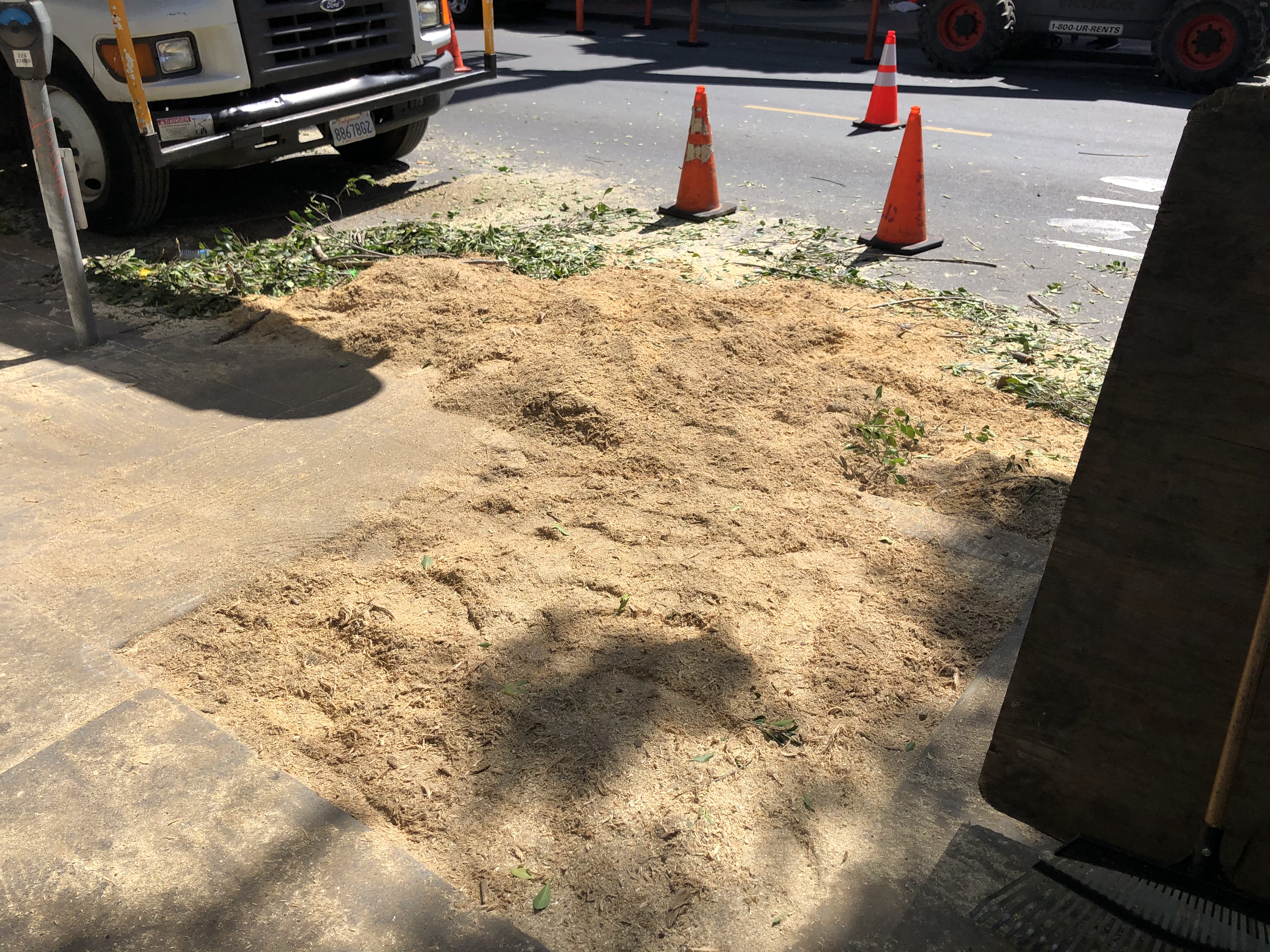 Photo: Joe Kukura/Hoodline
In some cases, especially on the eastern end of the 24th Street Mission corridor, the trees are already gone (and have been processed through a wood chipper). But you can actually have some of the wood, if you like. "If interested in wood from the trees being removed along these blocks or from any blocks along 24th Street, contact [email protected] as soon as possible to arrange for pick up," Public Works said. "Pieces range from firewood size to log size."
As we reported in November the ficus trees did receive a 'funeral' ceremony for Dia de los Muertos.