Beloved Korean grocery store H Mart has set the opening date for its first San Francisco location on April 21 — taking over a 42,000-square-foot space at 3995 Alemany Boulevard.
Sandwiched between the San Francisco Golf Club course and the Brotherwood Way Open Space, H Mart's first SF store has moved into the beleaguered Ocean View Shopping Center thanks a deal brokered by the Mayor's Office of Economic and Workforce Development — and Hoodline covered the pending opening two weeks ago. Per a release, "America's No.1 Asian Supermarket chain" is expected to bring the "freshest produce, meat, seafood, Asian groceries, and housewares" to the city — becoming a "one-stop-shop for everything Asian and more."
San Francisco, CA we are SO close to the opening date! In just under a week, our new 42,000-square-foot space will become a part of the Ocean View Village Shopping Center! We are super excited to join the neighborhood!⁠ pic.twitter.com/hMLuk244aN

— H Mart (@hmartofficial) April 16, 2021
Inside the store, customers will be immediately greeted by the space's modern-industrial styling. (For those of us who've ever stepped foot inside any one of Texas's HEB stores, the published pictures offer a welcoming fit of déjà vu). Among the more traditional dairy and meat isles, patrons of the new SF H Mart will also have the chance to sift through various ready-to-eat offerings — like "K-Sides" and "K-Meals" — as well as have the chance to dine at a new Korean-focused food hall. As the Chronicle reported last week, the food hall includes a new location of popular Korean restaurant Daeho Kalbijim & Beef Soup, as well as an outpost of Left Wing Bar, the Korean-born fried chicken spot that also has a location in San Jose.
And to make sure your sanitized baskets are full, H Mart will give customers who spend at least $30 either a complimentary round basket, pair of rubber gloves, or a 100ml bottle of hand sanitizer.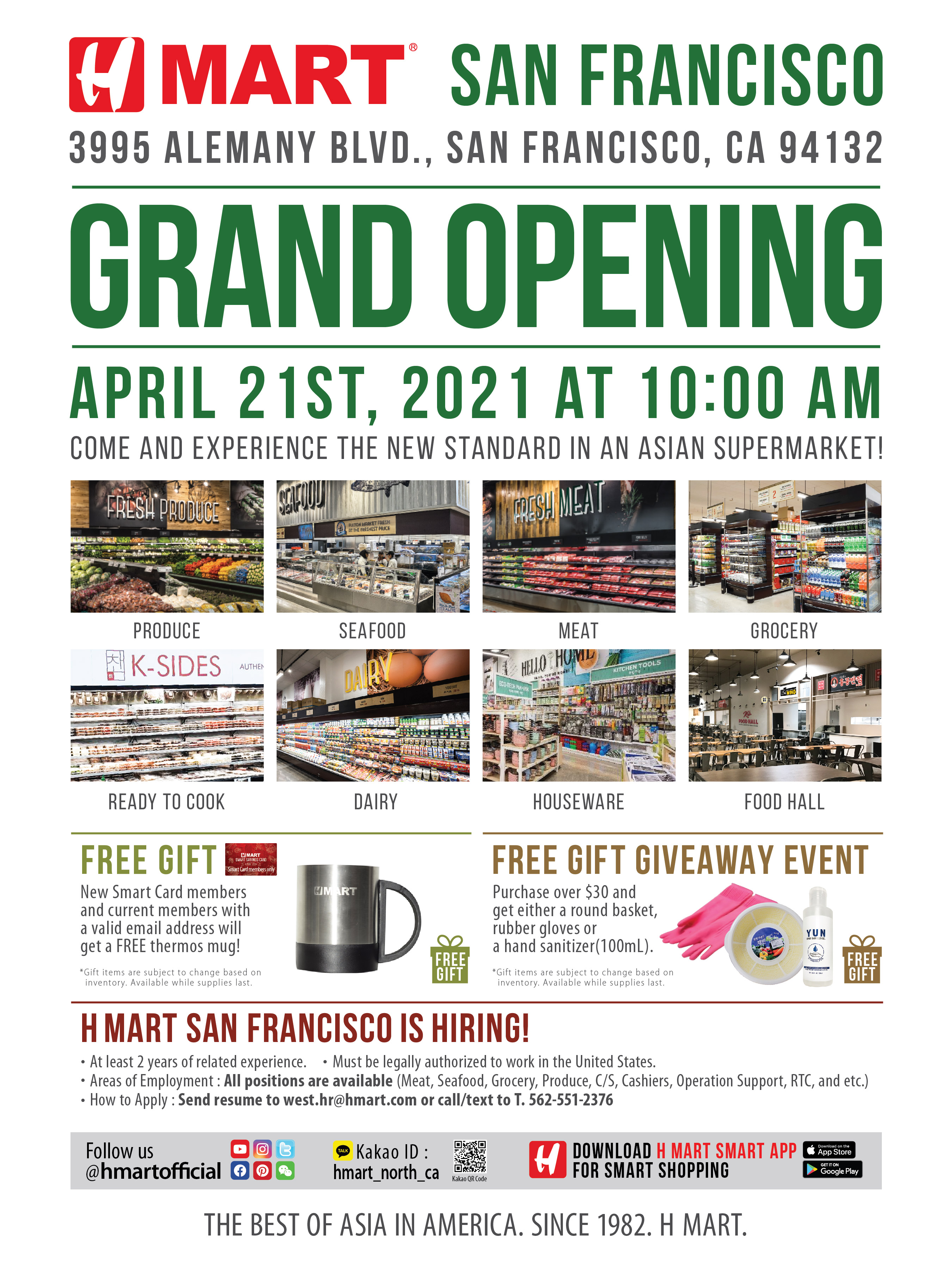 H Mart, too, is also actively hiring for many positions throughout the store; those with at least two years of relevant experience are encouraged to send their resumes over to [email protected] and describe what role/department they believe would best match their skill sets.
"We are so excited to meet you," the release reads.
H Mart's first San Francisco store will hold its grand opening on April 21 at 10:00 a.m. at 3995 Alemany Boulevard. (The ribbon will be cut at 9:50 a.m., with doors opening right afterward.) The store will be open from 8 a.m. to 9 p.m. daily after the grand opening.