Published on April 05, 2021
The Food Network's TV show "Chopped" is debuting a spinoff this month "Chopped 420," and you guessed it, it's a cooking competition where chef contestants must use THC in their dishes.
In each one-hour episode, streaming on 420 on Discovery +, four chefs will compete in three-course elimination challenges to woo a panel of judges with four mystery ingredients and the inclusion of THC in each course. Judges, including personalities such as chef Luke Reyes, chef Sam Talbot, comedian Tacarra Williams, chef Esther Choi, and drag performer and cannabis activist Laganja Estranja, will pick a winner for each round until one chef wins the grand prize of $10,000.
San Francisco-based chef Victor Aguilera, the creator of Arepas en Bici — a food delivery service that specializes in arepas, a stuffed Venezuelan flatbread — is one of the contestants. Aguilera started his arepas business "by bike" (translation for "en Bici") out of his apartment shortly after the pandemic hit last year. The venture quickly took off and Aguilera was featured on "Good Morning America" just a few months after launching it, further propelling his business to success.
While he cannot share too much information about the show in advance, he said it's not his first time participating in a cooking competition, as he appeared on Food Network's "Cut Throat Kitchen" in 2015. While he didn't make it beyond the first round of that competition, he said he wanted to come back and redeem himself, so when he heard about "Chopped 420" he knew he wanted to be a contestant since he has experience cooking with THC.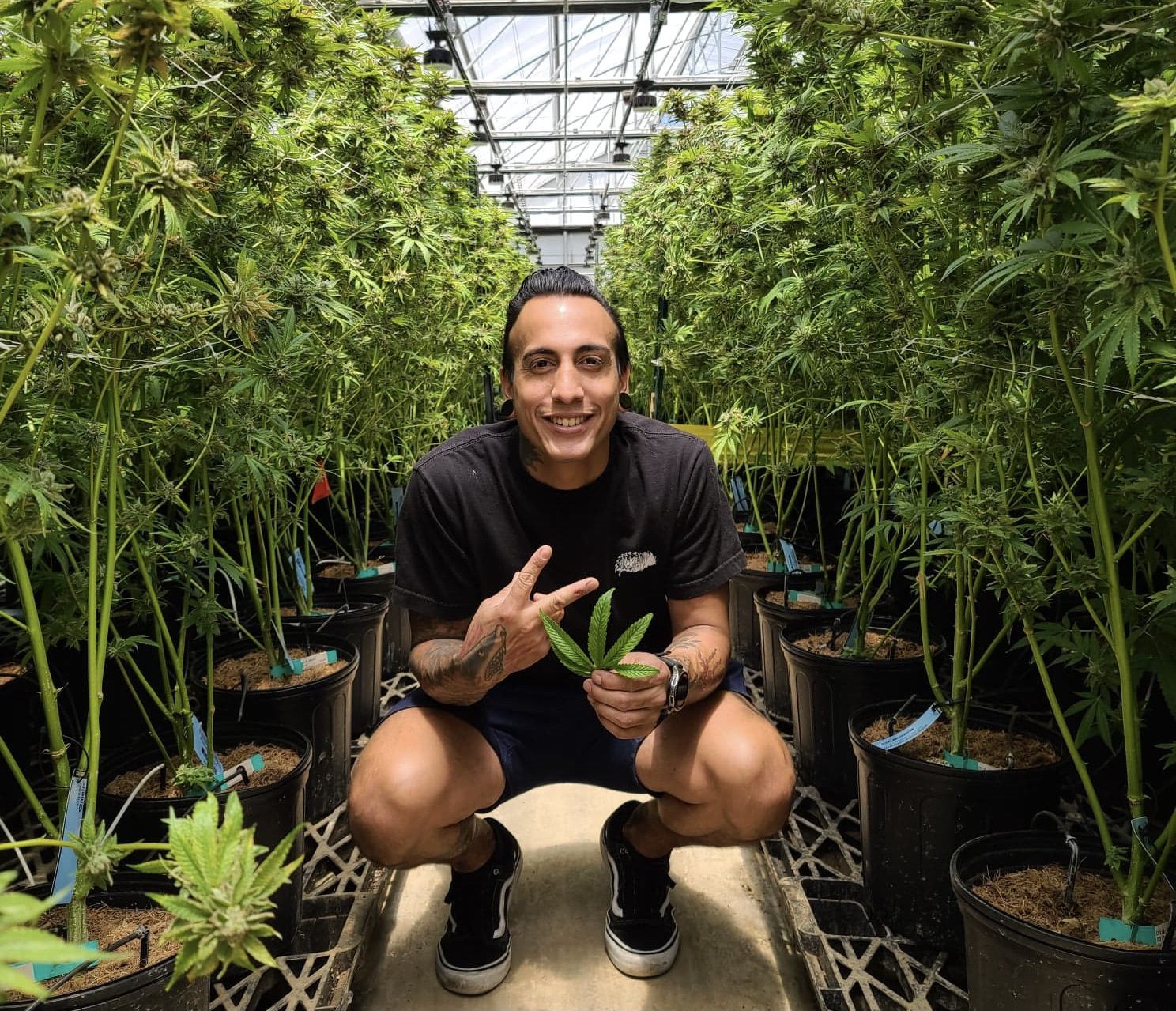 Chef Victor Aguilera
Aguilera has been using THC for years to help control anxiety and depression, so he's no stranger to its medicinal qualities. When he started experimenting with edibles two years ago, he realized how effective cannabis can be when incorporated with food. But this past year, due to the pandemic and running his own business, Aguilera said he had even more of an opportunity to meet different growers and experiment with different strains. He said he loves how cooking with sativas, indicas, or hybrids can allow his dishes to exude different flavors — for example, strains like Lemon Haze, which has citrusy flavor, and Mango Kush, which has more of a general fruitiness.
"The flavors that you can get from THC are so different and dense that, as a chef, you are working with a whole new set of spices," said Aguilera.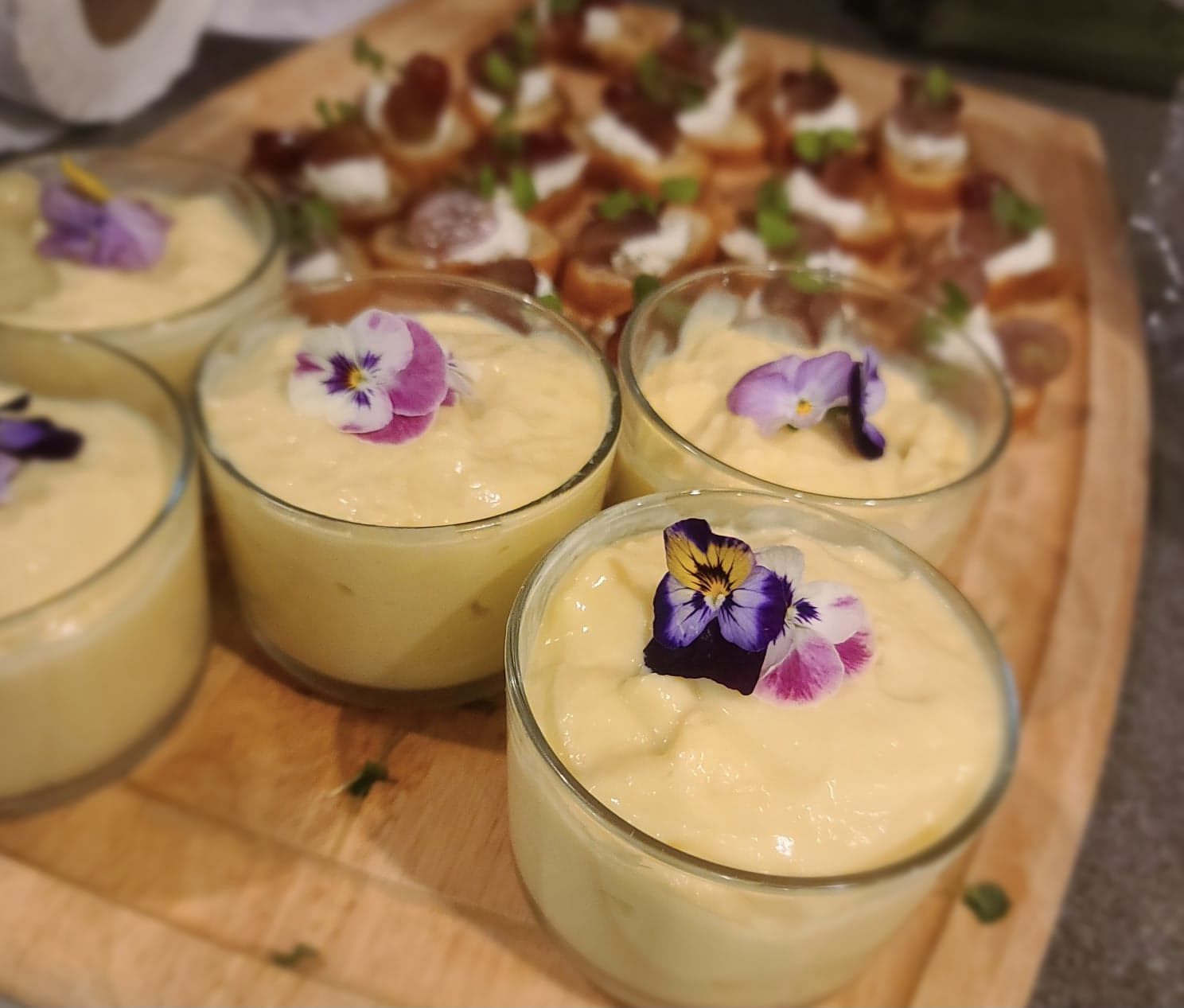 Infused Blue Dream vanilla pudding with goat cheese croquettes.
Originally coming from a Latin American background, Aguilera admits that cooking with THC does not come without challenges, as a lot of people are still nervous about consuming cannabis — including his grandmother in Venezuela. He likes to educate people about THC's medicinal qualities and is happy that "Chopped 420" can help inform people of its benefits.
"When I told my grandma in Venezuela what I was doing, she was like, 'What?!' She first wasn't into it, but once I explained it and went into detail about how much experience I have cooking with THC and how it could help people, she was appreciative to learn more about it," he said.
Plus, Aguilera said he believes that consuming THC is a lot better than going out and getting drunk, or taking certain pharmaceuticals for certain illnesses, which can cause more harm than good.
"We have this amazing plant that can help us move into a better future," he said.
He also likes that the products he uses provide specific measurements of THC to make it easy to control how much he cooks with. He said that going on tours through farms in California and studying as much as he could about cannabis helps ensure that it is done effectively and professionally. Having moved to San Francisco from Florida in 2016, Aguilera said he is also grateful to have access to top-notch products from which to choose. As with his business, Arepas en Bici, he likes to use fresh, local ingredients and use as much organic product as possible.
"From honeys to sauces to oils, it's incredible," he said.
As for the opportunity to be on "Chopped 420," Aguilera said he feels blessed to have participated in the show and had a lot of fun. Filmed all outdoors in Palm Springs, California, the production team took strict precautions to ensure COVID safety, including testing everyone more than once a day.
While Aguilera not sure which episode that he will appear on on "Chopped 420," he encourages people to watch all five episodes.
"I think it's amazing that 'Chopped' is experimenting with THC."
You can also follow Aguilera on his Instagram accounts @arepasenbici and @chef_tastebuds for sneak peeks of the show and to see what he's up to. He said he is always trying new dishes and THC recipes to keep things exciting and fresh.