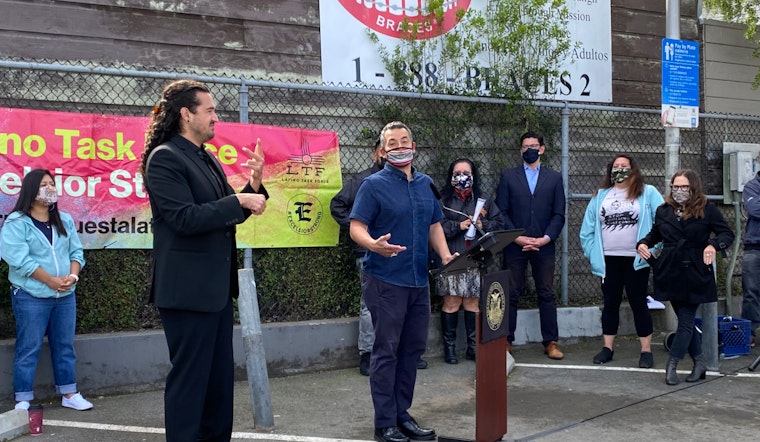 Published on April 07, 2021
A new neighborhood vaccination clinic at 20 Norton Street in the Excelsior District, similar to those that have opened in the Bayview and Mission in the last two months, just opened on Wednesday morning.
City leaders including District 11 Supervisor Ahsha Safai, along with representatives from the community groups Excelsior Strong and the Latino Task Force, were on hand to celebrate the opening — with this presumably being the final piece in the city's neighborhood-specific outreach effort to address vaccine equity in the parts of the city hardest hit in the pandemic. The clinic provides a low barrier for receiving a vaccine, with drop-in registration available and even some same-day shots possible, but most importantly there are bilingual staff members on site to answer questions for those who are still hesitant about getting shots and for whom English is a second language.
Getting a vaccine at the new clinic requires you to live or work in zip codes 94112 or 94132, and appointments can be made at 415-562-8638. The site is open Wednesdays, Thursdays, and Saturdays from 9:30 a.m. to 3:30 p.m., and on Fridays from 12 to 6 p.m.
"Thank you again to [the Latino Task Force] and Excelsior Strong for your leadership and work in the community," Safai said in a tweet. "Special thanks to the COVID Command Center and @sfdph for their support in opening this vaccine site." Safai noted also that with the new clinic, District 11 "will now have one of the biggest and most equitable distributions of vaccine in SF."
And head of SF's Department of Emergency Management, Mary Ellen Carroll, said on Twitter, "I am inspired and humbled by the power, unity and effectiveness of community driven response supported by City partners."
I had the pleasure of participating in the opening of the Excelsior community access vax site supported by @LatinoTask @sfdph Excelsior Stong & Covid Command. I am inspired and humbled by the power, unity and effectiveness of community driven response supported by City partners. pic.twitter.com/FvCyc7KgAm

— Mary Ellen Carroll (@SFDEM_MEC) April 7, 2021
The vaccination site is accessible via BART at Balboa Park station, and by several Muni bus lines. The site itself is an SFMTA parking lot that is very close to a busy section of Mission Street.
According to the city, as of Wednesday, over 50% of San Franciscans 16 and older have received at least one dose of the vaccine, and more than 30% of San Franciscans have been fully vaccinated.