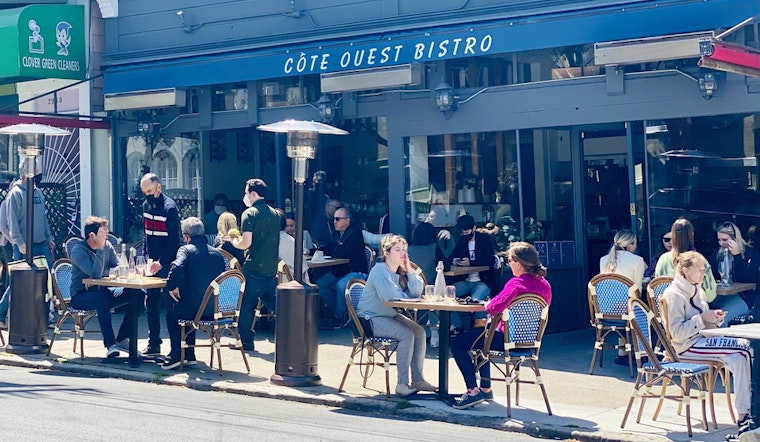 Published on April 21, 2021
Côte Ouest Bistro recently opened its doors at 2953 Baker St. in the space formerly occupied by the beloved Baker Street Bistro, which officially shuttered in August 2020 after nearly three decades of business.
Côte Ouest is helmed by Laurent Monchicourt and Chef Martin Sarrailh, who teamed up to start their first business venture during the shelter-in-place last year. Monchicourt's experience in the Bay Area includes several front-of-the-house positions from server at Baker Street Bistro back in 1999, to later working at La Folie, Micheal Mina, Petit Crenn, and L'Ardoise.
For the past five years, Chef Sarrailh worked as head chef at Le Garage in Sausalito.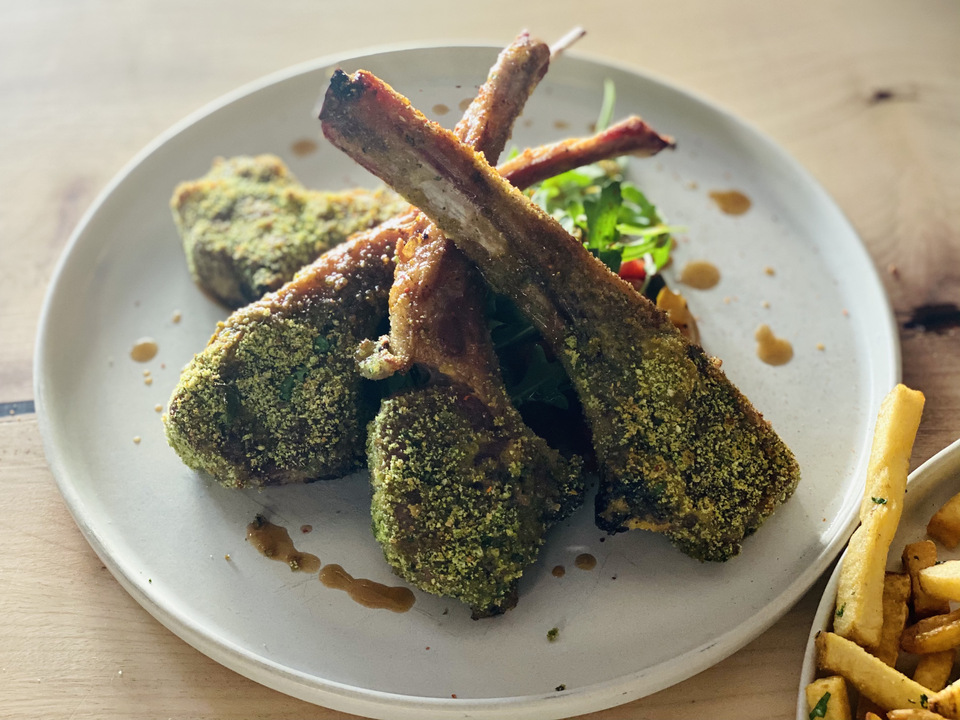 Crusted garlic and parsley lamb chops with saffron ratatouille.
A Béarn native, Sarrailh's menus at the new restaurant include lunch, brunch, and dinner offerings, boasting French classics such as charcuterie (including pâté de campagne and rabbit rillette), steak frites, croque monsieur, and a selection of Basquaise specialties, such as Ttoro—a regional version of bouillabaisse. Other dishes include brisket and foie gras, as well as garlic-crusted parsley lamb chops, and saffron ratatouille.
Sarrailh said his favorite dish is xipirons a la plancha (fresh calamari with Anaheim peppers, Serrano ham, balsamic, and persillade).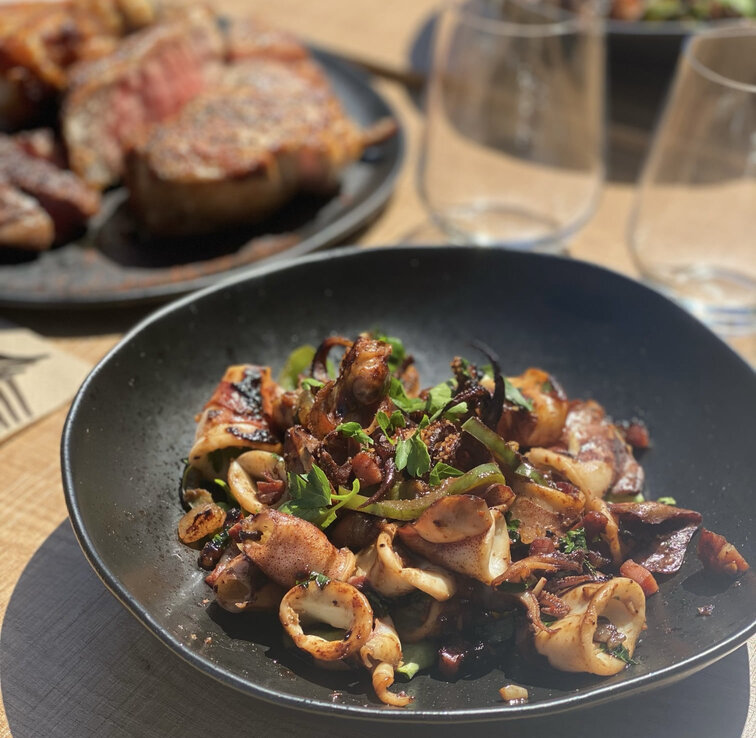 Xipirons a la plancha. Photo/Facebook
Desserts include crème brûlée and chocolate mousse feuillantine.
On the beverage side of the menu, wine is mainly sourced from France and California. There's also a small selection of beer, with some local favorites such as Fort Point's Kölsch.
During an interview, the duo said they had been talking about opening a restaurant, and as soon they procured the former Baker Street Bistro space, they knew they could carry out their vision.
"People who come to our restaurant will be treated like if it was our own house—that's the idea," said Sarrailh, adding that the bistro prides itself on simple, French food made with seasonal, local, fresh ingredients.
As far as the name, Monchicourt and Sarrailh thought about keeping "Baker Street Bistro," since it was a space in Cow Hollow that came with a built-in community. Ultimately, they agreed on Côte Ouest Bistro, since they are both from the west of France and now reside in the west of the United States.
Shortly after landing the space, they decided to give it a renovation to further make it their own and give it a fresh look. The three-month renovation, which they did mostly themselves, included a fresh coat of paint, updated banquettes, new floors, a new awning, a newly open kitchen, and more, all to create a lighter and brighter feel.
The revitalized outdoor terrace, which Monchicourt said is "the cornerstone of French dining culture," seats about 20 to 25 people. The interior currently seats 20 at the mandated 50% capacity, due to COVID.
A parklet might be in-store for the future, but currently the owners said they are happy to have their current seating plan, as well as takeout service for people who prefer to eat at home.
Both owners said they appreciate how welcoming the neighbors have been. Encouragement from the community began as soon as they started working on the remodel when neighbors would drop in almost daily to say hello and express their excitement about the opening.
"It was incredibly heartening," said Monchicourt. "And since we have opened, they have shown up."
"Sharing food, wine, stories, laughter, tears—these are the fundamentals of living," he added. "It is a gift to be able to create an atmosphere and space for people to do this."
Currently, the restaurant is open Wednesday through Sunday. Follow its Facebook page for updates.