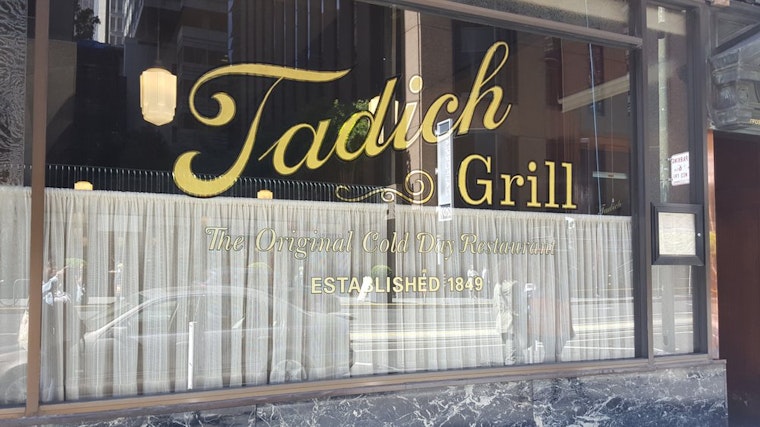 Published on April 02, 2021
The Financial District seafood destination Tadich Grill is 172 years old, having opened before the Civil War had even started. It is 37 years older than the Statue of Liberty, 88 years older than the Golden Gate Bridge, and 92 years older than Mount Rushmore.
But the Tadich Grill has been fully closed since July 31, not even offering takeout. Yet its white-jacketed wait staff will be back serving steak and seafood again next week, as the Chronicle reports Tadich Grill is reopening Monday, April 5.
"We are re-opening on Monday, April 5th!," says an announcement on the restaurant's website. "Lunch will be served from 11a-2p and dinner from 5p-9p. With 50% indoor seating capacity, we strongly recommend making a reservation."
That Tadich Grill online reservation system currently shows plenty of available slots every day next week during those hours. The restaurant is closed on Sundays, as it always has been.
While the Tadich Grill has been closed since July, it had been planning to reopen in November, but the third wave of COVID 19 and subsequent lockdown put that to a halt. In January, the restaurant was kept afloat with $31,000 a month grant from a Barstool Sports fund — a controversial grant because that website traditionally trafficks much in sexism and rape humor. But that uncomfortable arrangement with a few well-financed chowderheads means that, fortunately, the clam chowder will be served again next week.