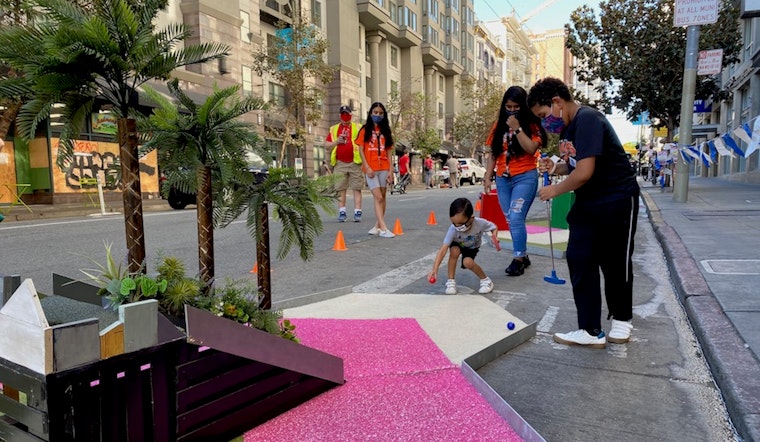 Published on April 27, 2021
The 200 block of Turk Street will be home to the Tenderloin's newest park after a community-led initiative identified the space as a key location to provide additional outdoor play and exercise areas for residents.
Safe Passage Park (SPark) is an 1,800-square-foot space on the southern sidewalk on the block of Turk between Jones and Leavenworth. The same block has been closed on multiple Saturdays since August 2020 to provide an area for Play Streets. The new, more permanent park builds on that community collaboration to provide a more permanent fixture, according to the Tenderloin Community Benefit District (TLCBD), which issued a press packet about the project today.
The first phase of the project was completed by the San Francisco Municipal Transportation Agency (SFMTA), which installed concrete barriers between the lanes of traffic and SPark. Community volunteers painted murals on the barricades on April 18.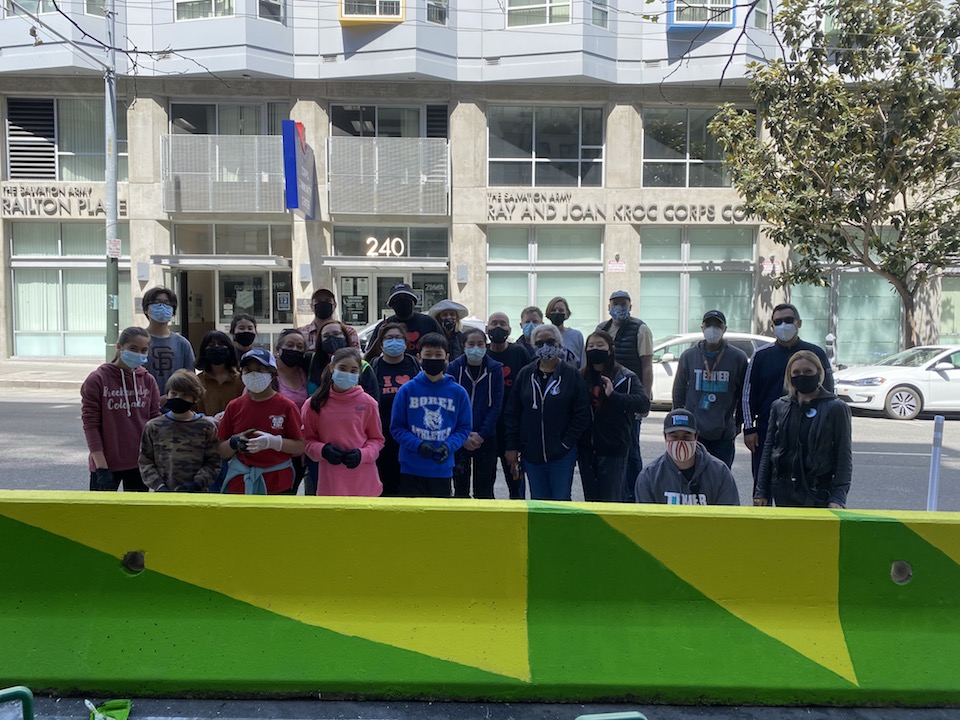 Community members painted murals on the new concrete barriers that protect the park from vehicle traffic. | Photo: TLCBD
The next phase of the project, which is still awaiting approval from the city, would build new planters and install a parklet platform that will have another mural. In the future, the goal is to add some vertical elements and landscaping to transform the space.
The new park, like many in the Tenderloin, will have stewards seven days a week from Urban Alchemy, and will be cleaned and maintained by the TLCBD's Clean Team and the Downtown Streets Team. Resources such as garbage cans and waste removal are also being provided by nearby property owners and the city.
Although the park currently is only on the 200 block, which was enlivened last year by Play Streets, "the vision for SPark is to extend to the 300 and 400 blocks of Turk eventually, which is probably the area most traversed by children," TLCBD senior director of communications Fernando Pujals told us.
Like most of the improvement efforts in the Tenderloin, the park is spearheaded by the TLCBD and partner organizations, and is based on community feedback. The project began with a broad survey of Tenderloin residents and business owners that netted more than 300 responses, Pujals said. That community outreach led to the design of the park's phased-in process and helped identify what types of programming will be offered.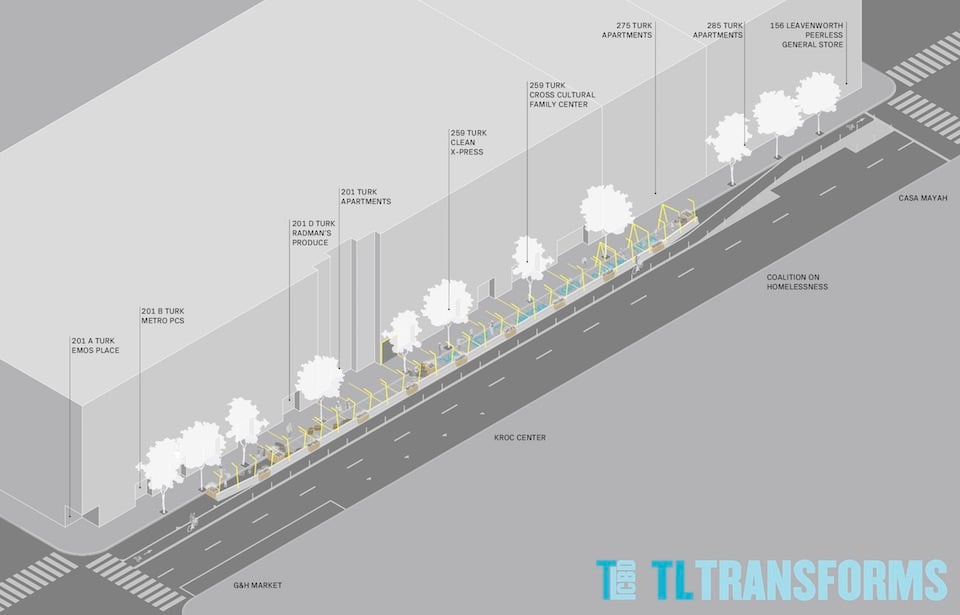 Safe Passage Park will be supported by many of the nearby businesses and organizations.
SPark is the first project for TL Transforms, an initiative to not only improve the neighborhood's physical streetscape but also to provide community power and agency by engaging with residents to identify key solutions to their priority issues. TL Transforms is a collaboration between TLCBD, Envelop Architect + Design, Studio O, Tenderloin residents, and property owners, as well as city agencies, including the Mayor's Office of Economic and Workforce Development and District 6 Supervisor Matt Haney's office.
TL Transforms will continue looking for additional locations to expand open space in the neighborhood, including evaluating how some of the SFMTA quick-build projects create new opportunities, Pujals said. It also aims to build on the Shared Spaces closure on Larkin Street, which TLCBD spearheaded in collaboration with the Tenderloin Merchants Association.
"We are looking to create more opportunities out of as-of-yet-to-be-identified spaces — including empty lots and vacant retail — and others that are underutilized like the Tenderloin National Forest," Pujals said. But while these projects and the programming and stewardship provided by neighborhood partners vastly improve the neighborhood, "the Tenderloin generally needs to see a greater city investment in public safety," he added. "That would propel this work exponentially."
The TLCBD and its partnering agencies expect to have a grand opening event for SPark sometime later this spring, and several different types of programming will be available soon. The nearby Salvation Army Kroc Center will be offering Tai Chi, Zumba, and boxing classes, and other mobile resources such as an activity cart with games and music, and Bicibiblioteca — a bicycle free library — will offer reading resources to kids and adults. On select days there will be representatives providing information on how to get access to social services, as well.
"A big way people could help advance this work is additional funding," Pujals said.
Anyone interested in providing funding or partnering on SPark or other TL Transforms efforts can contact him directly at [email protected]. The organization also has a link on its TL Transforms website for donations.