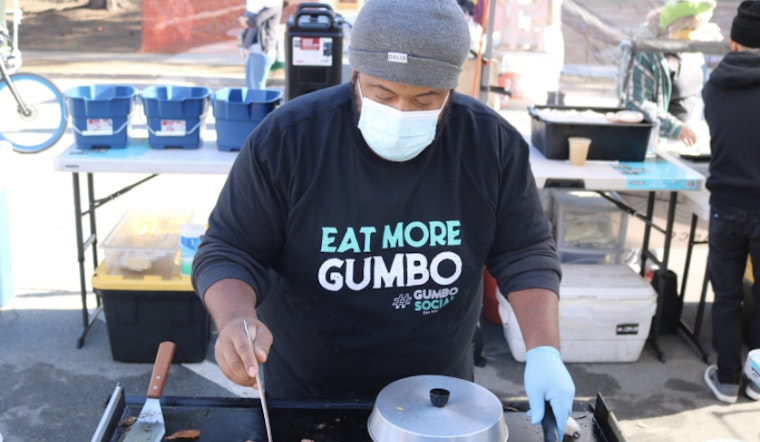 Published on June 17, 2021
The Emancipation Day holiday popularly known as Juneteenth just became a federal holiday, and will be observed Friday for federal employees. But the actual date of that holiday is this Saturday, June 19, and among other SF Juneteenth observances, the weekly Saturday Ferry Plaza Farmers Market celebrates with Juneteenth at the Waterfront, a Black-owned food business bazaar presented by MegaBlack SF.
"Juneteenth on the Waterfront will commemorate this historic holiday and celebrate local Black-owned businesses with a day of community and delicious food," Ferry Plaza Farmers Market organizers CUESA (Center for Urban Education about Sustainable Agriculture) said in a statement. "Entry is free and open to the public, and food will be available for purchase."
View this post on Instagram
Your Juneteenth on the Waterfront food lineup includes boutique cakes from A Girl Named Pinky, cheesecakes by Crumble and Whisk, the famous sweet potato pie of Delightful Foods Bakery, po' boys and greens from Gumbo Social, southern desserts by Minnie Bell's Soul Movement, Jamaican fare from Peaches Patties, organic juice and more from Teranga, the jerk chicken salad of The Pleasure Principle Cuisine, small-batch specialty foods by Wanda's Cooking, and sweet desserts from Yes Pudding.
View this post on Instagram
Dishes will be sold individually, but a $40 tasting ticket is good for "one select bite" at eight participating vendors, and DJ Miles Otway will be on the decks at this benefit for the Black Wellness Fund.

Juneteenth on the Waterfront is Saturday, June 19, 8 a.m. - 2 p.m. which will take place at the Embarcadero's Ferry Plaza Farmers Market. Admission is free.