The first annual Oakland Black Pride happened during SF's Pride weekend, with events spanning the entire weekend including a bar crawl and a "Slayers Ball" on Sunday, as SFist reported.
Hoodline attended the Queer Expo in Jingletown on Saturday, and the vendors came with not just pride but smiles.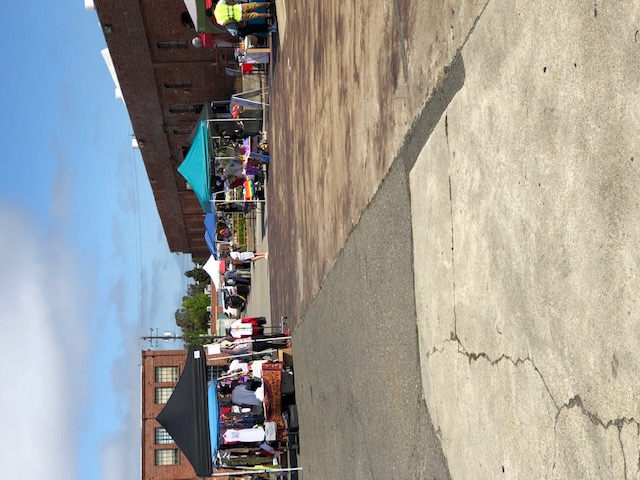 Photo: MJ Carter/Hoodline
From the flower crown station to the HIV testing tent, the event was laced with pride.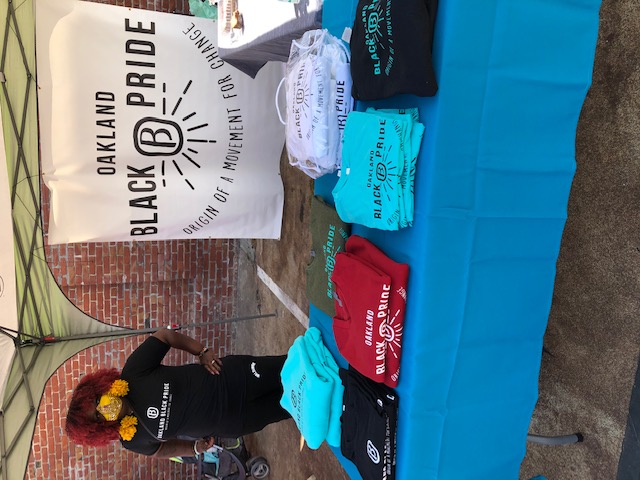 "We had a full list of folks ready to come vend and we knew that would happen because folks have been inside for the last 15 months. And a lot of ways we make our money is face to face," said Oakland Black Pride Executive Director Olaywa Austin.
Austin went on to say that "storefronts being shuttered and folks being sheltered in place and things being shut down, we haven't had a lot of opportunities to make money for ourselves and to show people what we have to offer."
Although the corporate sponsors did not come running in, there was coverage of the events from multiple news organizations.
Austin founded the Oakland Black Pride nonprofit during 2020, when she realized there was a need for greater representation for the Black LGBTQ+ community.
"A lot of our needs — the things we struggle to get anyway — were in jeopardy," as Austin told the Bay Area Reporter earlier this month. "So I started working on a project based on my needs and the needs of my immediate community, and three months later I had a nonprofit. This organization was a survival tactic of ours."
According to the org's website, "Oakland Black Pride is a 501(c)(3) nonprofit, organized to design, develop, and distribute resources, provide guidance, and facilitate networks to address the inequities that exist at the critical intersection of the lived experiences of Black people and deliberately claim LGBTQIA+ identities."
And Austin feels that Oakland Black Pride needed to coincide with the history of the LGBTQ Rights Movement, unlike Oakland Pride, which has traditionally happened in September.
"Pride historically should be in June," Austin tells Hoodline. "If you look at the history of Pride, it's commemorative of the Stonewall Riot, which was June. So to have Pride in September — of course you have pride year-round but to celebrate it in September it doesn't make a lot of sense to me."
Austin is an Oakland native, and she says that in the future the organization will seek some corporate sponsorships.
The Queer Expo offered a range of vendor booths and experiences, and I took part in the flower crown station, which was amazing. It was sort of like riding a roller coaster and then giving a report on how the ride was. I must say it was an experience and everyone deserves to feel that empowered.
The artist and photographer, Mud Baron, was very humble and didn't want to speak on the record. You can find more of his work on Instagram here.
Here are some examples from Saturday:
View this post on Instagram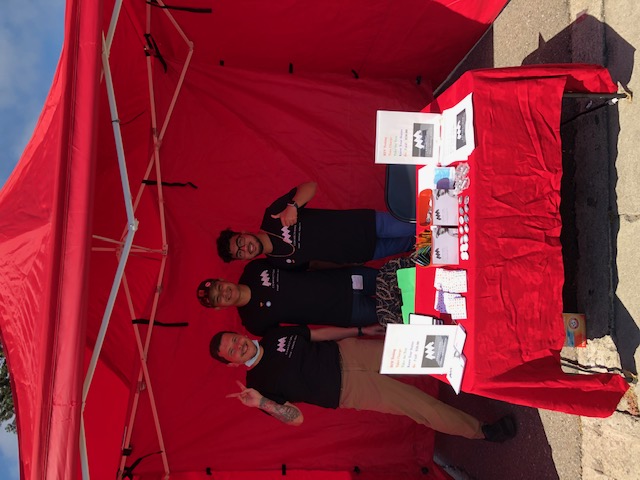 The HIV testing booth. | Photo: MJ Carter/Hoodline
The HIV testing booth offered trained counselors and medical professionals to speak to individuals who opted to get tested.
"It's an awesome opportunity to offer services that aren't always available to African American and minority communities," says Julian De La Cruz from the Connections Team at East Bay Advanced Care (EBAC), which was running the booth. "It's super important to know your status especially now with COVID19 being less prevalent. A lot of people are going back out, hitting clubs so it's super important to know their status to protect themselves as well as others."
Multiple vendors were on hand sharing their wares with the community, including several pictured below.
If this is any indication of what Oakland Black Pride is about, then we look forward to it in the years to come as it grows and expands.