Several large-scale projects that will change the skyline of downtown San Jose are in the planning stages right now, and another one just submitted documents to the city this week on a site familiar to many. According to Mercury News, it would go up at the site of the well-known, longtime dive bar Cinebar, which opened in the 1920s but suffered a fire in January.
Swenson, the developer behind the project, wants to build a 25-story residential tower that would contain an estimated 339 units at the intersection of East San Fernando Street and South Second Street. The site at 69 E. San Fernando Street also houses other establishments including 'M' Asian Fusion Restaurant, Mumbai Lounge, and a few others.
"We are looking to preserve the facade of the Cinebar building, known as the Lawrence Hotel building, and provide a more efficient modern structure above. Preserving the history of San Jose in the design along with incorporating the vision for San Jose in the future is paramount to us," Christy Marby, a rep with Swenson told Mercury News. The Lawrence Hotel building was built in 1893.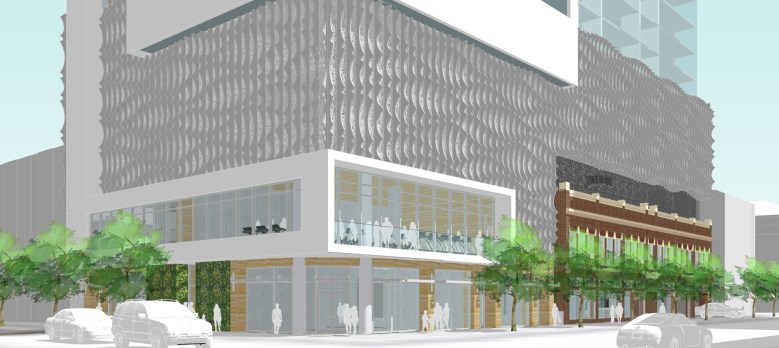 A pair of existing buildings would have to be demolished on the site to make room for the new building. Plans also show what will be 5,000 square feet of retail space on the ground floor. It's unclear if the existing businesses will stay or go. So far, Swensen has only filed preliminary plans with the City of San Jose to see if city officials have an interest in moving the project forward.
As Hoodline reported in March, plans are also in the works for another, even bigger high-rise project called 'The Energy Hub' that would sit in a neighboring lot. It will include a 21-story building that would house both offices and residences. San Jose Downtown Association executive director Scott Knies told Mercury News he believes these latest plans that have been submitted will fit well in the area. "Residential definitely works at that site. Swenson is a long-term owner in the historic district of downtown San Jose and they have a deep understanding of what has happened and is happening downtown," Knies said