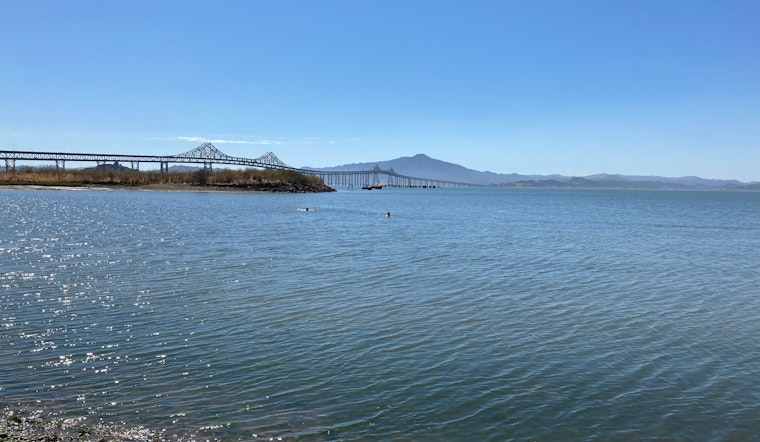 Published on July 02, 2021
There's plenty of summer fun to be had in Contra Costa County, which Hoodline's Bay Area Day Trips series is exploring this week. From hidden harbors and tucked-away waterfront dining to historic sites, water parks, quiet beaches, hiking, and even a little archery, there's something for everyone in the East Bay's quieter northern county.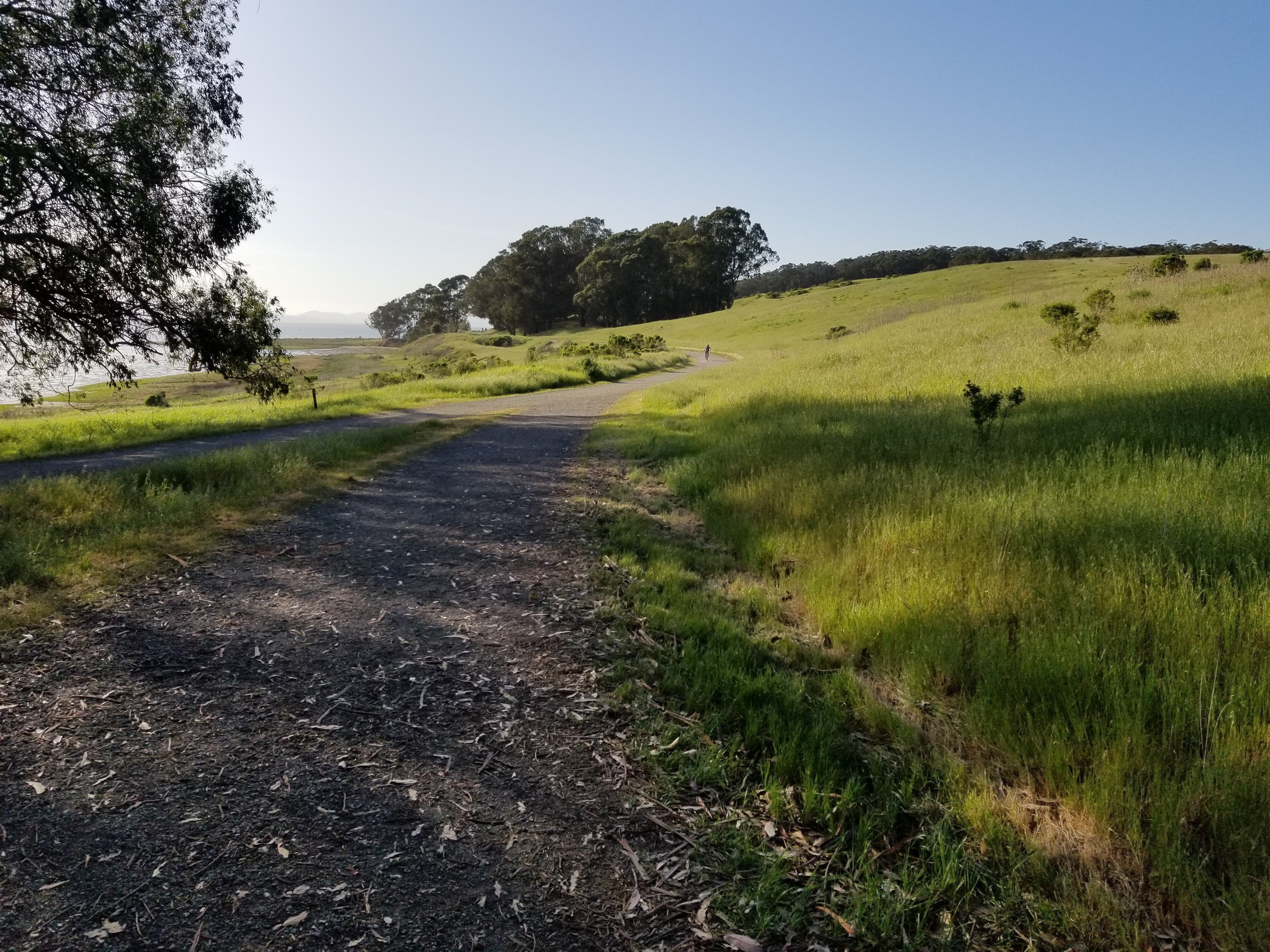 Point Pinole Regional Shoreline Photo: Laila Weir / Hoodline
Explore Point Pinole Regional Shoreline
Point Pinole's 2,432 acres of nature are located on a spit of land largely surrounded by water, so its rugged beaches look out towards San Francisco on one side and into tranquil North Bay waters on the other. This beautiful natural area in Richmond has trails for hiking, biking, and dog-walking, plenty of picnic space, a fishing pier, an area with a play structure, and abundant bird-watching opportunities. It's large enough that you can find some solitude even on busy summer weekends, if you're willing to go a little farther from the parking lot.
Park in the Atlas Road parking lot if possible for best access. There are also restrooms located there. You'll have to pay for parking ($3) on weekends and major holidays during the high season (read: now), plus a dog fee of $2 per dog. When the kiosk is closed (like on weekdays), parking is free. More information: www.ebparks.org/parks/pt_pinole/


Photo: City of San Ramon / Facebook
Splash out at one of the county's many swimming pools and water parks
Head inland for better swimming weather and some extra-exciting choices among Contra Costa's many swimming pools and parks. Some locations are still limiting capacity or requiring reservations ahead of time, so be sure to check out your planned destination ahead of your visit.
The city-run Antioch Water Park has swimming pools, water slides, space for picnicking, and a snack bar ($16 weekends/$14 weekdays). Martinez's Rankin Aquatic Center has a nice big pool, plus a shallow pool for young children with a water play structure. The San Ramon Olympic Pool & Aquatic Park is another winner, with a 50-meter pool, 25-yard pool, water play structure in a shallow pool, inflatable obstacle course, diving boards, and picnic areas ($6), and San Ramon also has another fun pool complex, as does Walnut Creek.
For an affordable, simpler swim experience, try the East Bay Regional Park District's Contra Loma chlorinated swim lagoon in Antioch, where you'll find a sandy beach, shady picnicking areas and concessions ($5 parking; $3 / $2 1-15 & 62+ / free under 1 year).
More information: www.antiochca.gov/water-park/, www.cityofmartinez.org/depts/recreation/swimming/, www.sanramon.ca.gov/our_city/departments_and_divisions/parks_community_services/aquatics, www.ebparks.org/activities/swimming/facilities.htm#contra_loma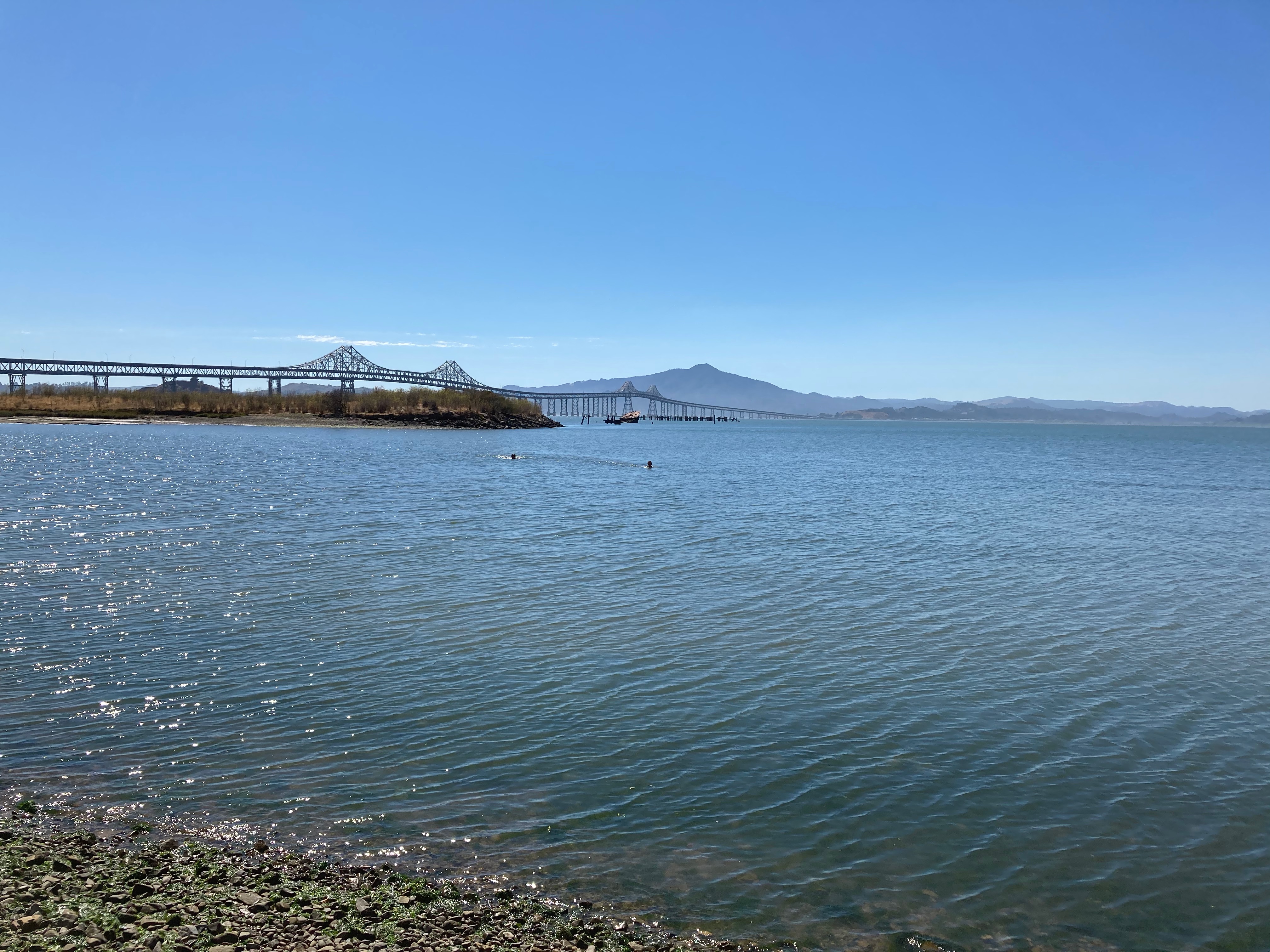 View from the beach at Point Molate Photo: Laila Weir / Hoodline
Discover quiet beaches, a hidden harbor and a 'pirate' restaurant at Point Molate and Point San Pablo
At the foot of the Richmond-San Rafael Bridge, on its quieter northern side, sits a former navy base that offers some of the least crowded and most serene bay frontage around. Point Molate Beach Park is also fairly protected, creating a microclimate which locals who aren't squeamish about a little mud or seaweed take advantage of for summertime swimming and kayaking. Drive north from the base of the bridge and wind around past the construction fences to get to the parking lot.
You'll find picnic tables and a beach right away, or take a trail off to the left to reach the quietest stretch of beach. The area is set to be developed soon, but for now it's far from manicured. Be prepared to encounter some washed-ashore tires if you head far enough along the beach, but you'll be rewarded with solitude and beautifully placid bay views that seem a world away from most of the mega-metropolis.
Or continue past the Point Molate parking lot and follow the road until it curves all the way around to reach Point San Pablo Harbor. This tucked-away gem is a revelation: a tiny harbor in a beautiful cove with a beach, Burning Man-esque statues, an itty-bitty farm with friendly livestock, and a picturesque waterfront restaurant aptly named the Black Star Pirate BBQ, which sometimes hosts live music (only open Friday, Saturday and Sunday; check ahead).
For directions to Point Molate and Point San Pablo, visit www.pspharbor.com/directions. More information: www.pspharbor.com, www.ci.richmond.ca.us/270/Point-Molate
Related: If you like Point San Pablo, check out the little hamlet of Port Costa, at the foot of the Carquinez Bridge, and its Warehouse Cafe. They serve more than 250 beers, so plan for a designated driver or a ride-share!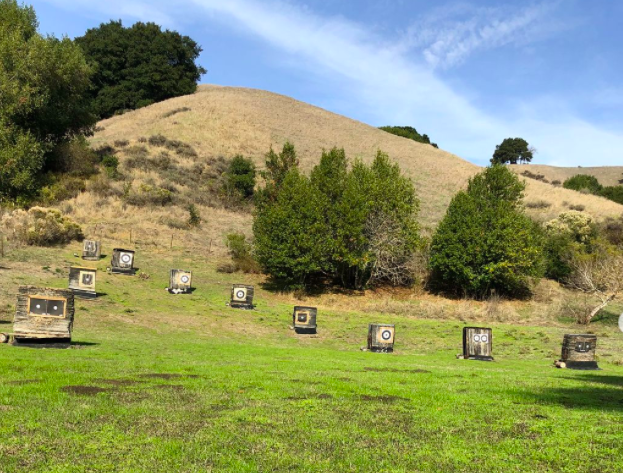 Archery range at Briones Photo: chasnhog/Instagram
Spend a day hiking (or try your hand at archery) at Briones Regional Park
Briones Regional Park's 6,255 acres roll through forested areas and open grasslands, providing shade for summer hiking and habitat to many animals and birds, including black-tailed deer, coyotes, squirrels, red-tailed hawks, turkey vultures, and more. In addition to beautiful trails at various levels of difficulty, there's a self-serve archery range where you can try your hand at target shooting if you can get your hands on a bow and arrows ahead of time. Park district naturalists also lead walks to explore the park's nature and history.
There are five major access points to the Briones park, of which the two most developed are the Alhambra Creek Valley Staging Area off Reliez Valley Road near Martinez and the Bear Creek Road Staging Area near Orinda and Lafayette. Be aware that it can get hot: Check the weather, pack plenty of water, and don't forget sun protection.
More information: www.ebparks.org/parks/briones/
Related: For more hiking, don't miss a day exploring Wildcat Canyon and the site of the former Belgum Sanitarium.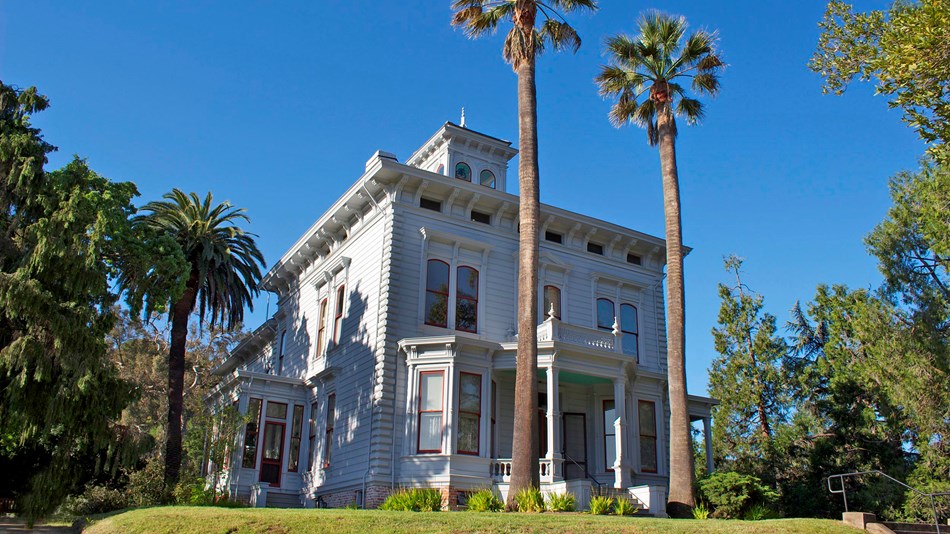 John Muir National Historic Site | Photo: National Park Service
Tour John Muir's estate and explore historic Martinez
Charm abounds at the stately 19th century home of famed conservationist John Muir and its grounds, which include nine acres of fruit orchards, preserved at the John Muir National Historic Site. Step back in time and enjoy this historic treasure. Bonus: It's free!
Make a day out of it by hiking nearby Mount Wanda, named for Muir's daughter, then explore the Gold Rush-era downtown of historic Martinez (birthplace of the Martini and Joe DiMaggio). You'll find a number of dining options to sustain you before you head homewards. (Or cool off at the Rankin Aquatic Center, mentioned above.) You could even catch a ball game of the Martinez Sturgeon, part of an independent pro baseball league called the Pecos League.
More information: www.nps.gov/jomu/index.htm, www.cityofmartinez.org/about/history.asp, www.martinezsturgeon.com
Related: History fans won't want to miss the Rosie the Riveter WWII Home Front National Historical Park and museum along the beautiful waterfront of the Richmond Marina. Plenty of dining and landscaped waterfront nearby.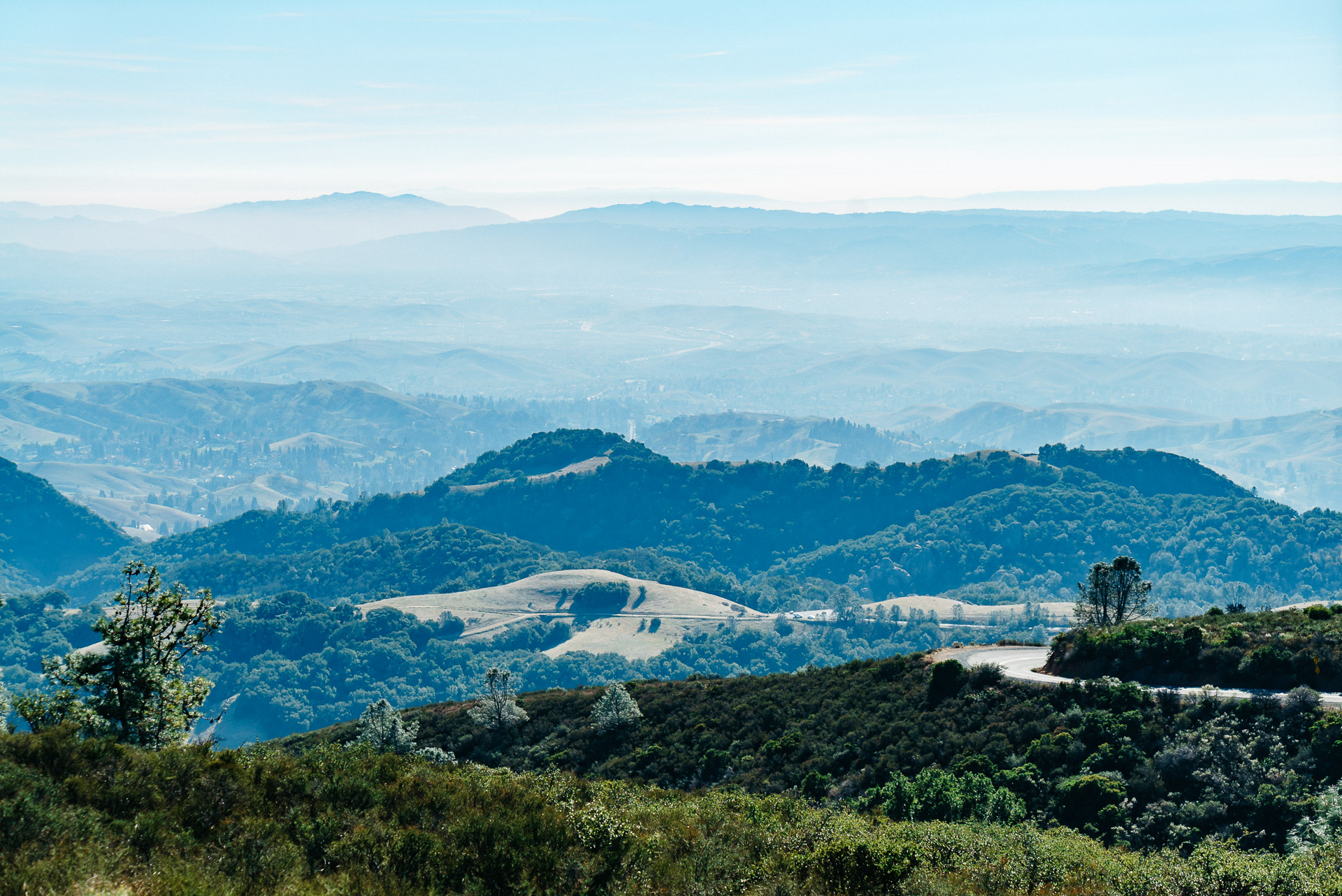 Mount Diablo State Park Photo: CA Department of Parks & Recreation
Take in the views from Mount Diablo
Explore Mount Diablo State Park and enjoy the soaring views from the summit, where you can see almost 200 miles when skies are clear. Learn about the area's natural and cultural history at the Summit Visitor Center (open daily 10 a.m.-4 p.m.) and get the best look all around through the telescopes on the Observation Deck. You can also check out the vista at the Diablo Valley Overlook, where you can see the Golden Gate Bridge.
The park also offers plenty of nature to explore; as with the Briones park, plan for the weather and bring plenty of water and sun protection.
More information: www.parks.ca.gov/?page_id=517