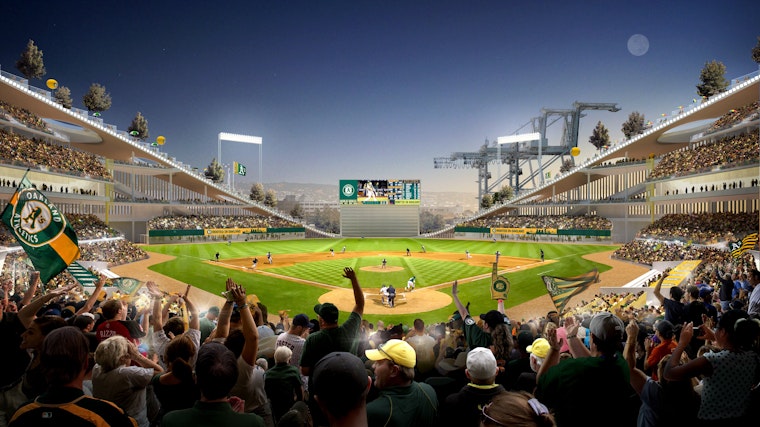 Published on July 20, 2021
It was 20 years ago when the Oakland A's first tried to get a new ballpark and move from the notoriously outdated Oakland Coliseum. And after two decades of attempts to move to Fremont, San Jose, Laney College, and now Las Vegas, the A's still play in that same and now even more outdated ballpark (which is now technically RingCentral Stadium, its fifth different name during that period).
The Oakland City Council approved a proposed term sheet for the A's proposed $12 billion waterfront ballpark and accompanying development at Howard Terminal, but it's unclear whether the A's will continue to negotiate or walk away from the project.https://t.co/5YVabxRWov

— San Francisco Chronicle (@sfchronicle) July 20, 2021

So it should be cause for joy for the Oakland A's and their fans that Oakland City Council approved a plan for the Howard Terminal ballpark at their Tuesday meeting, according to the San Francisco Chronicle. In a 6-1 vote with one abstention, the council approved a term sheet for a 35,000-seat ballpark, 3,000 units of housing, and 1.5 million square feet of commercial space. But the council also added amendments requiring 15% affordable housing onsite, plus other offsite housing and anti-displacement measures. And the A's are balking at the new terms.
Oakland City Council votes 6-1 to approve a non-binding term sheet for A's ballpark project.

This is the term sheet A's president Dave Kaval said team would not accept, amended to clarify A's would not be responsible for infrastructure costs.

Ball is in A's court.

— Bill Shaikin (@BillShaikin) July 20, 2021
"The current term sheet as it's constructed and its current language is not a business partnership that works for us," A's president Dave Kaval said at the meeting. "To vote on something we have not been privy to and not had time to digest is a difficult thing for us. It's hard to understand how that is a path forward."
It is notable that the A's have been very publicly exploring Las Vegas, and Las Vegas' KTNV reports that team executives are visiting Las Vegas again on Wednesday to explore sites. It would be their fourth such exploratory trip to Vegas this year, and Kaval has in recent months established a pattern of curiously Las Vegas-loving tweets.
Which sets the table for, guess what! MORE NEGOTIATIONS!

— Tim Kawakami (@timkawakami) July 20, 2021
So does that mean the A's are leaving? Or does the vote mean the A's are staying? Neither. These are all negotiations, each side identifying whatever leverage they feel they have, and applying the squeeze as such. Sure, Oakland has lost the Warriors and the Raiders, and the A's seem to have one foot out the door too.
But those are different situations. Warriors ownership was flush with cash and determined to move to tech-wealthy San Francisco, Raiders ownership was broke as hell (by NFL standards) and went to Las Vegas out of desperation. Tuesday's city council vote represents progress toward what the A's want, but not the unqualified blank check the team had hoped for. Do not expect the A's to announce they're moving to Las Vegas anytime soon. Instead, expect these Oakland negotiations to go on into extra innings, and a few more change-ups to be thrown.