July 14 is Bastille Day, the French national holiday that commemorates the storming of the Bastille prison in 1789 and the overthrow of the French monarchy. What better excuse to celebrate Liberty, Equality and Fraternity while indulging in some French food, music and drinks? Hoodline has rounded up some Bastille Day celebrations around the Bay Area.
July 10, 1-4 p.m.: C'est Si Bon
Umbriaso at Treasure Island Wines, 995 Ninth St., Building 201, Treasure Island, San Francisco.
This Treasure Island spot is transforming its parklet into a Parisian bistro terrace for Bastille Day. There will be live French café music and classic bistro cuisine to pair with the winery's Sauvignon Blanc, rosé, Pouilly Fuissé chardonnay, Burgundian Pinot, and sparkling wine.
More information: tiwines.net
July 11-18: Bastille Photo Week – Visit French businesses all around the Bay to win prizes
Residents of the greater Bay Area can win some pretty awesome prizes by posting photos online of their visits to French and francophone restaurants, vineyards, stores, and more — even French artists, hairdressers, and schools! (You can also participate by ordering online.) Just take pictures or videos of yourself at the location (or of yourself with a product from that merchant if you ordered online) and then post them.
Winners will be chosen based on the number of posts and visits they accomplished throughout the week.
The many prizes include a Club Med vacation; gift certificates for dining, wine, beauty treatments, etc.; gift boxes; event tickets and more. Many participating businesses will also have special promotions going on during that week.
For all the details and more information: www.bastilledaysf.org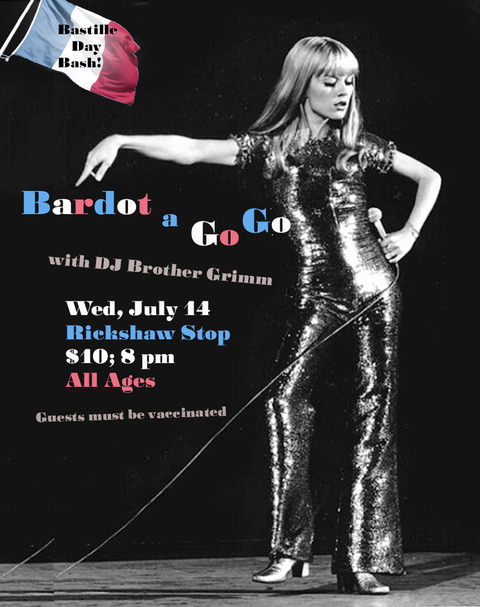 Wednesday, July 14, 8 p.m.: BARDOT A GO GO Bastille Day Dance Party
Rickshaw Stop, 155 Fell Street, San Francisco
Decadent '60s French pop from Brigitte Bardot, Serge Gainsbourg, Jacques Dutronc, Francoise Hardy, and many, many more, plus other international garage/soul/bubblegum sounds, featuring DJ Brother Grimm. This groovy party features fun drink specials and '60s French videos. The organizers say "shagadelic attire" is encouraged. $10/all ages
*All attendees must show proof of full vaccination.*
More information: bardotagogo.com

Source: Cafe Bastille / Facebook
Wednesday, July 14: Bastille Day Celebration at Café Bastille/B44
Café Bastille/B44, 44 Belden Place, San Francisco
Cafe Bastille's traditional celebration will take place at B44, with a DJ, dinner, drinks, and more. Cafe Bastille and B44 merged in one location during the pandemic, which is serving both restaurants' separate menus; both will be available during the party.
More information: https://www.facebook.com/CafeBastille/posts/4701176743250423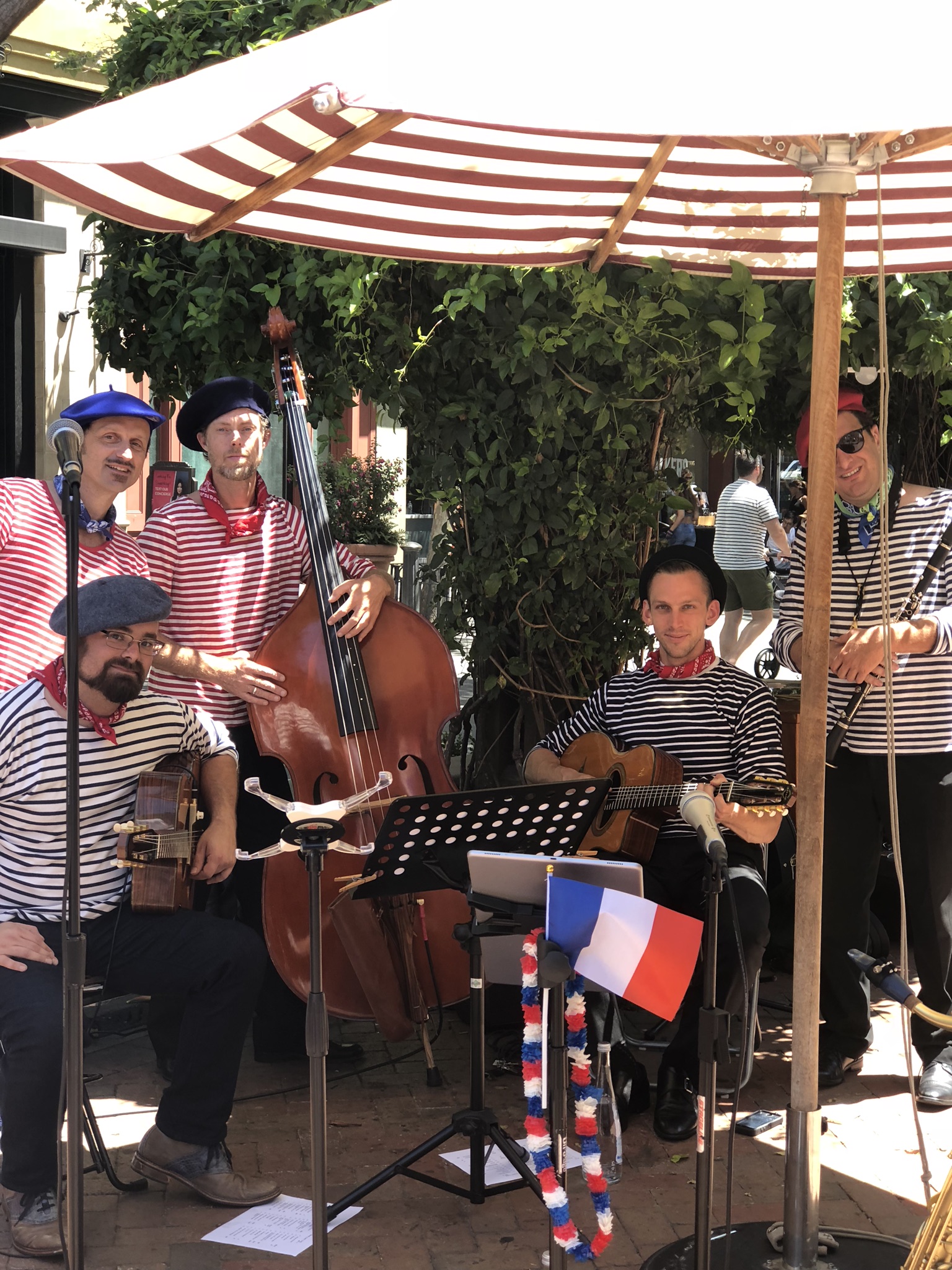 Live music for Bastille Day Photo: Left Bank Brasserie
Wednesday, July 14: Bastille Day Celebration at Left Bank Brasserie
Three locations: 377 Santana Row, Suite 1100, San Jose; 635 Santa Cruz Avenue, Menlo Park; 507 Magnolia Avenue, Larkspur
Local French eatery Left Bank Brasserie will be hosting Bastille Day celebrations at all three of its locations, with special additions to its menu, festive decorations, live music (12-8 p.m. in Larkspur; 5-8 p.m. in San Jose and Menlo Park) and special entertainment: a unicyclist and a magician in San Jose, a unicyclist in Menlo Park and a stilt walker and a face painter in Larkspur.
The special "Plats de la Révolution" menu additions will be "Freedom Fries" with caramelized onions, bacon and melted Swiss cheese ($10.00); French Dip with a Kaiser roll, roast beef, caramelized onions and Comté cheese ($19); apricot tart with almond crème and pistachio ice cream ($9); a martini tower with your choice of classic, Kir Royal or blueberry lemon drop ($14); and personal Moët & Chandon in a keepsake flute ($25).
More information: www.leftbank.com/events-calendar/