Church and Market wine bar Fig & Thistle Market (691 14th St. at Market St.) has now become Millay. A sign posted in the window alerted customers of the name and concept change.
Fig & Thistle opened in 2017 in the space previously occupied by M & L Market as an offshoot of the Hayes Valley location.
"Fig & Thistle Market will be no more, it will be transitioning to something I've been working on for a while, an idea that needed a place to become a reality," says co-owner Angel Davis in an announcement.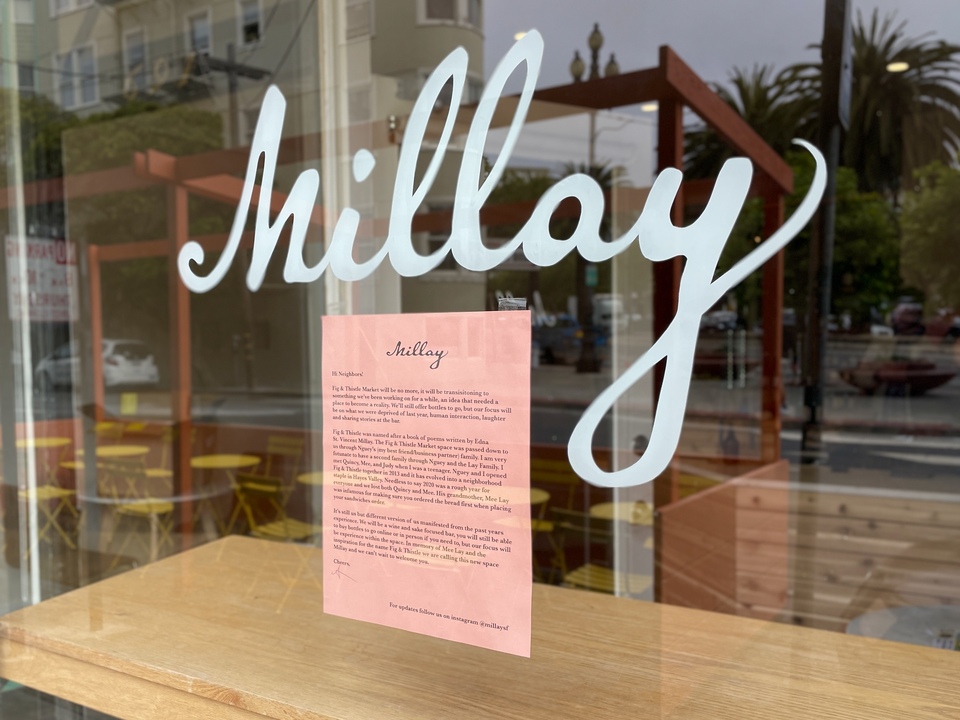 Sign announcing Millay. | Photo: Steven Bracco/Hoodline
Davis also co-owns Fig & Thistle Bar at 429 Gough St., and Fig & Thistle Apothecary at 313 Ivy St. which opened in Fall 2020 in the original Fig & Thistle location around the corner from the current one.
As Millay, the Castro area location will aim to be more like the original Fig & Thistle, and less like a store.
"We'll still offer bottles to go, but our focus will be on what we were deprived of last year, human interaction, laughter, and sharing stories at the bar," Davis says.
To achieve that goal, Davis tells Hoodline Millay's bar has been expanded to allow up to eight people. "Before the bar, it was more of a market vibe," she says. "Now it's more a small neighborhood wine bar and shop second."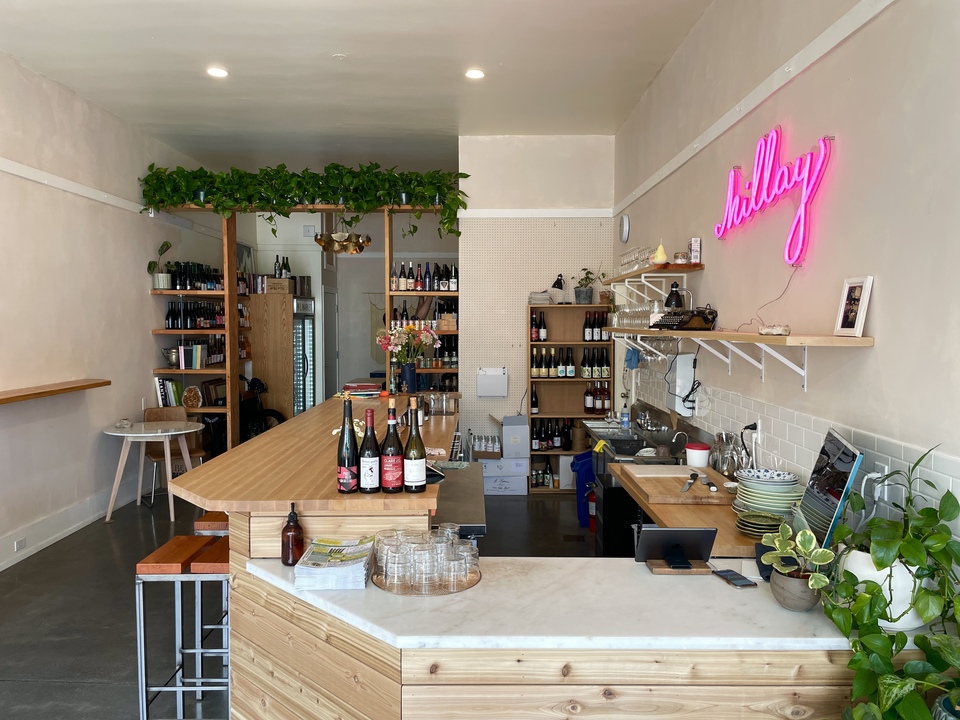 A longer bar has been installed at Millay. | Photo: Steven Bracco/Hoodline
Three years ago, Davis went through a 15-month process to receive approval from the Planning Commission to host tastings for wine, sake, and cider.
Now that the city has made Shared Spaces platforms permanent, Davis tells Hoodline the parklet out front will also be improved. "We built out the most basic thing that we could," said Davis. "Now in the next couple of months, we'll make it nicer."
According to Davis, Millay's outdoor seating may temporarily close due to construction from the Upper Market Street Safety Project.
Davis co-owns the shop with Nguey Lay, grandson of Mee (commonly referred to as May) and Nguey "Jack" Lay of M & L Market, the sandwich shop that once held the space and was known for its affordable, hefty sandwiches and almond cookies.
"Needless to say 2020 was a rough year for everyone," says Davis. "We lost both [Nguey's dad] Quincy and Mee."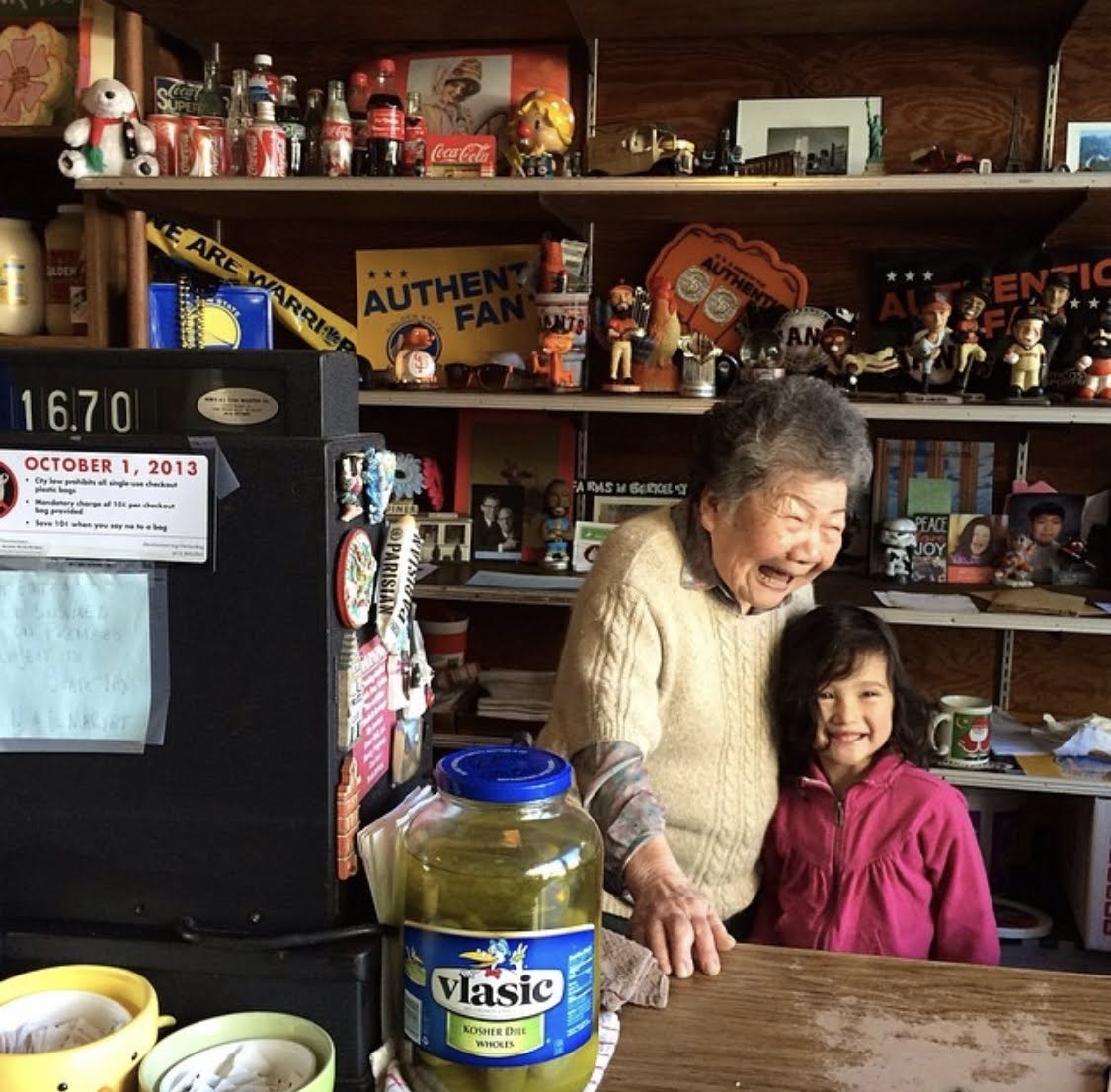 Mee Lay inside M & L Market. | Photo courtesy of Angel Davis
"I needed a completely different vibe after 2020," adds Davis. "I think a lot of people wanted to shake off that year a little bit."
Prior to the pandemic, Davis said Fig & Thistle has gotten into a good groove with neighbors packing the space nightly. "And then it just stopped overnight," Davis says.
In order to survive, Davis quickly pivoted to online orders and delivery. "You learn to become an online shop that delivers in two days to make things work," she says.
Fig & Thistle was named after a book of poems by Edna St. Vincent Millay. In selecting a new name Davis said it was important to pay homage to Edna St. Vincent Millay and to keep the memory of Mee and the deli alive.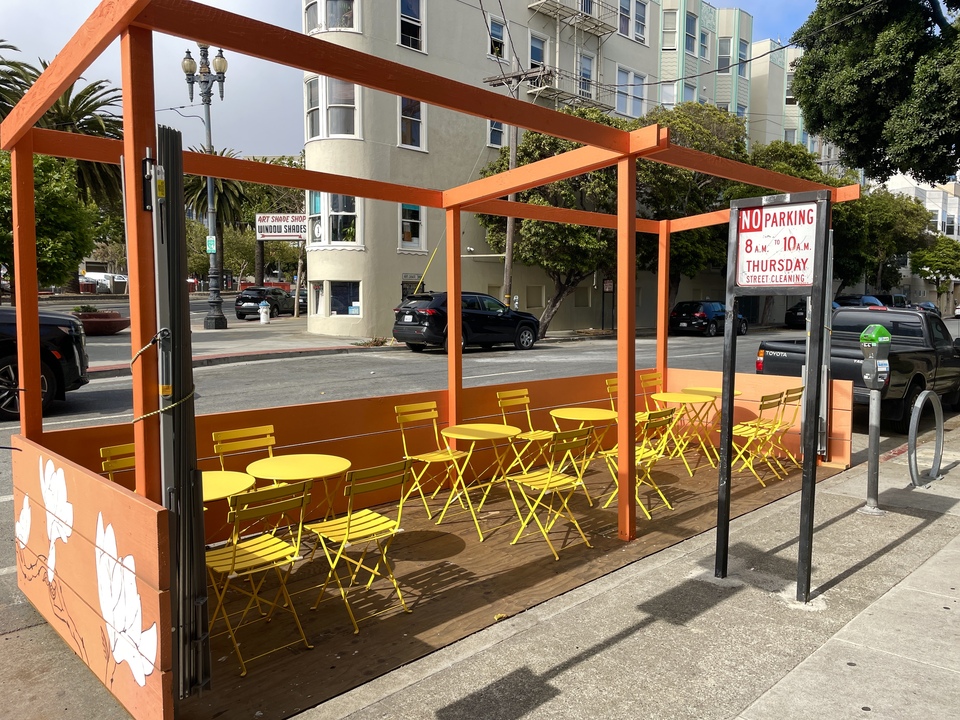 Millay's parklet along 14th St. | Photo: Steven Bracco/Hoodline
"I still want to have the history. The more iterations that happen the further away the deli gets. I don't want that to be lost," Davis said.
"I am very fortunate to have a second family through Nguey and the Lay Family," she explains. "I met Nguey, his brother Courtney, his father Quincy, grandma Mee, and Aunt Judy when I was a teenager."
"Years later Nguey and I opened Fig & Thistle together in 2013, and it has evolved into a neighborhood staple in Hayes Valley. It's still us but a different version of us manifested from the past year's experience."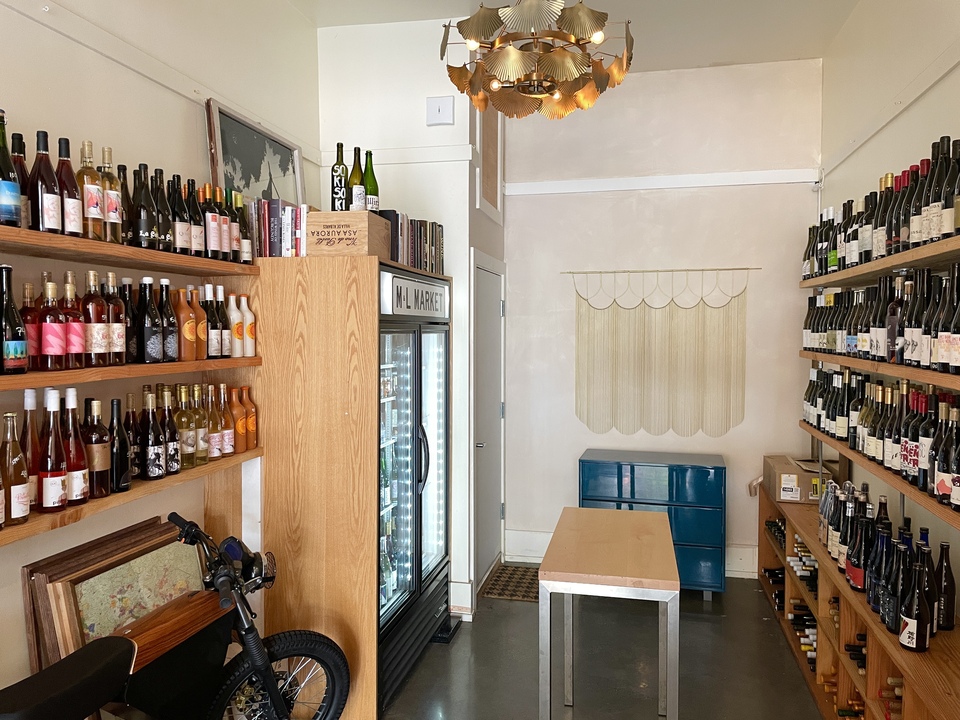 Bottle shop area inside Millay. | Photo: Steven Bracco/Hoodline
"We will be a wine and sake-focused bar, you will still be able to buy bottles to go online or in person if you need to, but our focus will be experience within the space," Davis says.
Now six weeks into the reopening Davis says business has been good. "You see familiar faces and people that we met during the pandemic and now we're seeing their faces."
Recognizing customers without their masks has proved challenging, says Davis. "They always covered the bottom half of their faces. I've been talking to you for a year and I can't recognize you without a mask"
---
Millay is open Monday through Wednesday from 4 p.m. to 9 p.m., Friday and Saturday from 4 p.m. to 10 p.m., and Sunday from 2 p.m. to 8 p.m.