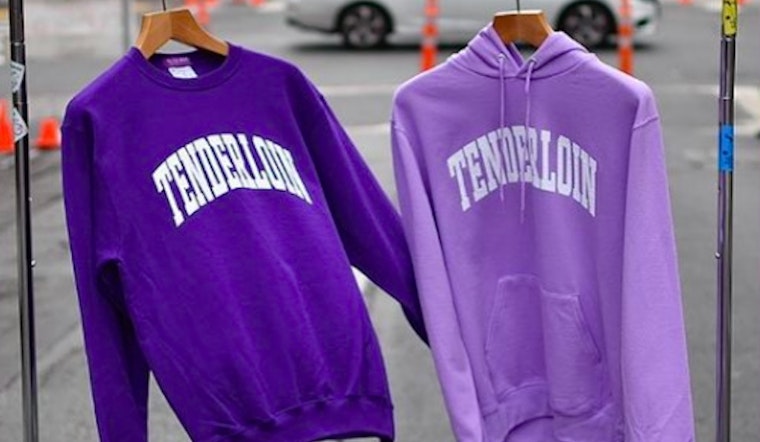 Published on August 03, 2021
The Tenderloin and Lower Polk First Thursday Art Walk returns this week for the first time since March 2020, featuring local art at small businesses throughout the neighborhood.
The walk, which transitioned to a virtual event series during the shelter-in-place, will be hosted in real life on Thursday, August 5, 2021, starting at 6 p.m. Several locations throughout the neighborhood will be hosting new art displays and offering one-night specials.
Fleet Wood, at 839 Larkin St. (at Geary) will mark the closing night of Trust F**k the Process: Working it Out on Paper, a solo show by James Lewis Tucker of The Aesthetic Union. Tucker's letterpress prints will be on sale, as will screen-printed t-shirts featuring a collaboration between Tucker and Fleet Wood owner Nicole Schwieterman.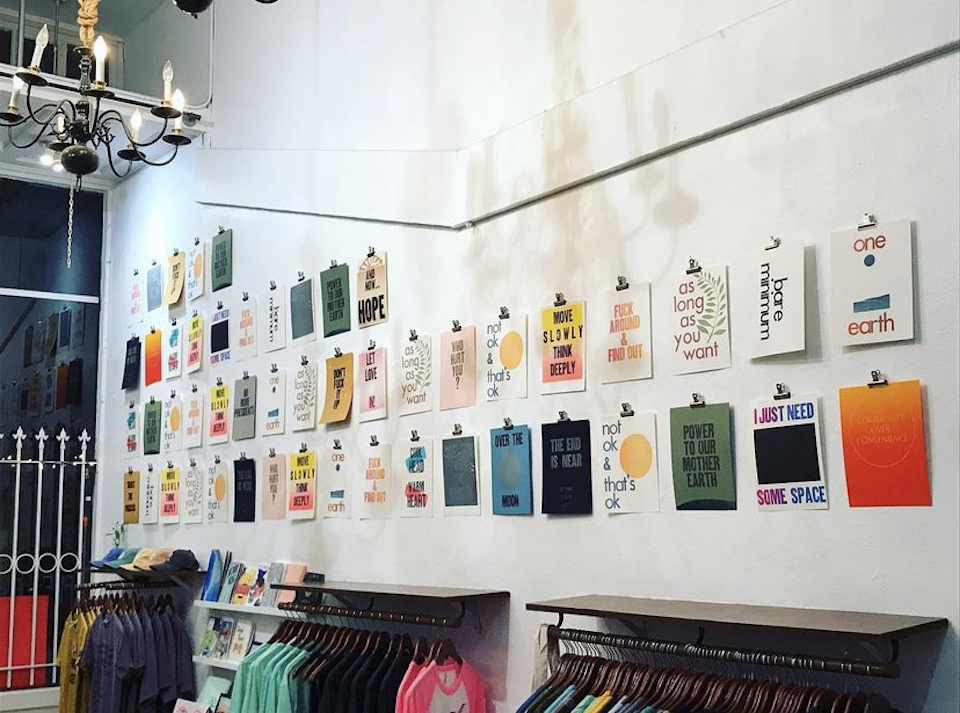 Fleet Wood is hosting a closing party for Tucker's Trust F**k the Process exhibit on Thursday. | Photo: Fleet Wood
Schwieterman lead the charge to keep the SF First Thursday Art Walk alive during the pandemic and bring it back for in-person attendance this month, with support from other local artists and community partners.
View this post on Instagram
Lower Polk's beer bar, Barley, is a new participant in the art walk, having only opened its doors at 1038 Polk St. (at Post) in February 2021. Barley will feature affordable handmade wall-hangings made by Julia Canright. Inspired by traditional block-printed textile designs from India, Japan, and West Africa, Canright creates unique pieces that incorporate modern and expressionist influences. Canright's work will be on display indoors, and you can check out Barley's food and craft beer offerings while you visit.
View this post on Instagram
Back on Larkin Street, Tilted Brim will be offering a special selection of limited edition Tenderloin branded sweatshirts, as well as a full new crop of vintage finds, along with its other hats, shirts, and bags. Find a new top or a retro jacket at 706 Larkin (at Ellis).
Emperor Norton's Boozeland will host the evening's afterparty and is displaying a series of photographs by Charlie Mirador titled Mid City Moments: A Tenderloin Love Story. Mirador will also be celebrating the release of his latest book, Mirror Door. The art is on display all evening, and the afterparty runs from 8 p.m. until last call.
View this post on Instagram
Masks will be required for all attendees entering the galleries, businesses, and restaurants participating in the event, consistent with the city's recently re-imposed mandate. Boozeland and Barley both offer outdoor seating options.
Schwieterman also told us she is working on creating a self-guided Tenderloin murals tour, which will be available for anyone to do on their own time or in conjunction with the art walk. The neighborhood has a growing collection of murals that reflect the culture and history of the Tenderloin and Lower Polk area, she said.
The art walk is supported by the Lower Polk Community Benefit District and the San Francisco Office of Economic and Workforce Development, and is typically held every first Thursday of the month.
More information about other participating galleries and the murals tour, as well as future months' artists and local deals, will be available on the SF First Thursday Art Walk's website and social media pages.