Bottomless mimosa brunch sensation the Sycamore celebrated its 10th anniversary last summer, though not in the grand fashion they typically do. Governor Newsom had just once again shut down indoor dining, and while the dive bar's brunch patio was available, a byzantine set of rules still applied making the brunch-and-craft-beer revelry less fun and more challenging.
But the Sycamore is ready for a do-over for their 10 (+1) Anniversary Party, taking place Thursday night, August 5.
View this post on Instagram
Sycamore owner Tim Ryan tells Hoodline that they "weren't able to do our 10-year blowout because of COVID...hence this year's 10 (+1) theme. We opened just as soon as we were allowed, and were overjoyed to get the staff back and to see all the regulars again. This is always an epically fun party. Good food. Good beer. Good tunes. Great people!"
The bar's Facebook invite adds, "We are pleased as punch to be able to invite one and all to our official 10 year anniversary party! The pandemic gave us an extra year to prepare for this one so we're pulling out all the stops. Anyone who has been to one of our anniversary party knows that it's not one to be missed, and this year is no exception. In thanks to everyone who has made the Sycamore what it has become, we are dropping our prices of sliders and draft beers to $2 (from 6-9pm)."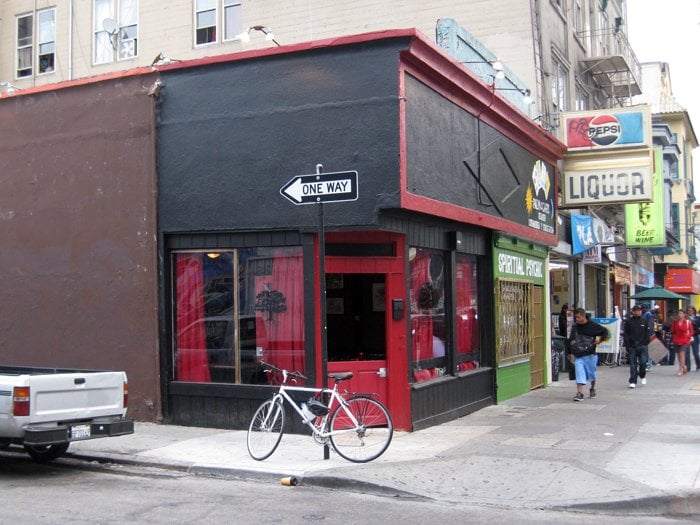 The Sycamore opened in July 2010. The above image posted to Yelp on its very first day of business showed it originally had a modest at best paint job, in contrast to its colorful, muralized incarnation of today. According to a Mission Local historical write-up, it has previously been a quirky sushi fusion spot called Country Station Sushi.
It quickly became an informal, no-reservation back patio brunch destination, famed for its Pork Belly Donuts and inspired craft beer list. COVID sidelined the restaurant and bar in 2020, as it did to every eatery in town, reducing the place to just delivery, take-out, and a GoFundMe. Its outdoor dining capacities were reinstated last year in mid-June, and they added parklet seating on Sycamore Alley last August.

Now the Sycamore is back at full power. Hopefully further COVID restrictions won't interfere with that, so the Sycamore can stay on its steady diet of board games, trivia nights, and bingo games with Jell-o shots.