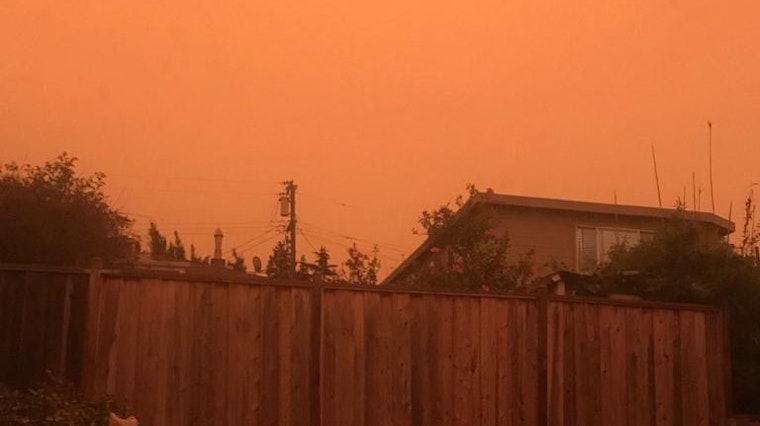 Published on August 20, 2021
It's been like waiting for the other shoe to drop. After being largely spared from wildfire smoke that has swirled across large swathes of the country this summer, the Bay Area is finally seeing the return of smoky skies this week, and authorities have issued an air quality advisory.
What's more, the smoke has arrived right as schools have reopened across the Bay Area — many of them opening for full enrollment for the first time in a year and a half — and as COVID-19 cases are surging.
These factors may collide in some concerning ways, according to a new study that shows wildfire smoke can make COVID worse. Specifically, the study published in the journal Science Advances found that exposure to the smoke correlated to an increase in serious cases and deaths from the disease across California, Washington, and Oregon during 2020.
"We found strong evidence that wildfires amplified the effect of short-term exposure to [fine particulate matter] on COVID-19 cases and deaths," the authors reported.
Study co-author and Harvard professor of biostatistics, population and data science Francesca Dominici told CNN more: "Fine particulate matter air pollution can be an additional vehicle for spreading the virus even faster," Dominici told the news organization. "Considering that we are seeing an increased risk of cases from the Delta [variant] and we already have the wildfires, that's going to be concerning."
The study appears to confirm the U.S. Centers for Disease Control and Prevention (CDC) warning that "wildfire smoke can irritate your lungs, cause inflammation, affect your immune system, and make you more prone to lung infections, including COVID-19."
Over the past years, as wildfires and their attendant air pollution have become a new seasonal reality here, schools have begun to have smoke days — days when schools are closed or students are sent home. This week, school districts are most certainly monitoring the air quality once again.
For example, the West Contra Costa Unified School District, one of the Bay Area's larger districts, sent out an alert to parents Thursday. It stated that schools would remain open for the time being but encouraged parents to keep kids home if they felt that was best for their individual child.
With the news that smoke inhalation can also worsen the effects of COVID exposure or infection, the confluence of the arriving smoke and a Delta-variant-fueled case surge will increase the pressure on schools. But where the assumption in the past was that kids were safer from wildfire smoke at home than at school, that calculus too may be affected by the pandemic.
That's because school districts have scrambled to improve air filtering and ventilation in order to minimize spread of the disease. In the case of the West Contra Costa district, the school superintendent said schools have been equipped with high-efficiency air filters that will help mitigate the smoke, and rooms that needed further ventilation also now have HEPA air filters.
However, the district was relying on open windows to provide ventilation in rooms where possible, meaning school staff may in some cases face a choice between keeping the smoke out and any possible germs in, or vice versa.
The CDC recommends seeking "cleaner air spaces" when wildfire smoke is present, and increased air filtration at schools may make them one of those spaces. But the agency also acknowledges that "while physical distancing guidelines are in place, finding cleaner air might be harder if public facilities such as libraries, community centers, and shopping malls are closed or have limited their capacity."
Meanwhile, adults in households without children attending school may wonder what all this means to them. If the smoke drifting into town and obscuring the sun is also increasing the danger from COVID, and unvaccinated kids are gathered en masse in schools for the first time in a year and a half, does this mean they're posing an increased risk to the community at large?
According to the CDC, the opposite may in fact be true. The health agency cites studies that appear to indicate that, again, school may be the safest place for kids to be, both for their own health and that of their neighbors.
"Although outbreaks in schools can occur, multiple studies have shown that transmission within school settings is typically lower than — or at least similar to — levels of community transmission, when prevention strategies are in place in schools," reads the CDC site.
Districts in the area have implemented various such prevention strategies, such as regular testing, masking and a variety of crowd-control measures. Will N95 masks, the variety that protects against air pollution (versus paper or cloth masks used to mitigate germ transmission, which don't) join them?